Second Death in FC Twente's Stadium Collapse
1.13K //
09 Jul 2011, 12:09 IST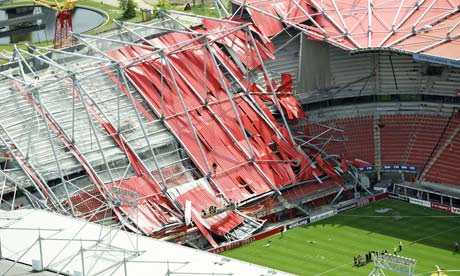 Following the death of a 31 year old man on Thrursday with the collapse of FC Twenty's stadium roof, the death toll on Friday rose to two with a 24 year old man succumbing to his injuries. Six people are also reported to be still admitted in the hospital in critical condition though it's not life threatening.
A statement released by the Municipality of Enschede confirmed the second fatality, a 24-year-old man from the city of Oldenzaal. "It is terrible that we again have to mourn a death," said Mayor Peter den Oudsten. "Our thoughts are with his family and those close to him."
On Thursday, the roof of one section of the De Grolsch Veste stadium gave in during an upgradation work when two support beams buckled. One person died on the spot while sixteen of them were admitted to the hospital that day.
What exactly has caused the roof to collapse is yet to be determined. Ilse Hoekstra, a spokeswoman on the scene, said a representative from the Dutch public prosecution service had been sent to launch an investigation to determine the cause of the collapse.
Meanwhile the club players who were on tour to New Zealand to play friendly matches are set to return following the incident. Earlier, Twente chairman Joop Munsterman, who left New Zealand as soon as he was informed of the incident released a statement reading "We wish everyone who is affected in any way a lot of strength and in particular we express our condolences to the families of the deceased."
"It is therefore impossible for us to continue our training camp in New Zealand and we cannot play against New Zealand. We did not want to remain such a distance from what happened today. The open day on July 17 will not occur and the other events in the stadium will not proceed until further notice."