Seedorf set for Botafogo return
813 //
17 Nov 2012, 19:29 IST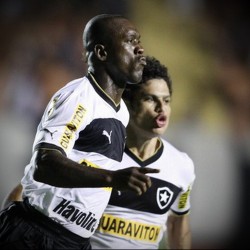 Rio de Janeiro - Clarence Seedorf is likely to return to Botafogo's starting line?up Sunday as the Rio de Janeiro football outfit aims to clinch an unlikely Copa Libertadores berth.
The former Netherlands international midfielder has not started since injuring his right thigh in Botafogo's 4?0 victory over Atletico Goias Oct 27, reports Xinhua.
Botafogo coach Oswlado Oliveira said Friday, the 36?year?old had regained full fitness following a late 15?minute cameo in his team's 3?0 win over Portuguesa last weekend.
Seedorf trained freely with his teammates Friday and raised eyebrows after a heated discussion with defender Antonio Carlos.
"It's normal for them to do that. It's not uncommon for players to argue," Botafogo coach Oswaldo Oliveira said.
Botafogo is currently fifth in Brazil's Serie A standings, five points behind fourth?placed Sao Paulo with three matches remaining.