Sir Alex Ferguson's greatest Manchester United XI
8.84K //
21 Mar 2013, 19:05 IST
Sir Alex Ferguson took charge of a second-from-bottom Manchester United side on 6th November, 1986. The Scot was like a breath of fresh air that swept across Old Trafford, blowing away the sorrows of yore and securing the club's future. The Gaffer eventually went on to win 12 Premier League titles, 5 FA Cups, 4 League Cups, 10 FA Community Shields, 2 UEFA Champions League trophies, 1 UEFA Cup Winners' Cup, 1 UEFA Super Cup, 1 Intercontinental Cup, 1 FIFA Club World Cup, and is on course to win a 13th Premier League title and a 6th FA Cup. This host of silverware was made possible by a large number of charismatic players who patrolled the United ranks and led the club to glory. Here's a look at the best Manchester United XI of the Ferguson era:
Goalkeeper: Peter Schmeichel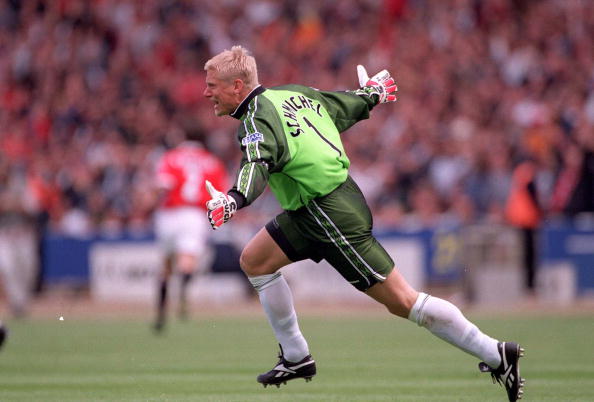 Affectionately known as 'the Great Dane' and widely acknowledged as the 'bargain of the century', Peter Schmeichel needs little introduction. Narrowly beating another United legend – Edwin Van der Sar – to a place in this team, Schmeichel captained United in the 1999 Champions League final in the absence of Roy Keane, thereby ensuring that the Red Devils became the first English club to win the coveted and elusive Treble of the Premier League, the FA Cup and the Champions League. This 'save of the decade' should justify his selection: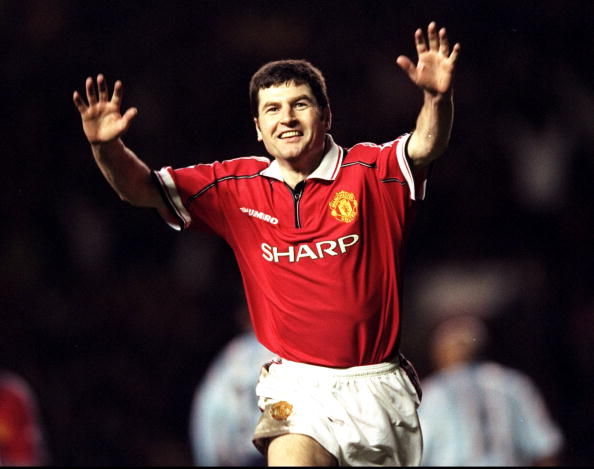 Known as Sir Alex's greatest-ever signing, Denis Irwin is a solid full-back who had a long and successful stint at United. Having found the net 22 times in his 368 appearances for the Red Devils, Irwin was effective on the attacking end as well. The Irishman went on to win 7 Premier League titles, 3 FA Cups and 1 UEFA Champions League title under Sir Alex.
Center-back: Rio Ferdinand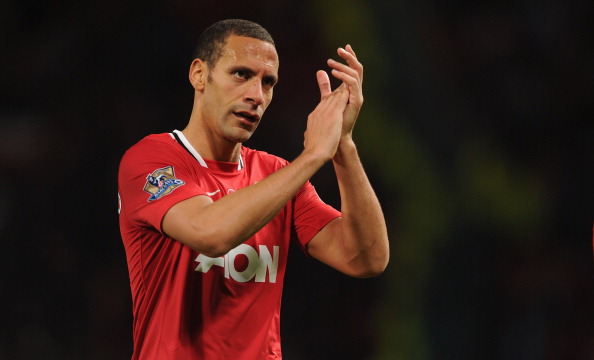 After joining United in 2002, Ferdinand has featured in the PFA Team of the Year on four occasions. Having won 5 Premier League titles, 4 FA Community Shields, 1 Champions League and 1 FIFA Club World Cup, he gets the nod ahead of Jaap Stam and Steve Bruce.
"I think Rio has been outstanding. Every player makes the odd mistake, all defenders do, but he's always really consistent. He shows that every game." - Wes Brown, on Ferdinand.
Center-back: Nemanja Vidic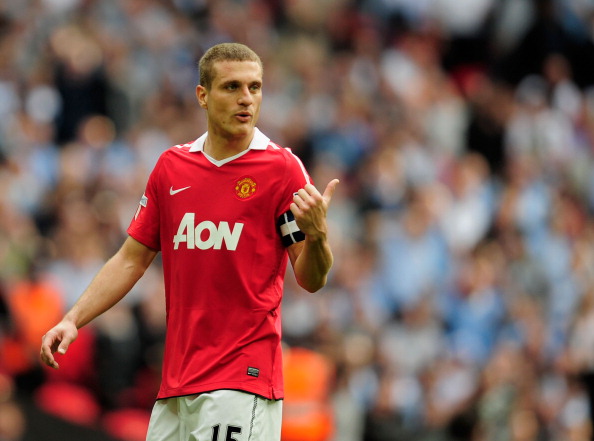 The Serbian defender has been transformed into one of the world's best center-backs by Sir Alex, and has been a vital component of United's well-oiled machine over the past few seasons. Having captained United on many an occasion, Vidic has led United to 4 Premier League titles and 1 Champions League title.
"I came to this club when I was young and have developed enormously with the help of the manager, coaching staff and my team-mates. During my time here we have had a lot of success and I look forward to continuing that success in the coming seasons" - Nemanja Vidic, on his time at United.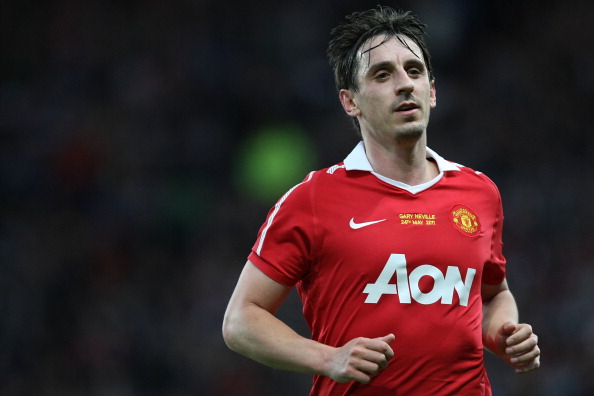 As a part of 'Fergie's Fledglings", Neville played 19 years for his boy-hood club appearing in 602 games. Not only defensively sound, Neville never hesitated to venture into opposition territory and support the likes of Beckham and Ronaldo on the flanks.
"Gary was the best English right-back of his generation." - Sir Alex Ferguson, on Neville.
Right midfield: Cristiano Ronaldo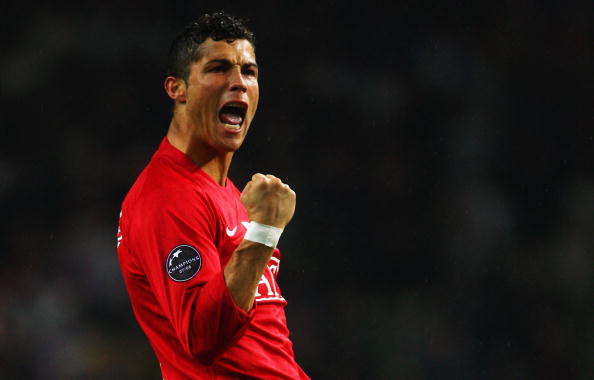 The name itself strikes fear into the opposition's hearts. The charismatic Portuguese winger won the approval of the Old Trafford crowd on many an occasion by scoring an amazing 118 goals throughout his Manchester United career. Having won many honours with United, including the inaugural FIFA Puskas award in 2009, the winger is considered as one of the best to have ever played in the Premier League.
"Ronaldo is better than George Best and Denis Law, who were two brilliant and great players in the history of United." - Johan Cruyff, on Ronaldo.
Center midfield: Roy Keane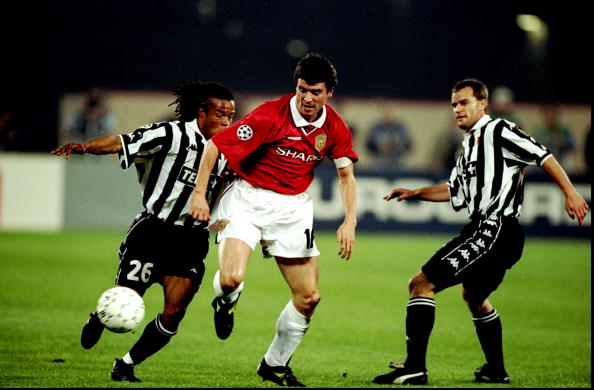 When anyone mentioned Manchester United between the years 1997 and 2005, the first name that would spring to mind would probably be that of Roy Keane. The man was a machine on the field, and was one of the most feared players in the world. The second leg of the Champions League semifinal against Juventus was hailed as Keane's finest hour, as he led from the front and rescued United from the jaws of defeat. Unfortunately, he picked up a yellow card and was forced to miss the fateful final against Munich at the Nou Camp.
"It was the most emphatic display of selflessness I have seen on a football field. Pounding over every blade of grass, competing if he would rather die of exhaustion than lose, he inspired all around him. I felt it was an honour to be associated with such a player." - Sir Alex Ferguson, on Keane's performance against Juventus.
Center midfield: Paul Scholes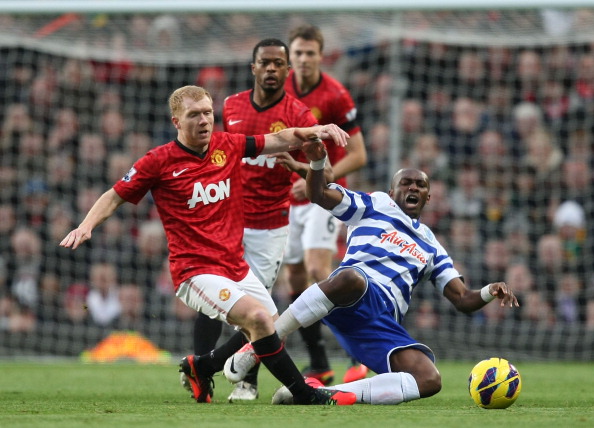 Affectionately known as 'Sat-nav' for his uncanny ability to pick a long-range pass, Scholes has earned a lot of silverware with the Red Devils, winning 10 Premier League medals, 3 FA Cups, 2 Football League cups, 5 FA Community Shields, 2 Champions League titles, 1 Intercontinental Cup and 1 UEFA Club World Cup. An inspiration to youngsters across the world, a loyal servant to United and one of 'Fergie's Fledglings', the Ginger Prince is rated as one of the most complete midfielders of the generation.
"If he was playing with me, I would have scored so many more." - Pele, on Scholes.
"My toughest opponent? Scholes of Manchester. He is the complete midfielder." - Zinedine Zidane, on Scholes.
"At La Masia his name was mentioned a lot. He's a teacher." - Lionel Messi, on Scholes.
Left midfield: Ryan Giggs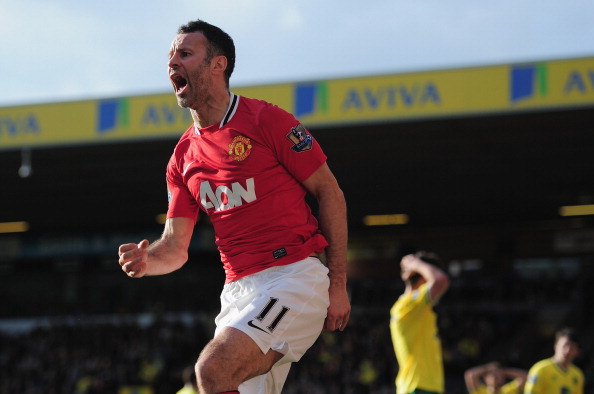 As the most decorated player in the history of the Premier League with 33 trophies and 168 goals, Ryan Giggs is the epitome of loyalty. The Welsh international is the only player to have played and scored in every season of the Premier League, and is also the player who has played the longest time in the league without getting sent-off. Giggs is a true patriot, an evergreen and vital component of United's machine and one of the most respected men in the world of football. He has seen an amazing transition from boy-wonder to senior-statesman. That's Ryan Giggs.
"To spend twenty years at one club is unique in this era. Ryan has been a fantastic servant to United. It will be a comforting thought if he ends his career here." - Sir Alex Ferguson, on Giggs.
"This is embarrassing to say but I have cried twice in my life watching football player. The first one was Maradona and the second was Ryan Giggs." - Alessandro Del Piero, on Giggs.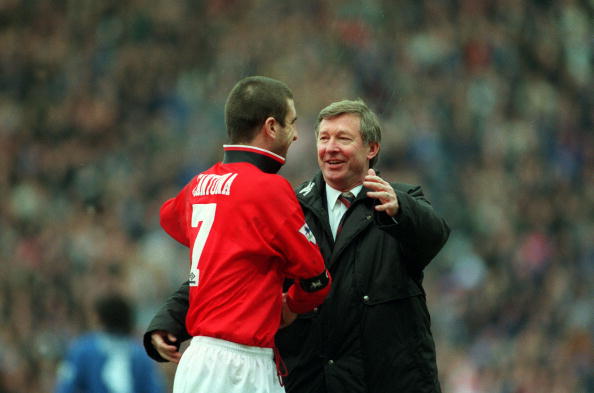 "Controversial, charismatic and colossal" are words that perfectly describe the man who scored for fun with his collar up. He got banned for his kung-fu kick, and United lost the League. He returned, and United won. Having found the net on 64 occasions in his 143 appearances for United, King Eric eases his way into Sir Alex's best XI. Not convinced? Here you go:
Striker: Ole Gunnar Solskjaer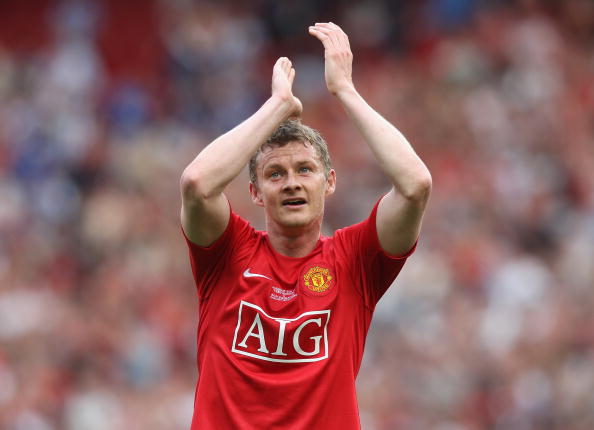 "Here's Beckham; into Sheringham; AND SOLSKJAER HAS WON IT!!" were the words that were spoken at the Nou Camp in 1999, as Manchester United came from behind to win the Champions League and break Bayern Munich hearts. Affectionately known as "the baby-faced assassin", the Norwegian international found the back of the net 126 times in his 366 appearances for United. An important member of the class of '99, Solskjaer won 6 Premier League titles, 2 FA Cups, 3 FA Community Shields and 1 Champions League with the Red Devils.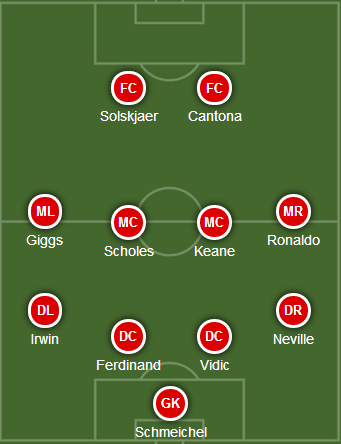 Edwin Van der Sar, Jaap Stam, Steve Bruce, Patrice Evra, Wayne Rooney, Michael Carrick,  Dwight Yorke, Andy Cole, Teddy Sheringham, Ruud van Nistelrooy.
DISCLAIMER – These are the views of the author, and do not represent the views of the site.