South American XI vs Europe XI: Who would win?
10.85K //
21 Nov 2012, 13:28 IST
Who will win the  Battle between the best of South America and Europe?
South American XI
It looks a very strong team, but Julio Cesar is a weak goalkeeper and may weaken them in that aspect. Having David Luiz and Thiago Silva as center-backs will tighten their defence. The midfield is a very promising one, but the lack of chemistry between players may create some chances for the opposition attacks. In midfield, this team has the very experienced Kaka who can create goals and switch positions really well. Given his acrobatic skills, he could be very special in midfield and young players Lucas Moura and Angel Di Maria are full of stamina and energy and will help their side push forward.
The forward line can dribble past any defence without trouble as it is one of the most dangerous forward duos in the world. Neymar and Messi can change direction at a very high speeds and can pass the ball perfectly with their right and left combination of feet. In their favorite positions, they will perform the best when it comes to creating and scoring.
The South American XI also has very good substitutes.
Formation 4-4-2
Team Lineup:

Goalkeeper: Julio Cesar
Defence
RB: Dani Alves
CB David Luiz
CB: Thiago Silva
LB: Marcelo
Midfield
RM: Di Maria
RCM: Kaka (Captain)
LCM: Javier Mascherano
LM: Lucas Moura
Forwards
RS: Neymar
LS: Lionel Messi
 Substitues: Oscar, Rafael, Sergio Romero (GK), Pato, Suarez,  Hulk, Maicon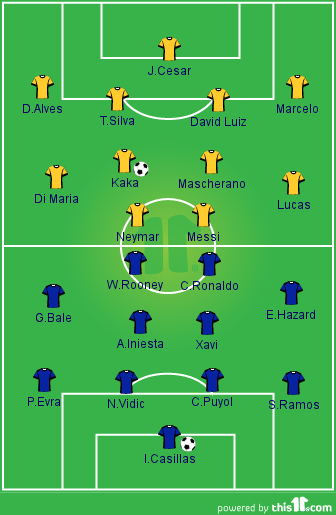 European XI
Europe is the home to the best football clubs in the world and the top leagues are hosted in this continent.
Talking about the team, Goalkeeper Iker Casillas is the one of the world's best and has gained a lot of experience with his side winning the Euro twice in 2008 and 2012 and the 2010 World Cup as well. The defence is very strong, having Manchester United and Barcelona skippers Nemanja Vidic and Carles Puyol makes the team stronger mentally.
Left back Patrice Evra has captained his national side and club and he makes his way into the starting XI. Right back Sergio Ramos has also been very good with his nation and club.
This lineup has a very special midfield. The passing skills of Xavi Hernandez and Andres Iniesta takes the team to a new level. With the pace and dribbling skills of youngsters Gareth Bale and Eden Hazard the wings are bursting with talent.
The attack of the team is very mature and old mates Wayne Rooney and Cristiano Ronaldo would love to trash out the opposition with their deadly finishing. Rooney at times will drop into deeper positions to give his team support in defending opposition attacks. Ronaldo is a very reliable player and will try to keep the faith of the team in him.
Team Lineup:
Goalkeeper: Casillas (Captain)
Defence
LB: Patrice Evra
CB: Nemanja Vidic
CB: Carles Puyol
RB: Sergio Ramos
Midfield
RM: Eden Hazard
RCM: Xavi
LCM: Iniesta
LM: Gareth Bale
Forward
RS: Cristiano Ronaldo
LS : Wayne Rooney
Substitutes: Mario Gomez, Robin van Persie, Juan Mata, Ashley Cole, Vincent Kompany, Manuel Neuer(GK).
Now its up to you to choose. Which side do you feel is the best?
And a special thanks to Shantanu Bhadouria and Ayush Roy for helping me arrange the lineup.