Southampton FC play Cupid; lend fan helping hand for a date
2.24K //
01 Jan 2015, 17:48 IST
The media team at Southampton are going all out to bring love between two fans at the St Mary's. It all began when a fan posted a tweet about a girl who was seated at the stadium during the Saint's home game against Everton which the home side won eventually 3-0.
When the club advised him to ask the girl out for a drink, he said he would get back to them on the 28th when Southampton took on Chelsea at home. Unfortunately, he couldn't turn up for that game and is likely to be present for the match against Arsenal at home on New Year's Day.
The club tried to find out updates on Tim after the Chelsea game only to find out that he hadn't made it to the match at all.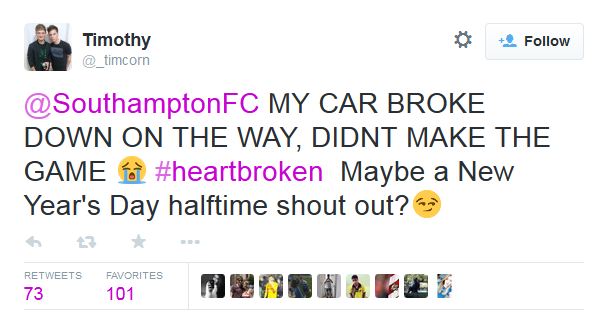 It is then that the club decided to take matters into their own hands. They made a video playing the whole situation out and also placingwith some roses and a Bovril voucher on the lady in question's seat for today's game against Arsenal. The hashtag being used is #GoodLuckTim with fans all over the world rooting for Tim and love alike.