Spartak Moscow vs Barcelona: Match preview
1.01K //
19 Nov 2012, 22:43 IST
Stadium: Olimpiyskiy Stadion Luzhniki
Referee: Ivan Bebek
Kick-off: 10:30 PM IST, Tuesday, 20th of November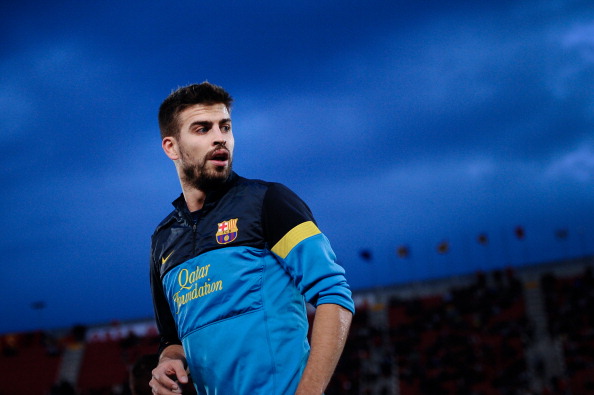 After a shocking 1 – 0 defeat to Celtic at Scotland last time out, Barcelona will be keen to get their Champions League campaign back on track with a more successful trip to Russia on Tuesday. Their top spot in the group is under realistic threat from the Scottish champions, and Tito Vilanova will be keen to avoid the top teams from other groups early in the knockout stages, as Barca continue to challenge, quite relentlessly, on multiple fronts.
With a spate of injuries on their hands, and a few unlucky outings thus far, Spartak Moscow sit bottom of the group with just one win, which in the third round of fixtures. The Russian outfit sit fifth in their home league, 10 points behind cross town rivals CSKA Moscow, and have already been knocked out of the Russian Cup to round off a woeful start to the '12/'13 campaign.
Spartak Moscow: L W L W D
With a draw against lowly Volga Nyzhnyi over the weekend adding to a poor run of recent results, the spirit in Spartak's camp is bound to be somewhat dampened, ahead of the visit of the Spanish giants. With the advantage of playing in familiar chilly conditions especially with the onset of the Russian winter, however, Spartak will hope to take points off Barca in order to give themselves at least a mathematical chance of progress to the knockout stages. But with all their first three preferred goal keepers now ruled out, the home team have a huge dilemma on their hands, and will be hoping for a miraculous performance from Chemyshuk, who is likely to be promoted into the starting line up.
Barcelona: W W L W W
Barca, on the other hand, have the completely opposite situation at hand, with a reducing number on the casualty list, and the return of Puyol and Pique at the weekend's 3 – 1 win over Zaragoza. That famous statistic of 89% possession, and yet just 1 goal against Celtic's 2 would have played on the minds of Barca supporters for a while, but with 7 goals in the two games since then, there seems no reason to fear for a repeat of the same this time round. Barca have, however, failed to keep a clean sheet on their last four competitive outings, and will be hoping that the return of their captain will help fix that issue.
Injuries, Concerns & Suspensions
Spartak Moscow: Andriy Dikan, Romulo, Welliton, Aiden McGeady, Artem Dzyuba, Artyom Rebrov, Sergey Pesjakov, Sergey Parshivlyuk, Soslan Gatagov, Diniyar Bilyaletdinov, Nicolas Pareja.
Barcelona: Alexis Sanchez, Eric Abidal, Marc Muniesa, Isaac Cuenca, Thiago Alcantara, Marc Bartra.
Lionel Messi vs Juan Insaurralde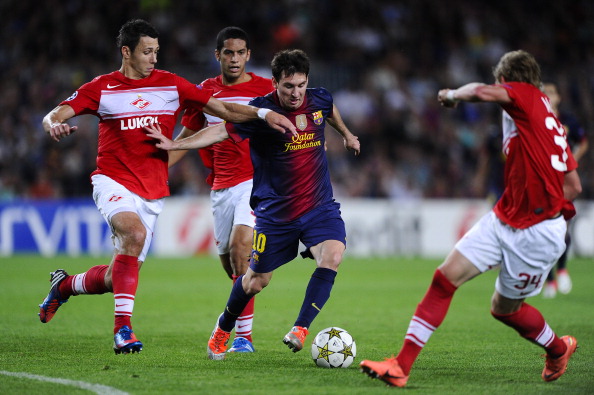 20 goals in 16 games; that's Messi's record for Barca so far this season. With 5 goals in his last three games, including a brace each over Zaragoza, and Mallorca, he shows no signs of slowing down any time soon either. With (yet another) brace last time these two teams met, Messi waltzed past Insaurralde's defence with consummate ease, and shamed Dikan. This time round, with a much more inexperienced 'keeper in between the sticks, Insaurralde will have to defend infinitely better than Spartak have done so far in Europe, and try to keep Messi, in particular, away from goal.
Demy de Zeeuw vs Andres Iniesta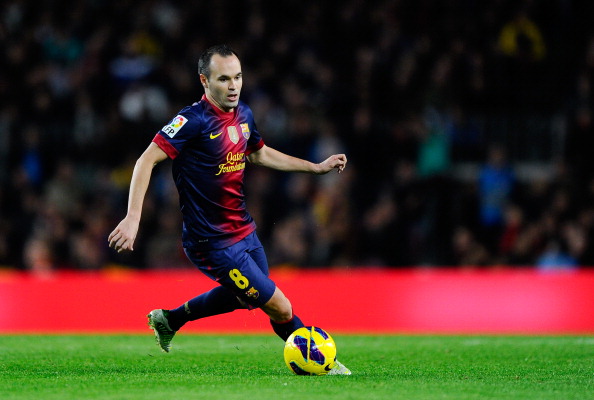 With a spot in the starting line up hard to come by when all players are fully fit, De Zeeuw will be keen to prove his credentials in what is likely to be only his 2nd Champions League start this season. The Dutch midfielder is adept at breaking down attacks with good tackles, and is also a gifted passer of the ball. Likely to be handed the task of stopping one of the bests of the trade in Andres Iniesta, De Zeeuw will have to perform doubly as well as expected in any other match. With an assist in the one previous start against Celtic, however, De Zeeuw is an established threat going forward as well, and Iniesta will need to shore up his defensive side as well.
A victory in the cold, for Barcelona. No matter how many defeats this Barcelona team accumulates, there will barely be a single pundit who will predict anything but a Barca victory every single time they head out to play. There is simply too much quality in the team, and with Alex Song joining in the scoring over the weekend to round off an impressive overall performance, there is barely a weak link to be exploited. Just another tough night in a long list of many for Spartak, one fears.