The beautiful and the neglected
1.59K //
29 Mar 2012, 13:15 IST
Sports have, since the very beginning and almost always, been throwing up interesting and intriguing questions. One of them has primarily been the reason that makes a certain sport tick. We all know that football, tennis, basketball and even cricket have millions of viewers around the world thereby making the likes of Messi, Federer and King James household names. But what makes them so special? What sets them apart from the rest of sports like kabaddi or hockey for instance? Is it the beauty of the sport? Does it have to do with difference in physical and mental levels of exertion?
Every sport basically, can be cascaded down to the same components. They all portray an elementary rule which goes: all you need to do in any sport is better your opponent on a given day. That's how simply it can be put. Now, would this also mean every sport can be assumed as more or less the same physically and mentally? Would a Viswanathan Anand or a Hector Soto (one of the best volleyball players) put in as much effort as a Cristiano Ronaldo to get to the top of the world? Is it even right to compare different sports?
One thing's certain: things basically boil down to the level of competition in each sport. While Cristiano Ronaldo would have to do better than a few tens of millions of people on this earth, the same cannot be said of an Anand or a Manny Pacquiao. Add to the competition, the ever present gaze of countless watchful, critical and cynical eyes, and if you were to triumph under such conditions, you deserve all the attention you get.
Let us now, spare a moment and consider a thought for a more humble sport, like Kabaddi for instance, where the level of competition is restricted to a world-wide representation of about ten countries. The reason for such abysmal numbers is difficult to zero down to. It's not a sport that has just been discovered, being in fact introduced way back during the 1936 Berlin Olympics. Following this, the AKFI(All India Kabaddi Federation) came into existence. However, more than 70 years down the line, all we witness is a mismanaged board, a dying sport and some very unfortunate players. For those who haven't seen pictures of the Indian women's kabaddi team post their achievement of winning the World cup, they had to carry their winner's cheques and stop autorickshaws to find their way home.
It's difficult to investigate and pin point the exact problem here. Firstly, there's nothing the players can do about it except hope that more pictures like this go viral and some sympathy is garnered from a few quarters. Typical front-runners in the firing line would be the authorities. You can't blame them much either, for they've been blessed with an organisation nowhere close to well established and money minting bodies like the BCCI. The same goes with the International Kabaddi Federation (Yes it does exist). A look at their alarmingly amateurish website will vanquish any hope you have for the sport. So, the biggest problem for sports like Kabaddi is the fact that they just have not been generating enough revenue. All this points to the unassuming idea that this is a sport that either just isn't famous enough or good enough to have sufficient followers.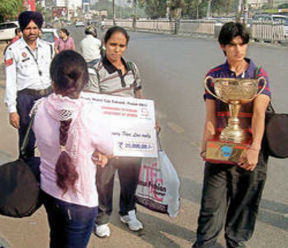 And we're back having completed a full circle. Are we, as people to blame for not taking interest in a sport? Or is it the fault of the sport for not being easy enough on the eye? More importantly, what can be done to change the state of such sports? And what of those poor players, who wear national colours and walk about like ghosts on the street, hoping to seek even the least possible attention? Is there a solution to all this? Can it be, in some way changed? You hope it can, but you know that the answer is a resounding NO. In all probability, you feel like someone's going to have to pull down the shutters on kabaddi. Currently an unsure career option, a sport will have takers only if a lot of money is involved. You see where I'm going with this. It's pretty much a case of the rich getting richer and the poor poorer. Sad but true.
Speaking of sad, there is then the eternal discussion about Indian sports, and whether or not cricket can even be toppled over. Popularity wise, its only contender seems to be football, which draws more and more fans from the urban cities. However true this might be, it is still going to take ages for India, as a nation, to match up to the level of European teams. There's no doubt qualifying for the AFC Asian cup at Doha 2011 was a big step, but what after that? The national team is still in tatters after the resignation of Bob Houghton. Fund generation is still a massive problem. The only way out is to wait and hope. Or the other way, for all you Fight Club fans (the best movie ever!!), would be to organise and launch a 'Project Mayhem' and bring things back to square one. Meanwhile, all we can do is admire Cristiano's back-heels and Roger's one handed backhands.