International breaks in football are the bane of club football fans and managers who have nothing to do but wait anxiously for two weeks, hoping all their players return unscathed. It is a source of frustration when club football takes a hiatus - especially for what seems like needless international friendlies.
2017 was an eventful year in international football. While there weren't any major international tournaments (no, the Confederations Cup is not a major tournament), the 2018 FIFA World Cup qualifiers came to an explosive conclusion with a number of heavyweights failing to make the 32-team cut for the quadrennial tournament that will be held in Russia this year.
The likes of Italy, Netherlands, Chile, and the United States of America failed to qualify and they will be watching the World Cup from the comfort of their homes in six months' time.
And missing out on qualification has also affected a number of players when they return to club football action. However, there are many professional players who have not let their international disappointments affect their form in club football.
So which club had the most number of players representing their respective countries on the international stage in 2017? The answer is Juventus.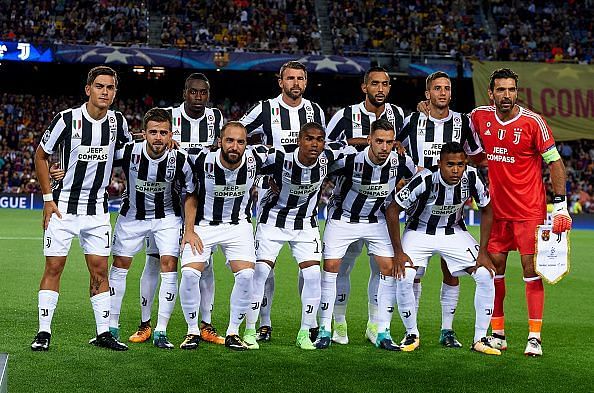 The Serie A giants had as many as 22 different players playing for their respective countries from different continents. From the rearguard of Gianluigi Buffon and Giorgio Chiellini for Italy to the attack of Paulo Dybala and Gonzalo Higuain for Argentina - The Old Lady's players played a collective total of 102 matches in 2017.
Which club's players contributed the most in international football?
However, when it comes to the biggest contribution on the pitch, it is Barcelona that leads the way. Despite having two fewer internationals than Juventus, the Catalan club's players are more crucial to their international teams and are usually sure-shot starters.
In all, Barcelona players were on the pitch for a combined total of 10,846 minutes and they also played 139 matches combined - more than any other team. Of course, the majority of the squad plays for Spain with Andres Iniesta, Gerard Pique, and Sergio Busquets regularly named in starting lineups.
But they do have an international contingent of stars too; starting with German goalkeeper Marc-Andre ter Stegen, French defender Samuel Umtiti, Croatian midfielder Ivan Rakitic, and forwards Lionel Messi and Luis Suarez for Argentina and Uruguay respectively. Neymar's apperances for Brazil also count for the first half of 2017 prior to his move to PSG.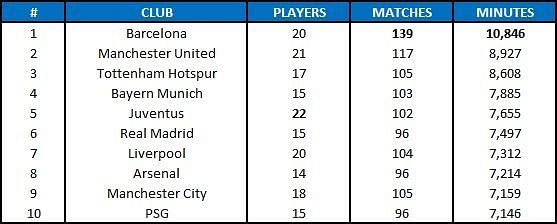 Manchester United and Liverpool were the only other clubs which also had at least 20 internationals in their squads for the calendar year 2017.
Surprisingly, Real Madrid only saw 15 of their players play international football in 2017. But this can also be attributed to the fact that they did not make any big transfers in the summer. Karim Benzema's lack of international action after being dropped from the French squad since 2016 is also another reason why they are lower down the table.
Among the top 100 clubs in the world, English Premier League clubs appear 16 times on the list. Five of these clubs are in the top 10.
The German Bundesliga had 10 clubs on the list with only Bayern Munich making the top 10 while the Italian Serie A had nine clubs on the list.
Data courtesy of CIES Football Observatory
Paul Merson predicts the result of Man City vs Inter UEFA Champions League final! Click here