Steven Gerrard – Thanks for the memories, you were too good to be true
2.05K //
03 Jan 2015, 16:30 IST
The anthem of Liverpool, its most celebrated one, "You'll never walk alone", starts off with the following lyrics:
"When you walk through a storm
Hold your head up high
And don't be afraid of the dark..."
It is said that when the fans at Anfield start singing, "You'll never walk alone", the players feel an overwhelming emotion to give everything to this club. Steven Gerrard has embodied this song in both mind and spirit. As his career with Liverpool sets at the end of the season, it is truly monumental that he has chosen to end it on his terms.
He has held his head up high, stayed with Liverpool in their darkest times (the Roy Hodgson era, the turmoil regarding ownership, his personal battles and the lure of other European clubs). He has stayed with the club and he has been rewarded with a Champions League, a Uefa Cup and various other trophies.
He has walked on for the club through the wind, through the rain
He has played on with injuries, doing whatever was asked of him. He has played in whatever position he was asked to, shouldering the burden of captaincy and leading the team. He hasn't shirked from his responsibilities. He has asked so little and done so much that no football follower will belittle his time with Liverpool.
When the vultures were circling, he chose to play for his boyhood club. Accepting a contract at the prime of his career which could have changed fortunes never came to his mind. Instead, he battled for his club Liverpool FC. As time went on, the elusive Premier League trophy never arrived but he soldiered on, with hundred percent commitment.
Shunning opportunities abroad and choosing to play with a team, with expectations that every day would only get better, shows the man's character. As he has often said, he has had no regrets. Even the hardest of Red supporters though would have wished him more success than he deserved.
He has walked on with hope in his heart
The chance to join bigger and more established teams was always there, but he chose Liverpool. He wanted to enjoy success with this club. His dream of a Premier League title was so mercilessly shattered last season, but he still chose to walk on, willing himself, always ready to fight the next battle.
He was born and bred a Merseysider, a truly great player who could have walked into any other Premier League side. Riches were never his concern. How cruel is it that one of the best players of the so-called Golden Generation will not have a Premier League medal adorning his trophy-laden shelf?
The memories he has delivered will continue to live on long after he has gone.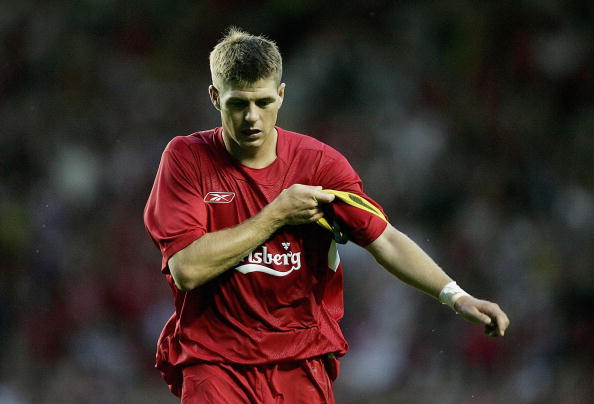 You'll never walk alone
In the current season, when nothing has gone Liverpool's way, he has still chosen to play like a man possessed. His belief in his manager hasn't been quid pro quo and his displays have been questioned. In a team which has functioned in an average manner until the last few weeks, it has been a relief and at times admirable watching him perform.
His trademark passes, the long diagonals and his vision is still appreciated. Rodgers' choice to use him sparingly hasn't been well received, but it was in the best interests of the club. By making the call to walk out at the end of the season, Steven Gerrard has given the club enough time to seek a replacement if they feel the need to do so.
As Barney Ronay of The Guardian so well puts it nostalgia, the tying link to Liverpool's past players, will no more be on the team sheet next season. His departure brings into percept Rodgers' ability to now build a team purely on his terms. The stalwarts are gone and it is now time for the next-gen of Reds to step forward and take charge.
His efforts have always been recognized, a player who held up the team more than anything else. His biggest contribution to the team was "belief", something which was so inherent with him, that other teammates often struggled to match that excellence he commanded. His determination can be summed by a few quotes, "I was always determined to make it as a footballer, but if things hadn't worked out, I'd have maybe followed my dad into the building industry".
It has been an honour watching him play. And as a Liverpool fan, I only wish him luck for his future endeavours. His determination, courage and bloody mindedness will always stand out and history will always be kind to him.