Player Focus: Sturridge return keeps Liverpool's Champions League aspirations alive
1.60K //
05 Feb 2015, 12:02 IST

It took just 12 minutes for Daniel Sturridge to score upon his return to first team action against West Ham, exactly 5 months after his last appearance for Liverpool. To say that the Reds missed his presence and prolificacy in that time would be an understatement.
Despite considerable improvements in recent months since a change of formation, Rodgers was still lacking a spearhead to his attack. Raheem Sterling deputised up front with varying degrees of success, proving a handful but lacking the predatory instinct of a traditional number nine, after Balotelli, Borini and Lambert had all made somewhat ham-fisted attempts to cover for the absence of Sturridge and the departed Luis Suarez.
What marks Sturridge apart from all of the rest of those players is his self-belief, almost bordering on arrogance. That's not meant as a criticism by any stretch. Some would say that Balotelli is a similar character in that sense but the Italian has undoubtedly let a slow start at Liverpool - now nearing snail-paced - affect his confidence.
When watching Sturridge you get the impression that he's not too frustrated when he does miss a chance as he knows another will be along before too long - even if he has to forge it for himself - and he'll score that. Indeed, when considering that Balotelli has gone 12 league matches without scoring for Liverpool, Sturridge has never made more than four successive league appearances without finding the net for the Reds – and he's done that only twice.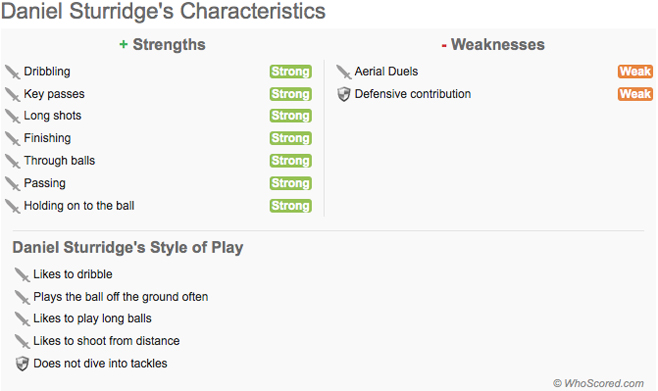 His record in front of goal since a move to Merseyside is nothing short of remarkable.
The striker's goal at the weekend took his league tally for the club to 33, coming from just 47 appearances, of which 40 have been starts. To put that into perspective, since moving to Anfield in January 2013 only Luis Suarez (41) and Sergio Agüero (35) have netted more goals than Sturridge, though the Argentine's tally has come from 6 more appearances.
Fittingly, ahead of the Merseyside derby this coming Saturday, Romelu Lukaku is just one behind Sturridge's tally in that time, but his 32 goals have come from as many as 25 more appearances. Robin van Persie (31 goals) and Wayne Rooney (30) closely follow, having made 12 and 14 appearances more than the Liverpool man respectively.
It remains the case, however, that when most are pushed to choose whom they would deem the best striker in the Premier League, very few - outside of Anfield at least - would say Daniel Sturridge. The assumption, in general, would be that the likes of Agüero offer more to the team outside of their goalscoring prowess alone. The fact that the City forward has created just two more chances from open play than Sturridge (52) has since moving to Liverpool suggests that the two actually carry a very similar threat level.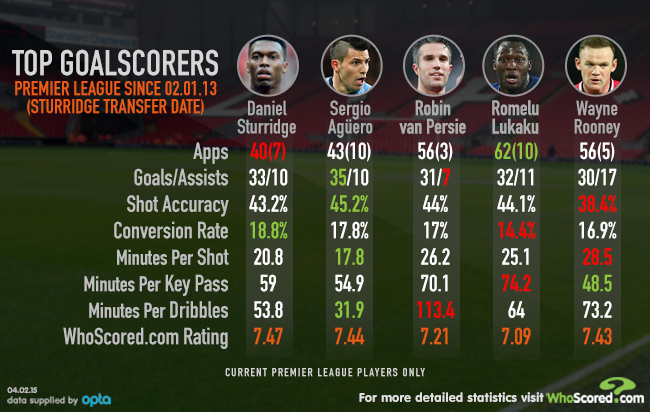 Some might consider it brash to say, but Daniel Sturridge is perhaps the greatest English goalscorer since Alan Shearer. Indeed, his captain Steven Gerrard has previously stated, 'ability-wise he (Sturridge) is possibly the number one (English) striker I've played with, when you talk about speed, sharpness, skill and different types of goals.' His tally of 5 goals in 16 international caps, then, will be disappointing to a player who backs himself to score in every game that he plays.
He'll do the same in the Merseyside derby this weekend and has every right to be confident. Last season the former City and Chelsea forward struck 3 goals against Everton despite playing just 83 minutes over the two league meetings between the sides. Those strikes took his personal tally against the Toffees to 6 in competitive matches, which is a tally he has not bettered against any other team in his career.
Sturridge's return helped Liverpool to leapfrog West Ham last weekend and they could potentially climb the table again next time out, dependent on the result of the North London derby earlier in the afternoon on Saturday. It's often the case that one side begins to hit their stride just at the right time and, with Sturridge now back in the side the Reds will be confident of extending an already impressive run of results.
Although they were certainly in the minority, sections of the Liverpool faithful were calling for Brendan Rodgers' head not so long ago. However, if it had been known that Sturridge would miss out for 5 months due to injury at the start of the campaign the fans may well have taken their current predicament. Just 5 points adrift of third-placed Manchester United, with their main man back fit and firing, you'd have to fancy Liverpool to claim a Champions League place on current form.
Will Liverpool qualify for the Champions League following Sturridge's return from injury? Let us know your thoughts in the comments below.