Suarez could face FIFA ban for punching Jara
4.25K //
28 Mar 2013, 13:12 IST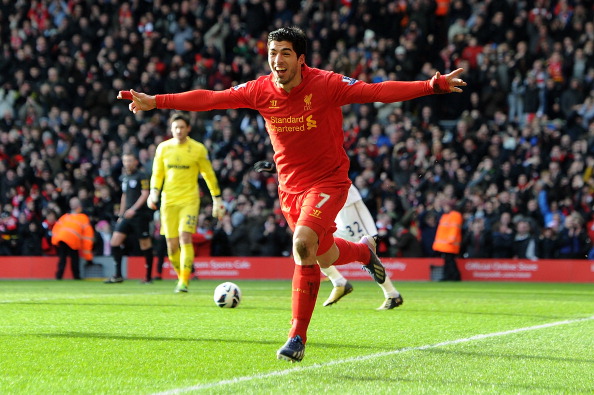 Luis Suarez has found himself another reason to be in the center of the controversy after intentionally punching Chile defender Gonzalo Jara on his face. The incident happened during a Uruguay corner in the first half of the game. Jara was marking Liverpool forward Suarez during the corner kick when the Uruguay striker landed a punch on his face.
A television camera caught this incident. The replays showed a tussle involving Suárez and Gonzalo Jara, following which Suárez aimed a blow towards Jara's face. But Jara did not go to ground, the pair immediately became involved into a verbal argument but the referee, Nestor Pitana, took no action. Suarez was booked for protesting over an unrelated incident, and hence he will be suspended for Uruguay's next qualifier, against Venezuela. Jara is currently on loan at Nottingham Forest from West Bromwich Albion. The loss to Chile means Uruguay has made it difficult for themselves as they are now currently sitting 6th on the table, which is two places behind automatic qualification for the FIFA World cup 2014 due to be held in Brazil.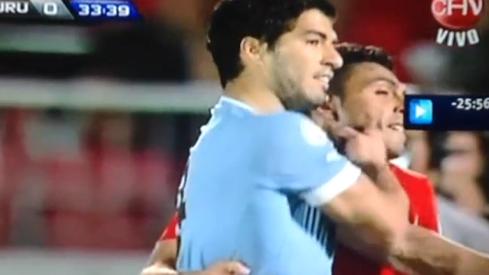 Now Suarez is waiting for FIFA's action over the incident after a report of the match officials is sent to the World football regulatory committee. Suarez could face several matches ban and also a hefty fine for the incident. The match reports by the officials will form a base for the final actions taken by Fifa.
In a statement, Fifa said: "We are still collecting all the post-match international reports, since the officials have got 24 hours to send them. Based on the mentioned reports, Fifa will proceed accordingly."
Suarez is not new to such controversies after being involved in other incidents of racism and physically assaulting the players. In other incidents, he bit PSV's Otman Bakkal on the shoulder during a Dutch Eridevise game. Ajax suspended him for two games and fined him an undisclosed amount, which the club said they would donate to a good cause. Suarez was also involved in a racial abuse case when he abused French international and Manchester United defender Patrice Evra racially in a Premier league game. FA concluded a seven-day hearing, handing Suárez an eight-match ban and a £40,000 fine for racially abusing.
Here's the video of the incident: