Suarez finally puts Bale in the shadows
1.01K //
11 Mar 2013, 01:00 IST
It very much seems that the PFA Footballer of the Year award will be going to one of Robin Van Persie, Luis Suarez and Gareth Bale. Now, for differing reasons, I don't very much care for any of them.
As an Arsenal fan, it is not hard to fathom why I find it difficult to smother Robin Van Moneybags and Gareth 'As good as Messi and Ronaldo' Bale in praise (as good as Messi or Ronaldo, really? Seriously? It must just be some weird joke I just don't get).
But Suarez is a different matter altogether. He is probably the most universally despised footballer in the world. From his infamous handball that denied Ghana a semifinal berth in the World Cup, to his 8 game ban for racially abusing Patrice Evra, via the gathering of a seemingly permanent reputation as a diver (it appears to have been overlooked that Bale has been booked a record 6 times for simulation this season).
I, like everyone else, really did not like Luis Suarez. But that stance seems to be softening. Perhaps it is because I don't have the energy to outwardly despise him alongside Van Persie and Bale, perhaps I'm just coming round to appreciate his undoubted ability as a footballer. What you can't deny is that he's a bloody good footballer.
His opening goal against Spurs was just brilliant. Put through by Enrique on a tight angle with Lloris advancing rapidly, he poked it past the Frenchman by shooting so unexpectedly early, the Tottenham keeper had no time to react. Whilst us mere mortals would have opted for a more conventional, less effective option, Suarez displayed the sharpness of mind which is arguably his greatest asset.
Suarez has single handedly kept Liverpool in the hunt for 4th spot this season, others have flitted in and out of form, but the controversial Uruguayan has been utterly brilliant all season long. Whilst last season his finishing often left much to be desired, that complaint certainly cannot be made this year. He's leading the scoring charts with 21, two more than Van Persie and five more than Bale. He has also turned provider on four occasions, the stats certainly back him up.
Whilst Bale has hit a purple patch in the last month or so, driving pundits into a frenzied rush to heap as much praise on him as humanly possible, and Van Persie has benefited from playing in by far the best side in the league, Suarez has had to contend with the relative mediocrity that surrounds him at Anfield, whilst rarely going through a period of ineffectiveness.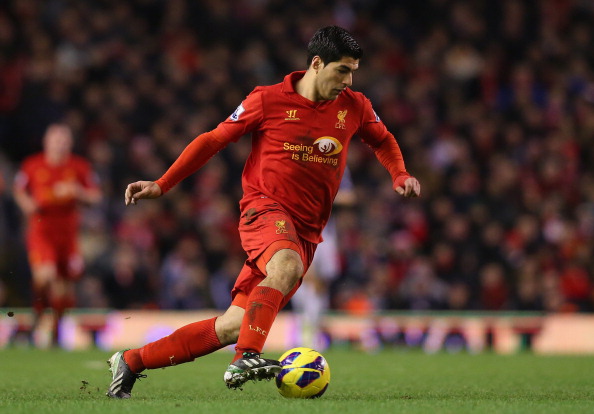 He's still grabbing headlines for the wrong reasons, his handball against Oldham almost broke Twitter as the entire country rushed to call him a 'massive ****'. That was harsh on Suarez, I don't think he purposefully handled the ball, and we can't expect all footballers to immediately admit to handling the ball with a goal on the line. After all, even the legend that is Thierry Henry found himself in a similar situation. Footballers aren't saints. In other news, the Pope is Catholic, and sun rises from the east.
Suarez gets my vote for Footballer of the Year; just as Van Persie did last year with Arsenal, he has made an average side perform like a good one. For me, that's more impressive than running riot in a brilliant side focussed on getting the best out of that individual (Van Persie), or running very quickly and scoring a few pot shots (Bale).
I suspect the gong will go to Van Persie or Bale, whether that has anything to do with Suarez's reputation, I don't know. But we might not be able to appreciate his talents for much longer, with endless rumours about a summer departure doing the rounds. One thing's for sure, we'll miss him when he's gone. Well, at least the Liverpool fans will, especially after they've spent Suarez's transfer money on Leon Best.