Suso: Liverpool's future number 10
884 //
14 Dec 2012, 10:05 IST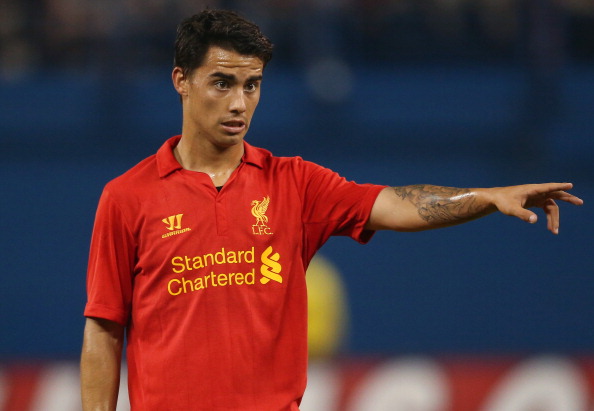 Jesús Joaquín Fernández Sáez de la Torre, better known as Suso, has had a rapid rise since joining Liverpool FC from Cadiz CF in 2010. The 19-year-old has finally been given a chance in the first team, and since then he hasn't failed to impress. But let's start with his early and humble beginnings.
Suso started his professional career when he was 12-years-old, joining Spanish side Cadiz CF. He was a hit there, and many top clubs were after him. In 2010, Real Madrid and Liverpool were going after him. He was set to sign for the Madrid club, but a phone call from a certain Spaniard from Merseyside changed his decision and made him join Liverpool.
This is how Suso described his decision to join the Merseyside club:

"I was going to sign for Real Madrid but one day before it the phone rang and Rafael Benitez spoke to me. He convinced me that Liverpool was the club for me and after that I had to change my plans. I was going to come to Liverpool."
Suso signed his first professional contract with the club in November 2010. He made his 1st team debut in a pre-season friendly against Borussia Mönchengladbach, but was placed into the reserves for the season. He impressed for the reserves, and was considered the club´s best prospect alongside winger Raheem Sterling.
Since signing for Liverpool, Suso has been managed by 3 different managers. His passing, technique, vision and versatility allowed him to force himself into 1st team plans of current manager, Brendan Rodgers. Partly due to his quality and partly due to lack of attacking players, Suso was pushed into the 1st team. After overcoming the initial shock of playing with the big boys, Suso became one of Liverpool's best performers.
As far as the future is concerned, Rodgers made it pretty clear how he wants Suso to develop and what position he wants to play him in. When asked about the Spaniard's development, he said:
"I think his best position is that number 10 role and we'll nurture that over the next couple of years. He's a young kid that's just come up to work with us over the course of the summer. He's played some games and done very, very well.
I've asked him to play in that false winger, that seven-and-a-half role, where he's more on the inside. But ultimately his best position will be the 10 and as I said, he's a great young kid for us to have in the group and develop in the coming years."
Suso is a very bright young prospect, and if developed well he can be a world-class player. He has the potential to be a key player for Liverpool in years to come, and in Rodgers he has a manager capable of developing and bringing out the best of his undeniable talent.