Tactical Analysis: Compact Southampton trump Manchester United 1-0 at Old Trafford
2.52K //
12 Jan 2015, 10:48 IST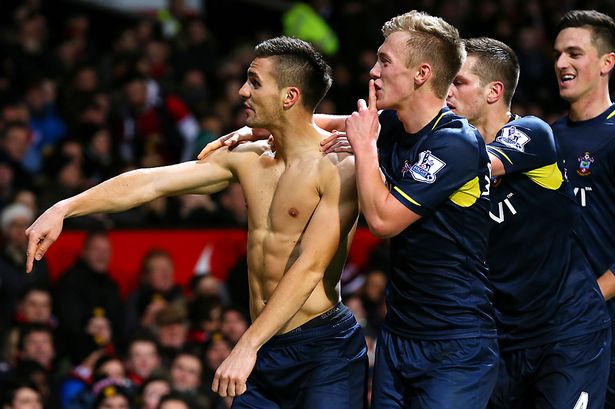 Ronald Koeman led the Saints into Old Trafford full of confidence after a string of strong results. Having defeated Arsenal in comprehensive fashion at the start of the new year, many expected an exciting encounter between Southampton and Manchester United.
However, in a game characterized by a paucity of clear cut chances and shots on target, Southampton came out on top due to their strong organization and ruthless finishing. While it may seem that the Saints eked a win with just one flash in the pan, it was the result of a perfectly executed gameplan which suffocated and then beat the home team.
Southampton nullify United's pace with a deep and compact back line
With United no longer facing a deep injury crisis, Louis van Gaal continued with his preferred "three at the back" formation with Daly Blind replacing Jonny Evans in a reshuffled back three. Antonio Valencia started for the injured Rafael as the right wing back. Angel Di Maria made his comeback to the starting lineup, detailed with playing a second striker role. He regularly dropped back making surging runs on the counter to provide an outlet for long clearances from the heart of defence.
Wayne Rooney started in a deeper role a la Paul Scholes, where he repeatedly tried to release his teammates with long diagonal balls. In short, United were set up for a quick devastating counter through the middle.
Southampton lined up in a more traditional 4-2-3-1 formation with Morgan Schneiderlin and Victor Wanyama providing a powerful shield in front of the back four. Learning from the mistakes of their last encounter where their attacking display was futile due to two moments of magic from Robin van Persie, Southampton played with an extremely compact back line with deep-lying defensive midfielders to nullify the pace of United's counter attack.
Considering the lack of width in United's attack, this approach could be sustained over a prolonged period resulting in a drab first half with very few chances. The only surprise in the lineup was the introduction of pacey new loan signing Eljero Elia instead of the tricky Dusan Tadic. Graziano Pelle played as the lone forward, isolated for most of the game due to the deep lying defence and midfield.
Powerful Southampton duo negate narrow United's threat
Right from the start, Southampton were set up to cut out all spaces for United's pacy attack. Scnheiderlin and Wanyama delivered powerful performances in front of defence suffocating United's midfield. Their intimidating presence forced United to try out many hopeful punts from deep for Di Maria to latch on to.
Rooney was especially ineffective in his deep-lying role and constantly tried ambitious floated diagonal passes, ceding control after prolonged periods of United possession. United were also not helped by their personnel as all their attacking forwards played around the centre in a fluid interchangeable manner, leaving only Valencia and Shaw to provide all the width.
While this is one the characteristics of a wing-back formation, it became a limitation here as Blind, due to a lack of pace, was unable to consistently get forward to support Shaw.
Did Southampton park the bus then?
While going with a safety first approach, the Saints did not park the proverbial bus in this game. While the possession stats and the shots on target seem to suggest the same, they were let down by two key aspects which sorely handicapped their attacking threat.
Fraser Forster, except for one wobble in the 74th minute where he knocked a cross down directly at Mata's feet, had a good game in goal with respect to collecting crosses and shot stopping. His distribution was what left Southampton down. Unlike De Gea, being clearly uncomfortable with the ball at his feet, his response to all situations was to put his foot through the ball, thereby not allowing Southampton any hope of building through the back.
A great example of this was seen when he kicked a simple back pass from the newly introduced Florin Gardos out of play and then remonstrated at the centre back for having played the ball back to his weaker foot. A look at his distribution map as compared to De Gea's puts this in starker relief.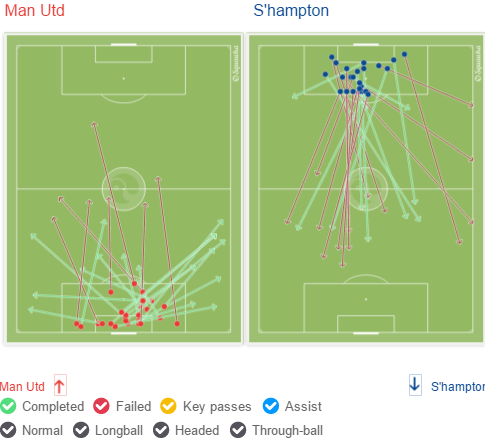 The second aspect which lead to the lack of attacking bite was the inability of their wingers to exploit the space behind United's wing-backs on the counter. Elia was guilty of wasting a couple of great opportunities where he beat Valencia only to be let down by his inability to confidently cross with his left foot. Similarly, Blind's lack of pace on the left was never exploited. Additionally, Michael Carrick turned in a tidy performance by quickly spotting and covering whenever one of the back three made a surging run forward.
Southampton score and soak up pressure for a deserved victory
Predictably, Southampton's winner came about after Elia was substituted for Tadic through a long ball and a distinct lack of subtlety. Forster's long kick from his box was knocked down to James Ward-Prowse, who rode two tackles to find Tadic, who slid it into the path of Pelle. The Italian striker's shot ricocheted back off the post to Tadic who made no mistake slotting the ball into the net in a composed manner. Southampton had scored off the first shot on target in the game.
The following 20 minutes saw United lay siege to the Southampton box, with Mata being guilty of squandering three great chances. However, Southampton showed great organization and game smarts (using any opportunity to delay) to see through a well-deserved victory to leapfrog United into third place. The Saints showed great resilience, maturity and execution to lay a strong claim to a top four finish.