Tactical preview – England v Montenegro
1.10K //
11 Oct 2013, 12:16 IST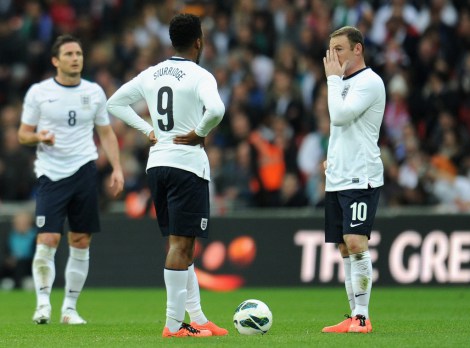 After a solid, if unspectacular, performance in Ukraine's Don Bass arena, England go into this weekend with their World Cup qualifying fate securely in their own hands, knowing that two wins will confirm Roy Hodgson's side's passage to next year's finals in Brazil.
Like Ukraine though, Montenegro lie a single point behind England and, with just a home tie, and likely win, to come against Moldova on Tuesday, Branko Brnovi?'s side will know that, any kind of a positive result at Wembley will leave England with everything to do going into their final qualifying match against Poland.
PREVIOUS MEETINGS
There have been only three previous meetings between the two sides, with all three games ending in a stalemate.
Roy Hodgson's side will need to improve upon March's reverse fixture in Podgorica, in which substitute, Damjanovic, scored to earn a well-deserved draw, equalising Wayne Rooney's early opener.
It was also against Montenegro that England lost Wayne Rooney for the opening two fixtures of Euro 2012, as the England striker saw red, petulantly kicking out at defender Miodrag Dzudovic following some over-zealous marking and the arrest of his father days before the qualifier.
FORMATIONS
Despite having failed during qualification to beat any side other than a poor Moldova and perennial international whipping-boys San Marino, the naturally cautious Hodgson is unlikely to change tack from the 4-3-3 / 4-4-2 employed, with some success, throughout qualifying, during which only three goals have been conceded and England have remained unbeaten.
Daniel Sturridge's return and continued early-season form, could see Frank Lampard drop back to the bench after collecting his 100th international cap in Ukraine, with Rooney returning to his favoured deep-lying forward role. Leighton Baines' inclusion for the injured Ashley Cole could turn out to be a blessing in disguise for the England coach as, though he lacks the defensive know-how of 105-cap Cole, few would argue that the Everton full-back offers more going forward than his Chelsea counterpart.
Hodgson will hope Rooneys inclusion will take away some of the creative pressures from Jack Wilshere, allowing the Arsenal youngster to drop into his preferred deeper position alongside captain Steven Gerrard, no longer picking the ball up with his back to goal and driving the side forward.
Montenegro are expected to be without captain Mirko Vucinic, goalkeeper Mladen Bozovic, centre-back Marko Basa and midfielder Miodrag Pekovic because of injury, but will employ a similar formation to Friday's opponents – switching between 4-4-2, 4-3-3 and 4-5-1, sitting deep and looking to break on the counter-attack.
James Milner
For many, the versatile Manchester City midfielder represents everything that has been wrong with England during Roy Hodgson's tenure. A poster-boy for the coach's ingrained conservatism or standard-barer for the current national squad's overall mediocrity.
Few understand what Milner actually brings other than a seemingly endless store of energy exerted toward some private cause unbeknownst to anyone save Roy Hodgson and Milner himself.
With the probable inclusion of Sturridge, Welbeck and Rooney however, Milner will play a vital role maintaining the balance of the side.
Aside from the usual protection he offers his full-back, the inclusion of an extra attacker requires him to come in off his starting right-hand side position, into the centre to ensure England are not outnumbered in midfield.
ROTATION
The combination of England's three versatile forwards holds numerous options, tactically, in attack.
All three possess similar attributes – excellent movement, the ability to drop deep to create and goal scoring ability from both close and long-range.
Because of these shared attributes, all three can easily switch position with either of the other two.
Having played much of his football from wide positions, Sturridge's natural instinct is to drift toward the touch lines, picking the ball up in the channels before cutting in towards goal.
This natural movement drags defenders out of position, creating space in the centre for Rooney advancing from his deeper position and Danny Welbeck, coming in off his wing.
And of course, this example is completely interchangeable – Welbeck could move into a central area with Rooney dropping deep to pick up the ball and play it into the channel for Sturridge and vice-versa.
With Montenegro probably looking to sit deep, England will need to find a way to break them down. Rotating their attacking trident with quick positional interplay will take away an obvious target for the Montenegrin defence, cause them to drift out of position and potentially create space for others.
KEY BATTLES
Leighton Baines v Stefan Savic
Ashley Cole's withdrawal because of a rib injury gives the Everton fullback another chance to press his claim for a more regular starting spot.
Baines ability from set pieces could prove vital if England are to crack what promises to be a tough and well-drilled Montenegrin defence.
Savic was excellent in March's fixture in Podgorica, with the former Manchester City defender at the heart of much of the good work in an excellent second half. Keeping his opposite fullback, Baines, quiet will be essential if his side are to pull off a positive result.