Tactical Tweaks: Breaking the Barca Code
3.30K //
02 Mar 2013, 20:44 IST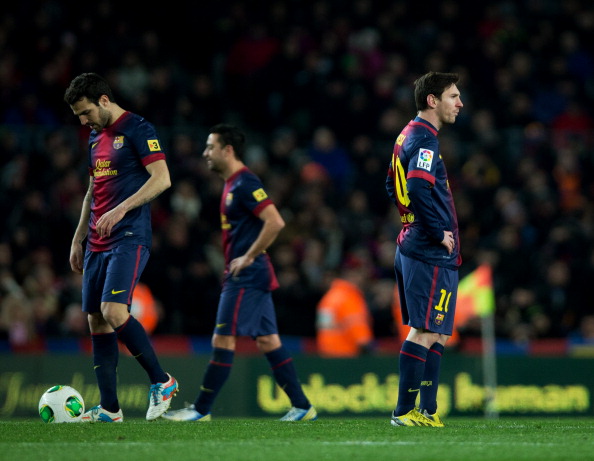 Anyone who has watched Bayern Munich run riot in the Bundesliga must be wondering how and if they're going to drop any points in the games to come. Most of us asked the same question when Barcelona threatened to take away the La Liga title by a landslide margin. But as is often said, no team is unbeatable and it looked like Mourinho and Allegri had done their homework as Barca crashed to defeats by 2 goal margins. So what exactly did Barcelona and Milan do right that forced Barcelona on the back foot? Below, we look at those defeats from a tactical perspective.

Soak up pressure and break at speed
Call it arrogance or tactical preference, Barcelona press high up the pitch in a bid to win the ball back quicker and to keep the opposition team cooped up in their own half. This inadvertently leads to a lack of numbers at the back, leaving wide open spaces. This was evident in the Copa Del Rey game, where Di Maria broke down the left flank in the second half and left Carles Puyol sprawling in the penalty area with his excellent pace and change of direction. Milan showed that they had recognized this weakness early in the second half, as Stephan El Shaarawy was released down the right in the 16th minute free to run at the goal, but a heavy touch allowed Puyol to make a crucial intervention. Milan in general used the counter attacking method to good effect, which eventually got them the second goal as Niang rushed on to the right flank and passed inside for El Shaarawy to set up Muntari.
Let them have the ball where it doesn't matter
Milan learnt a harsh lesson the last time these two sides met in the Champions League, when, at the Camp Nou, Milan were left chasing shadows to the point of drop dead exhaustion. Barcelona ran out relatively comfortable 3-1 winners that night.
Massimo Allegri though, correctly recognized that Barcelona's unbelievable passing stats were mostly due to short passes back to the defence and sideways, and their inbuilt preference of building an attack from the back. This meant that closing down Barcelona down over the full length of the pitch would be ineffectual and foolish. Allegri simply commanded his team to do the chasing in the final third, and the tactic worked like a charm. Over the 90 minutes in Milan's win, Barcelona completed 93.3% of their passes and had 72.6% of the possession , but Barcelona lost the ball 143 times and recovered only 47 of those. Barcelona as a team covered 10.7 kilometres, Milan covered Barcelona in 10.5. This intelligent system of zonal closing down effectually put Andres Iniesta out of the equation altogether, which in turn played a part in keeping Messi quiet, leaving both players with little or no space to maneuver in.
Play a formation with wide men
May it be Madrid's 4-2-3-1 or Milan's 4-3-3 employed by both sides against Barcelona, a tactic with wide men usually seems to bother the Catalans, and for different reasons. Madrid used Cristiano Ronaldo to draw a penalty from Gerrard Pique and Angel Di Maria to run havoc down the channels and leave Puyol doing the splits, utilizing an effective tactic to use the wingers to engage Puyol and Pique in a duel of speed.
Milan, on the other hand, used El Shaarawy as an outlet to counter in the gaping hole left by Daniel Alves while surging forward. It is no secret that Barcelona use Alves as more of an attacking element than as a defensive unit, and that flaw was picked up by Milan and exploited by Milan, which was highlighted as El Shaarawy had an excellent game on the night. Milan's other wide midfielder on the night, Kevin Prince Boateng, underlined the tactical masterstroke by bagging the all important first goal.
Needless to say, these tactical inefficiencies will need corrections, and fast. Barcelona have to face these two teams again almost immediately, which will make for a compelling watch. Whether Barcelona will choose to improvise on a style that has won them trophies will be an intriguing question, but with more managers successfully breaking the Barca code, the remaining sides in the UEFA Champions League will certainly fancy their chances.