Talking points from Manchester United's loss to Athletic Bilbao
2.15K //
09 Mar 2012, 13:46 IST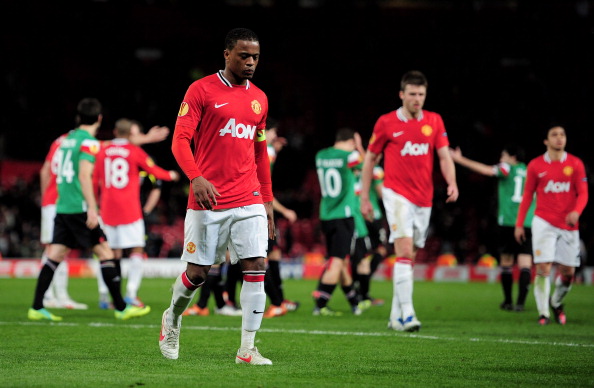 Manchester United lost the match but not the tie against a superior Athletic Bilbao side. Bilbao came from a goal down to win the match 3-2. The second leg will be played on 15th of this month.
United struggle against sides which press hard
Manchester United have struggled against sides which pressed hard like Newcastle, Norwich, Tottenham and now Bilbao. The center backs and the center midfield players prefer time on the ball before passing it forward. Athletic Bilbao pressed United all over the pitch, and special mention has to be given to Fernando Llorente who pressed both the center backs on his own. And unlike the other sides mentioned above, Bilbao managed to press the whole 90 minutes, it will be interesting to see how they play this weekend in the La Liga.
Bielsa's Vertical Football
Although for onlookers yesterday's performance by Bilbao may seem to be similar to Barcelona's tiki-taka, there is a world of difference. Marcelo Bielsa's teams generally play "Vertical Football", i.e there main aim is not possession but getting the ball forward as quickly as possible. Against United this was achieved generally by the full backs pushing forward and playing one-two-ones with the forwards. Bilbao, when they lost the ball switched back to pressing for the ball and managed to get back the ball quite easily.  United didn't have enough quality on the ball to effectively counter (they missed Scholes here), and even when they did get the ball forward quickly, Hernandez was very poor in the box. One way to play against a technically strong team is to field  technically sound players yourself, some of  United's more technically sound  players like Scholes, Carrick, Berbatov, Cleverley didn't feature from the start (some didn't feature at all). Especially baffling was Ferguson's choice to start with Hernandez instead of Berbatov, the Mexican has struggled this season and games like this where the midfield is dominated by the opposition, he is  completely ineffective.
Athletic Bilbao's Man Marking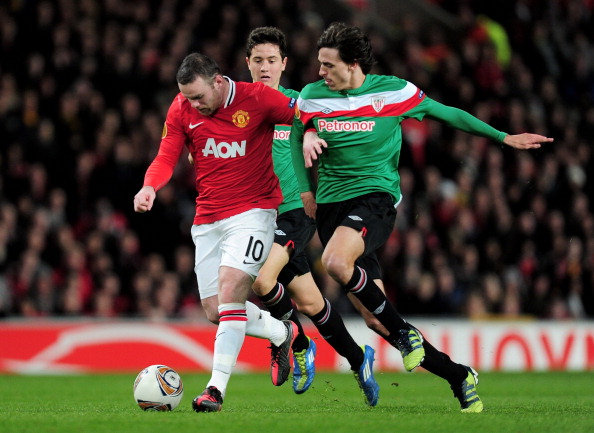 When without the ball, the Bilbao players each had a single opposition player to press, they had a spare man at the back with the excellent Javi Martinez and San Jose taking turns to mark Hernandez. This left United with a spare man at the back, this is where United could have been clever. The free center back could have been the one who started attacks, but this required a good ball player, probably someone like Michael Carrick, but clubs from England rarely try out these kind of tactical tweaks.
Passer + Runner
Sir Alex Ferguson over the past few season always used to play with a passer(Carrick, Scholes) with a runner(Fletcher, Anderson) in midfield. Last season United mainly played with Carrick and Giggs in midfield, but they didn't face any quality opposition until they have met Barcelona. Especially against sides which press hard like Bilbao, you need energy in the center of the park. Giggs neither has energy nor can complete 90 passes a game. He does get his fair share of assists, but he is better off playing in a three man midfield. United did look better when Anderson and Carrick were playing, and there was one instance when Anderson nicked the ball and started a counter, but Hernandez wasted the opportunity.
Manchester United miss Carlos Queiroz
Manchester United's excellent performances in Europe were in some part due to the fact that Queiroz was at Old Trafford. During Queiroz's days, United were defensively solid with Vidic-Ferdinand being one of the best defensive partnerships in the world. Also Ferguson abandoned the orthodox 4-4-2 and went in for a fluid 4-3-3. One can't say how much influence Queiroz had on creating the 4-3-3, but after Queiroz left United switched back to 4-4-2 with Rooney dropping back. Manchester United under Sir Alex has a history of under performing in Europe, but in 2006-09 they played some scintillating football away from home managing to win in 2008. The only worry for United fans will be that without Queiroz, United seemingly are back to their days of tactical naivety.
Wayne Rooney fails to pick up Iturraspe
While Rooney was hounded and marked tightly whenever he had the ball, he failed to do the same when Bilbao had the ball. Iturraspe had a lot space and time to dictate play, as Rooney was mostly playing behind him. Rooney is a key part of how United play as his dropping back into midfield and his energy makes up for the fact that United play with only two central midfielders. But against Bilbao, especially in the first half, his off the ball work rate was poor.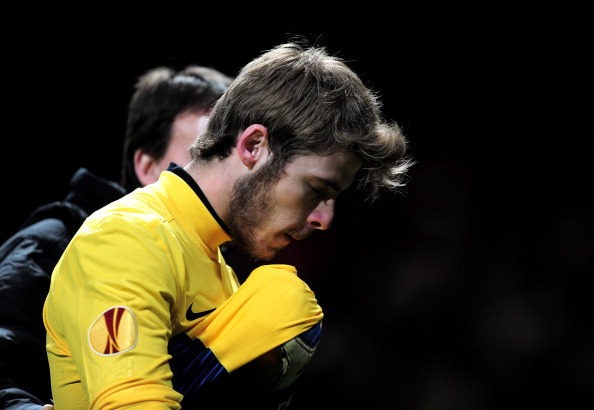 David De Gea kept United in this tie with some fantastic saves, his agility and athleticism were from the top drawer as he pulled out saves to stop Muniain, Llorente and Torquero.
Rafael has committed some terrible mistakes in the past, but he was found sleeping during the third goal was simply unforgivable at this level. Only time will tell whether the Da Silva twins can make it at Old Trafford, but they certainly have their work cut out.
No review of this game is complete without the mention of Iker Muniain, the 19 year old put in a terrific performance with his speed, skill, stamina. And like most other Spanish players(Unlike the English) has a very good football brain.