Is the uncertainty in the Everton goal to blame for their current woes?
1.63K //
01 Feb 2015, 05:45 IST

The expression on Roberto Martínez's face after Kevin Mirallas struck the post from the penalty spot against West Brom said it all. It was a look that screamed 'What on earth are you doing!?' after the Belgian stepped up to take his first, and possibly last, penalty kick in Premier League football. Undermining regular taker Leighton Baines was enough to make fantasy football aficionados' blood boil, but to miss was unacceptable to Martínez, who hauled the wideman off at the interval.
Everton failed to break down a staunch Baggies backline in the second half and were forced to settle for a draw. The stalemate means the Toffees have now won just 1 of their last 13 matches in all competitions, that sole victory coming at home to a QPR side who are yet to pick up a point on the road in England's top tier this term.
To say Everton have underwhelmed this season would be an understatement. After 22 league games, the Merseysiders have conceded 34 goals already. To put that into context, they shipped 39 goals over the entirety of the 2013/14 campaign. They have already lost more league games this term (9) than they did last (8) and with 16 points separating them and 5th placed Arsenal; European qualification through the league seems a distant impossibility, despite there being 16 games still to play.
Being knocked out of the FA Cup on penalties to West Ham has left the Toffees with the Europa League as their main focus due to a disappointing campaign thus far. Martínez now has the chance to tinker with his team, take stock of the season and iron out any errors that may have held Everton back, the latter of which has become a real problem for the club. Everton have committed more errors that have resulted in an opposition goal (11) than any other team in the Premier League this season.
Last term, only a handful of teams committed fewer (6). Due to a combination of poor concentration on the ball and calamitous defending, the Toffees have developed a WhoScored strength of 'avoiding individual errors'.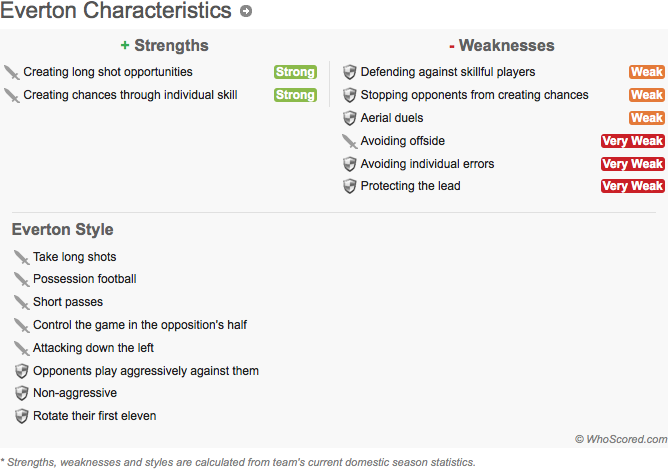 It's a problem that Martínez needs to correct as soon as possible. The distraction of Europa League football has not aided their cause this season, but involvement in Europe's second competition is no excuse for the poor form of late. Everton were the only Premier League team that failed to pick up at least 1 point over the hectic festive period, losing to Stoke, Newcastle and Hull to compound their misery.
The obvious flaws have come at the back. The previously consistently solid defensive partnership of Phil Jagielka and Sylvain Distin has become easier to penetrate, while Antolin Alcaraz has also underwhelmed and John Stones is too young to carry the burden of being the side's most reliable defender. The main problem, however, comes in goal, where Tim Howard had struggled to match his performances from last season prior to injury.
Howard's WhoScored rating from last season (6.89) has dropped significantly this campaign (6.40), as has his save success rate (from 76.7% to 57.1%), while the American has just 3 clean sheets to his name this campaign compared to 15 from last term. His uncertainty between the sticks has done little more than shatter confidence in the defence and when a goalkeeper is failing to perform the duties expected of him, panic sets in among the backline.
During the American's absence, stand in Joel Robles has arguably fared even worse. Joel's save success rate (53.8%) is lower than Howard's, while his only clean sheet of the Premier League season came in a game where the opposition had no shots on target - the aforementioned 0-0 draw with West Brom.
Interestingly, Everton are conceding slightly fewer shots per league match this season (12.9) than last (13). With more possession (56.9% to 55.6%), the number of tackles (16.2 down from 19.4) and interceptions (11.2 down from 12.2) per game have both expectedly dropped, and while the number of shots per game have fallen (12.9 from 14.8), the problem clearly stems right from the back. With Howard and Joel both churning out substandard performances, the defence is dropping deeper due to the unreliability of either goalkeeper, opening up space between the midfield and defence.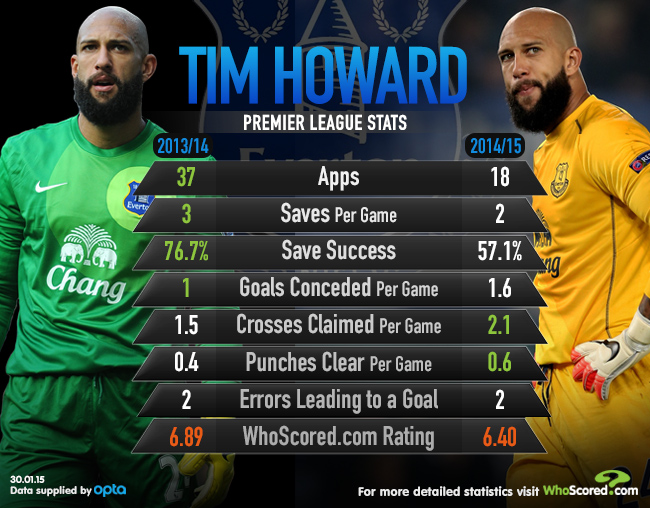 Due to James McCarthy's injury problems, ruling him out for a substantial chunk of the season, Everton do not have a natural holding player to cover the space between the backline and the deep-lying midfield duo in Martínez's favoured 4-2-3-1 formation. Gareth Barry's advancing years mean he is being bypassed far too easily, allowing for younger flair players to get in behind the experienced middle-man.
Borne out of frustration, Barry then more often than not resorts to desperate measures to deny his opponent, thus landing him in hot water with the referee. Only Lee Cattermole (9) has picked up more yellow cards than Barry (8) in the Premier League this season.
Muhamed Besic has strived to plug the gap McCarthy has left in his absence, but his positional indiscipline means space is still left in front of the defence. This allows the opposition to get closer to goal and, with the backline retreating more frequently, opposing sides are able to forge better goalscoring opportunities, which this season have regularly resulted in a goal. Of course, the defence dropping does not help Howard or Joel, but the lack of confidence shown in the goalkeeping duo means the natural instinct is to not push upfield.
Martínez has his work cut out for him now. The club's owners have placed a huge amount of faith in the Spaniard and he needs to prove his managerial mettle by guiding Everton out of this poor run of form. After being knocked out of the FA Cup, Martínez has had more time with his defence on the training ground, which would have aided the team.
However, returning to winning ways when confidence is low is easier said than done, but it needs to happen sooner rather than later or Everton run the risk of being dragged into an unlikely relegation dogfight.