The curious case of David De Gea
867 //
19 May 2015, 10:05 IST
29th June, 2011 saw history being made at Manchester United. This was the day when Sir Alex Ferguson broke the British transfer record for a goalkeeper to sign David De Gea from Atletico Madrid for a huge sum of £17.8 million.
De Gea was at that time, highly regarded as one of the best young goalkeepers in the world, and was widely tipped to succeed Iker Casillas as the custodian for the Spanish national team. Accordingly, it was not surprising that Sir Alex broke the bank to sign De Gea as a replacement to the legendary Edwin Van Der Sar, especially in light of United's goalkeeping struggles when Peter Schmeichel retired.
Teething Troubles
De Gea's first season for United was far from convincing. His debut in the Premier League was in United's 2-1 victory against West Brom, where he was criticised for not saving Shane Long's goal.
He made further mistakes against Blackburn Rovers, and also played in the 6-1 mauling by the "noisy neighbours" Manchester City. He was even dropped mid-season, with Sir Alex opting to start Anders Lindegaard instead. Those were the days when many questioned Sir Alex's judgement.
There was never a doubt about De Gea's shot stopping abilities, but it was the Premier League's more physical style of play that was troubling him. De Gea who is 6ft 4in tall, had a very slight frame, due to which he was repeatedly out-muscled when he went to collect the ball in the air during corners and free-kicks.
It was then that United's backroom staff decided to put De Gea on a special fitness regime. His diet was changed to include more protein, and he went on to spend solitary hours in the gym working on his strength.
The Rise of the Star
De Gea and United's extra effort behind the scenes ultimately started to show results on the field. Slowly but surely, De Gea went on to establish himself in the starting XI to become United's first-choice keeper and he went on to play a key role in United's conquest of the 2012-2013 Premier League trophy.
Some of De Gea's saves in his breakthrough season appeared to defy the laws of physics. His fingertip save of Juan Mata's free kick at Stamford Bridge was just simply stupendous, as was his denial of Fabio Coentrao at the Bernabeu.
In the same season, he was also voted into the PFA Team of the Year, edging out stalwarts like Petr Cech and Joe Hart in the process.
Even in the midst of United's struggles post Sir Alex's retirement, De Gea continued to excel and he went on to win United's Player of the Year award last season, and arguably has been United's best player again this season.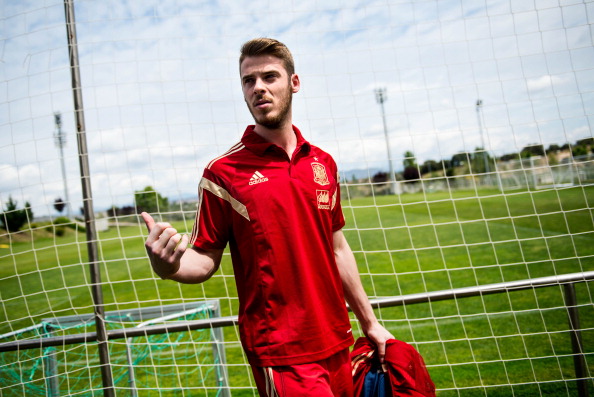 Will the Prodigal son return home?
One of the surest things in the fickle world of modern football is - the Iberian and South American players' love for Real Madrid and Barcelona. Once either of the Spanish giants enter the race for a Spanish/Portuguese/South-American player, the result is more often than not a no-brainer.
Prominent examples are Cristiano Ronaldo leaving Manchester United for Real Madrid, and Luiz Suarez and Cesc Fabregas moving to Barcelona from Liverpool and Arsenal respectively.
David De Gea, being a Madrid boy, would seemingly appear to be no different. Before his move to United. he showed no loyalty to Atletico Madrid, a club where he had come up the youth ranks to break into the first team. Thus there is no reason to believe that he would be any more loyal to United, although most United fans would pray that he stays back at Old Trafford.
De Gea, whose current contract with United expires in the summer of 2016, has so far resisted signing a new deal with United worth a cool £200,000 a week. With De Gea's popstar girlfriend also being based in Madrid, it seems very likely that De Gea has already played his final game for United at Old Trafford.
The surprise signing of Victor Valdes in January would also seem to suggest that United were long ago resigned to the prospect of losing De Gea to Real Madrid.
Recent media reports in Spain have all stated that Real have already agreed personal terms with De Gea. They still have to deal with United though, and there's no doubt that United will try to get as high a transfer fee as possible. It would be interesting to see the price that Real are willing to offer, especially since De Gea would be available for free the next summer.
Personally for De Gea, moving to Real would mean that he steps away from the relative serenity of Old Trafford to the media frenzy and the madness of the Bernabeu. On the flip side, he would have the honour of being a part of a Galactico team and vie for the all the top honours for the next decade.
So, will the Prodigal Son return home to Madrid this summer? Or the next summer? Only time will tell!