The Footy Mumble: Balotelli arrested, Ronaldinho's Indian affair!
4.87K //
26 Dec 2012, 17:59 IST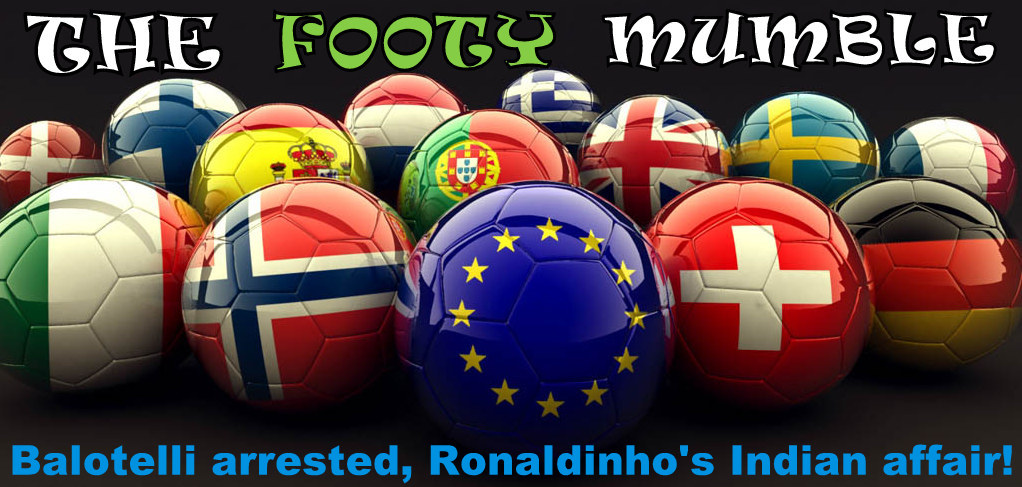 Yes, Balotelli has been arrested.
And no, it's not Man City star Mario.
It's actually his brother Enoch Barwuah Balotelli who has been arrested. And for punching two policemen in Italy at that!
The policemen reportedly found him shirtless and barefoot late night in Christmas eve and were punched when they approached him!
Not much of a surprise, considering the famous antics of his own brother on the pitch!
Legendary Brazilian footballer Ronaldinho will be coming to India today for a movie project!
The 32-year-old former World Footballer of the Year has been invited by Venky's chairman Balaji Rao, who also own English Championship club Blackburn Rovers.
Rao is reportedly signing the player for an animated movie named 'Ronaldinho vs Aliens', based along the lines of Space Jam, which featured basketball legend Michael Jordan.
Going by previous experience, we don't know if this a good move by Ronaldinho.
Remember the Venky's Chicken ad featuring Blackburn players? ROFL!
John Terry and Frank Lampard may profess their love for Chelsea all they want but Roman Abramovich seems in no mood to listen.
That's what we understand after reports emerged that both players will not be offered a new deal at the club, and will have to find a new club for themselves.
Abramovich is reportedly unhappy ever since they, along with Drogba,  failed to back former coach Andre Villas-Boas.
Their punishment is the cutting short of their Chelsea careers, which is more likely to punish Chelsea than any of the players, in our opinion!
In today's transfer news, Cristiano Ronaldo is being linked with a return to Manchester United this coming summer.
His cost ? £122 million. A third of United's existing debt.
Possibility of deal? Nil. Nada. Or whatever you prefer.
Chelsea have, meanwhile, been linked with a £12 million move for Barcelona striker David Villa.
The Daily Mirror claims the Blues will look to sign him on loan in January, with a view to a permanent deal in the summer.
Possibility of deal? Extremely doubtful.
In today's Video of the Day, we bring to you the Top 10 Goals of 2012! Enjoy!