The greatest footballers of all time - No. 2
Continuing with our series on the greatest footballers of all time, here's No. 2 on  our list.
No. 2 – Pele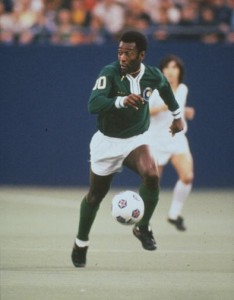 In Brazil, they call him O Rei, the King. He does not rule their lands, but their hearts. His subjects consider him the greatest man to have ever played football, and for good reason. The King's career coincided with the most successful period for Brazilian football, and he was seen as the catalyst, the provider. Brazil has given birth to a host of legends, yet Pele's name will always find its natural place in the pantheon of footballing greats.
There's always a story to be told, an anecdote to be shared when Pele's name comes up. Incidentally, the way in which he got his name is also a tale worth telling. When he was growing up, Pele's favourite player was Bile, a goal-keeper who played for Vasco da Gama. Pele's mispronunciation of his favourite player's name became the object of ridicule for his friends. "Pele, Pele" they would shout to tease him, and the name stuck. The word 'Pele' has no meaning in Portuguese. In Hebrew, it means "miracle", and the man more than lived up to his acquired nickname. His birth name is Edison Arantes do Nascimento, after the inventor Thomas Edison.
Pele had the golden touch that few men possessed. Success seemed to shadow him everywhere he traveled. Youth Championships, domestic leagues and cups, and World Cups – he had it all. As is usually the case with highly decorated footballers, Pele was a one-club man. Bauru Athletic was his stomping ground in his formative years, and Santos was the club that catapulted him to domestic and international success.
As a wise man once said, "In football, if you are going to be really good at only one thing, make it scoring goals". Pele seemed to have taken that advice to heart and his goal-scoring exploits earned him millions of fans. His claim of having scored 1200-odd goals in his career may seem exaggerated, considering the fact that he often played against lowly opposition in unofficial exhibition matches. But if a player is able to do the hardest thing in football – scoring goals – for close to 2 decades with such astonishing consistency, then he deserves immense credit. The official numbers read like this: 589 goals in 605 games for Santos, and 77 goals in 92 appearances for Brazil. Such figures for a No. 10 are unheard of, but there was more to Pele than just scoring goals.
A fantastic athlete, Pele's 5'8 frame was never a hindrance, as he had incredible ball-control and dribbling skills to get past opponents. He was said to have a surreal understanding of the game, picking out team-mates or simply drawing defenders to himself while in possession. Pele was equally competent in the air, out-jumping the biggest defenders and scoring thumping headers. Add to that his dead-ball skills and unerring shot accuracy, and Pele was the complete attacker. The best defenders had no clue how to stop him, and some had to resort to underhanded tricks.
"The difficulty, the extraordinary, is not to score 1,000 goals like Pele – it's to score one goal like Pele."
Carlos Drummond de Andrade, Brazilian poet
Months before the 1958 World Cup in Sweden, a 16-year-old Pele led Santos to the Campeonato Paulista (domestic league in Brazil at the time) title, scoring a record 58 goals in the process and announcing himself on to the Brazilian circuit. His tryst with the grandest of stages in football was inevitable; a matter of 'when' and not 'if'.
And so it was to be. By the age of 17, Pele had added a World Cup to his already burgeoning trophy collection. He set the benchmark against which future stars would be measured. The youngest player to play in a World Cup by the time the tournament started, Pele would leave his mark on the game as the youngest goal-scorer, youngest hat-trick scorer and youngest player to play, score in and win a World Cup final. Even his opponents on the day were left mesmerized by his play. Sigvard Parling, a member of the Swedish team that lost the 1958 WC final to Brazil, would go on record saying Pele's second goal in the final was worthy of applause, even if the Swede was on the receiving end.
His success in the international arena did not go unnoticed, and already there were teams clamoring for his signature. Real Madrid, Juventus and Manchester United were the usual suspects interested in this gem. Mindful of the effect Pele had on his nation, the President of Brazil had him declared a "national treasure", never to be sold by law. This was the early 60's when television was a luxury only the elite could afford, and so Europe would not get to see The King again till 1962.
For a South American footballer in those times, the Intercontinental Cup was the ticket to fame. A 2-legged match was scheduled between the winners of the Copa Libertadores and the European Cup to decide the best club in the world. Naturally, the contest drew in big crowds, as word of Pele's exploits with the ball had reached the European shores long before. Santos, Copa Libertadores winners in 1962, met Benfica, the reigning European champions in this high-profile clash. Pele chose this stage to once again consolidate his position as the best and most famous player in the world, with 5 goals over the 2 legs, including a hat-trick in the return leg at Benfica. Santos would go on to become the first club in history to achieve the treble that year.
"I arrived hoping to stop a great man, but I went away convinced I had been undone by someone who was not born on the same planet as the rest of us."
Costa Pereira on Benfica's 5-2 loss to Santos in the 1962 Intercontinental Cup in Lisbon
The 1962 and 1966 World Cups followed a similar pattern for Pele. In 1962, Pele was available only for the first match against Mexico, as he got injured in the second match and was ruled out for the rest of the tournament. Garrincha, a man some consider to be even better than Pele, was the real star of Brazil's victorious 1962 campaign. The 1966 edition, won by England, is remembered in Brazil only for the systematic fouling that Pele had to endure from the Portuguese and Bulgarian defenders. As the best player of his generation, Pele was literally a marked man, and the constant brutalities forced him to sit out the second group match and limp through the last group match, which also saw the end of Brazil's challenge in the World Cup.
Pele would link up with the likes of Rivelino, Jairzinho and Carlos Alberto for the 1970 World Cup and would deservedly lift the trophy as part of the most exciting and rampaging football team that the world had ever seen. Brazil won all 6 games, thoroughly outscoring their opponents, and Pele's contribution of 4 goals and 7 assists would land him the Player of the tournament award, although it was Jairzinho who scored the most goals for Brazil, with 7. Carlos Alberto's right-footed hammer shot for Brazil's 4th goal is regarded as the greatest goal in World Cup history, and fittingly it was Pele who provided the final pass.
If football is more than just a game, then Pele, one of the finest exponents of the art, is more than just a man. He inspired, and indeed continues to do so, millions around the globe with his artistry. This is a man who, through the promise of letting people watch him play, brought about a ceasefire between 2 warring factions in Africa. Pele, as the face of the country, contributed much to the social and political upliftment of his countrymen by speaking out against the rampant corruption in Brazilian football. He has rubbed shoulders with royalty and presidents alike, yet it is always the other person that needs to be introduced.
"Pele was the greatest – he was simply flawless. And off the pitch he is always smiling and upbeat. You never see him bad-tempered. He loves being Pele." – Tostao
As with every human being, Pele has his character flaws, and it would be childish to ignore them when talking of the great man. His constant feuds with Maradona and the controversial 125-player list wherein he conveniently left out a number of his team-mates, most notably Coutinho who he combined with for nearly 1,000 goals, are testament to the fact that he is human. He is also ridiculously bad at predicting World Cup winners, and often comes across as a person beating his own drum. But it would be unfair to marginalize his achievements solely on the basis of a few mis-steps. When one has been successful for as long as Pele, controversies are bound to surface. His opponents would go out of their way to praise the man's caliber and character, and that is possibly the biggest compliment a footballer can receive.
There is a severe shortage of video footage of Pele in his prime years, and it is nigh impossible to do justice to his talent with words alone. History has a knack of enhancing a person's reputation as time passes by, but in Pele's case, that enhancement seems right. The King ruled football for close to 20 years, and his goals are still remembered today, even if not captured on video. There is a plaque somewhere in the great stadium of Maracana which has the words "The most beautiful goal in the history of Maracana" engraved on it, alongside Pele's name. A tribute to Brazil's greatest son.
Word of his legend has been passed on through generations, and Pele's legacy lives on. Those who were lucky enough to witness him in his pomp nearly half a century ago have ensured that the story of Pele does not get lost in the countless pages of history. And 50 years from now, when they make a list of the greatest footballers to have walked the earth, you can be sure  that Pele's name will once again find its natural place.
Pele – A great goal-scorer and a scorer of great goals.
"Pele was one of the few who contradicted my theory: instead of 15 minutes of fame, he will have 15 centuries." – Andy Warhol
And now, here's a video tribute to the great man:
These are the other players who have made it so far:
No. 20 – David Beckham; No. 19 – Oliver Kahn; No. 18 – Jurgen Klinsmann; No. 17 – Luis Figo; No. 16 – Romario; No. 15 – Marco van Basten; No. 14 – Eusebio; No. 13 – Lionel Messi; No. 12 – Zico; No. 11 – Paolo Maldini; No. 10 – Michel Platini; No. 9 – Puskas; No. 8 - Lothar Matthäus; No. 7 – Franz Beckenbauer; No. 6 – Alfredo Di Stefano; No. 5 – Johan Cruyff; No. 4 – Ronaldo; No. 3 – Zinedine Zidane
Read the detailed write-ups on all the players in this list here: