The journey in football management for great players can't solely rest on past achievements
989 //
01 Mar 2013, 16:00 IST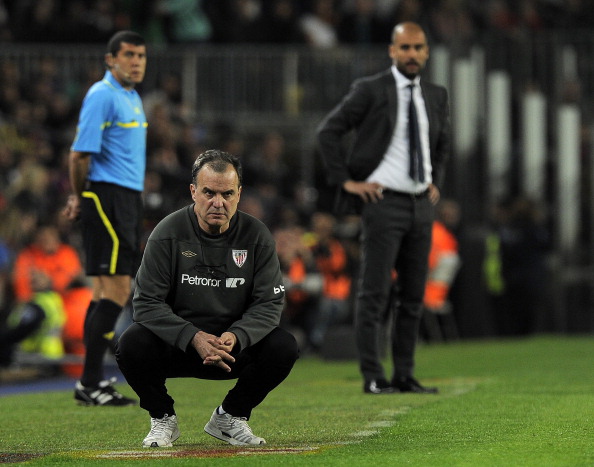 A glittering playing career of a footballer has been misconstrued as a sign that if he wishes, he will succeed in the same comprehensive style if he becomes a manager. Only Pep Guardiola has given a template on how to succeed but other stellar names must tread carefully or be left stuttering down the coaching ladder.
There was a suggestion recently on Sky Sports' Sunday Supplement programme by a tabloid sports journalist that Manchester United legend Ryan Giggs, who the day before had notched up his 999th senior appearance for club and country, would be a potential replacement for when the incumbent Sir Alex Ferguson decides to walk away.
Under what evidence would the former Welsh international be a contender to replace arguably the greatest manager to have graced these shores?
Admittedly he has, like a lot of other players nearing the end of their careers, started the long and arduous journey to getting his coaching badges but that is nowhere near enough experience to take over a manager who has won the European Cup twice and equalled Liverpool's league titles of nineteen.
The normal justification for putting Giggs forward as a managerial contender is based on his playing achievements and they are, no-one would doubt, mightily impressive.
A career that has spanned twenty years has seen him pick up medals on a soaring scale including: the Premier League (twelve), FA Cup (four), League Cup (three), Charity Shield (seven), UEFA Super Cup, Intercontinental Cup, FIFA World Club Cup and finally, the UEFA Champions League (twice).
They point out to the fact that Giggs embodies what Manchester United as a football club is all about: a player who's risen through the ranks and maintained his loyalty whilst not letting his on-field talents diminish.
A playing career is completely the wrong measuring stick to be used to ascertain whether a great player – which Giggs is – will go onto a successful tenure as a manager.
Just learning from the coaches one has played under isn't sufficient enough to be winning trophies at the top level. You have to have an element of obsessiveness and intensity at all times, two qualities that as a player, can be sporadically relaxed upon as the cut and thrust of a season gains momentum.
A prime template would be that of Guardiola's, who after retiring in 2006 was given his first coaching position with the Barca B team in 2007. But it was what he did before he took up that job that made him into a success.
As a player he won 14 major honours (including six La Liga titles and one European Cup) in a career being coached by some of the most revered managers in European football, starting off with Dutch legend Johan Cruyff, Sir Bobby Robson and Louis Van Gaal. But Guardiola was immersed so much into football that he developed an obsessive love for it; pondering, thinking, analysing and learning about the game.
When he left Barcelona in 2001, he played for Brescia and a short spell under Fabio Capello at Roma in Italy, before finishing off his playing time in the UAE, leading the Al-Ahli side.
One might think a playing career so distinguished would have been sufficient to go straight into the unpredictable world of management. Guardiola bided his time and used it resourcefully, travelling to Argentina (where he discussed tactics with Marcelo Bielsa) and Mexico to get respected figures' views on the game; how to overcome problems; creating solutions; sucking up as much information he could get before he felt fully ready to manage.
That's what makes him a role model to current great players aspiring for the same success in management. That inner desire to accept one's limits and believe that to go into management, you have to sit and discuss with individuals who have garnered respect in the footballing world and pick their brains astutely.
In his eventual four-year spell at Barcelona, where he racked up fourteen trophies in four years, he analysed every minute detail of his players including diet, training facilities and changing current norms for pre-match preparations. Like all managers at the higher echelon in management, he demanded perfection. To do that he never let his mind rest without having it rummage, think and decide constantly over footballing decisions.
That's what makes a great player be a success in management. And a keenness to accept that he must look to learn not only through the structured yet monotonous process of coaching badges but also through speaking to managers in the game.
If there ever was to be a candidate for the United job then the man who scored the winning goal in the Champions League final at the Camp Nou in 1999, Ole Gunnar Solskjaer, should not be dismissed as a potential manager at Old Trafford.
The Norwegian, who scored 126 goals from 366 appearances in an 11 year spell at the club, reportedly jotted down training sessions as a player going back many years. He has transferred that information as a base and is now managing Mode, whom he guided to their first ever successive Norwegian championships.
There is no doubting the playing career of Giggs but if he wants to succeed in management then the journey he will go through must be one of constant learning and obsession.
The line between success and failure in management is sadly very thin and unforgiving.