The Liverpool Dilemma #1 - Pepe Reina: Stick or Twist?
924 //
20 Dec 2012, 09:18 IST
Here's a new series, aiming to find solutions to Liverpool FC problems and offering an opinion based article – from fans, for fans.
If there is one department that can be help culpable for individual errors and careless mistakes, it is definitely the goalkeeping department.
Pepe Reina, the goalkeeper who for so long has been a safe pair of hands in between the sticks for Liverpool, is giving me doubts in my head of his ability to consistently deliver week in, week out.
Don't get me wrong. I'm not saying that we should ship Pepe Reina at the next chance we get (the January transfer window). Instead, I am suggesting that we provide proper, younger competition for him, both to try and get him back to his old ways, and to have a safe pair of hands as backup for the longer term.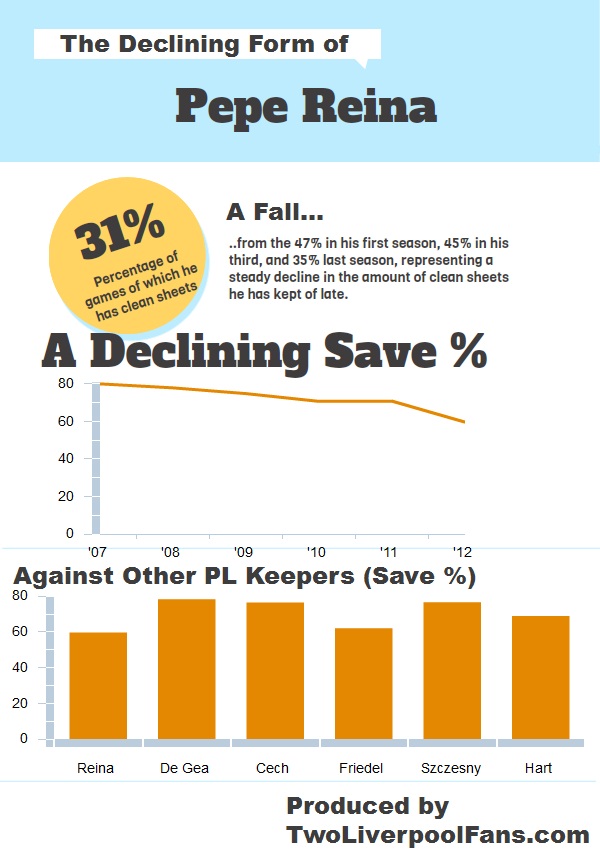 One thing Reina brings to the table is his leadership. His familiarity with the Liverpool FC back 4 means that the defence keep a good shape and generally prevent shots on the Liverpool goal. I'll give him that. Additionally, he is really comfortable with the ball at his feet. He knows how to play the Sweeper Keeper role. However, I just can't stand to see this happen every fortnight:
Stastically, things don't look all that rosy for Pepe Reina at the moment. He is having his worst (at least according to the numbers) season for Liverpool FC since arriving from Spain. It is the very reason why it is time Liverpool get a proper goalkeeper as backup. Reina's errors in goal has cost points this season, and we need a more consistent goalkeeper if we are planning on staying competitive and vying for the European spots (even the Europa League spots look a challenge to get at the moment).
Ideally, I'd like Liverpool to sign a young and fresh goalkeeper that will come in for the long term – a bit like something Manchester United have done by signing David de Gea, with the exception that we have backup/a first choice in Pepe Reina just in case. In addition, Reina would make for a great mentor for a new signing, and it would provide him stiffer competition for the place in between the sticks compared to Brad Jones, Doni and Peter Gulacsi (who still doesn't have the quality to be the man in the sticks for the reds).
I reckon that if Rodgers plans on continually playing Reina, then Butland will be the option, a very talented goalkeeper who is breaking through at Birmingham City. Young and immensely talented, he represents a solid investment for the Reds to make in the January transfer window. He could be just put through the paces this Premier League year and be prepared for the 2013/14 season, which will be the time where he will maintain custody of the Number 1 shirt.
Another option for Liverpool could just be to wait for Hugo Lloris. The Frenchman has had a difficult start to his Tottenham career, and could still seek to move elsewhere come the summer window. Marc Andre Ter Stegen is another good, young goalkeeper that Liverpool should consider making a move for.
Arsenal are also sniffing around in the transfer market for a new keeper, with Reina reportedly (or at least according to The Mirror) Arsenal's top target. It might be wise just to take the money, play Jones for now and go for a quality young keeper with that money. There'll be leftover money and that can go towards reinvestment elsewhere.
So, what should Rodgers do with Reina? Leave your thoughts in the comments section below.