Africa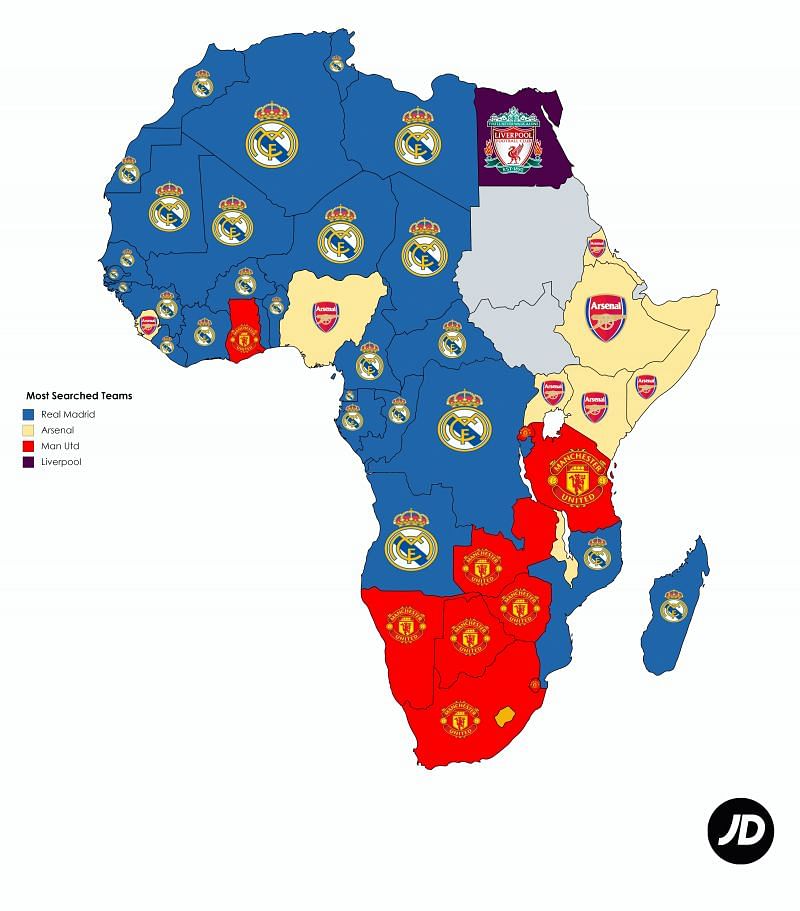 Four clubs dominate Africa - Real Madrid, Arsenal, Manchester United, and Liverpool. As you can see from the map above, data is unavailable for Sudan and South Sudan for political reasons and they have not been included in this report.
What is most interesting about Africa is the split in club interest depending on the region. The South of Africa and around the Cape clearly favor Manchester United. For some reason, the Red Devils are also very well supported in Ghana to the West of Africa despite never having a player from that country.
Also popping up in Real Madrid territory is Arsenal who enjoy a huge following in Nigeria and Sierra Leone. The rest of West and Subsaharan Africa is dominated by Los Blancos. However, Arsenal also enjoys popularity across East Africa in countries such as Ethiopia, Somalia, Kenya, and Uganda.
Liverpool dominates one African country - Eygpt. If it isn't immediately obvious, the reason the Reds top the charts in the Land of the Pharaohs is down to their capture of Mo Salah last summer.
In fact, Mo Salah enjoys a higher number of monthly searches than Liverpool in his home country and whichever club he plays for will top their search charts for now.
Click next to see the most searched for clubs in Asia.