Asia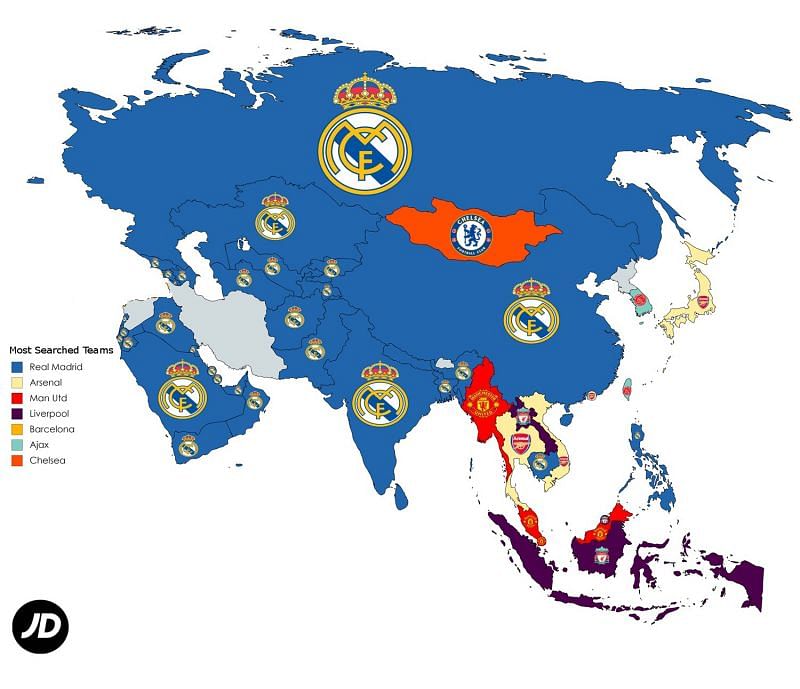 Once again, a sea of blue indicating Real Madrid dominates the Asian map. The entire Indian subcontinent searches for Los Blancos more than any other football team as does China and the Middle East.
Iran and Syria are excluded from the data for political reasons making Mongolia the only country across most of Asia to search for another team more than Real Madrid. That team is Chelsea who has gained huge popularity in the Asian country.
Southeast Asia is a different story, however. Myanmar, Singapore, and Malaysia all search for Manchester United more than any other club while Liverpool and Arsenal also enjoy a strong presence in the region.
The most surprising club on the Asian map is Ajax who is the most popular team in both South Korea and Taiwan. The growing presence of various European clubs across Asia during preseason may help to break the Real Madrid dominance over the next few years.
Further south, just off the map, Arsenal dominate both Australia and New Zealand while Real Madrid are the most popular team in North America. Below is the world map in full.
---
Whoich is the most popular club in your country and which team do you support? Let us know in the comments below.