The Paul Pogba conundrum
4.39K //
08 Mar 2012, 12:02 IST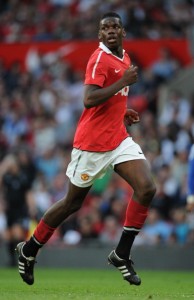 Sir Alex Ferguson was talking to the press ahead of the game against Athletic Bilbao and someone asked him about the situation regarding Paul Pogba. 'I can't really say anything because I don't know', said Sir Alex. I don't, for a minute, believe that Sir Alex does not know what the situation is but I know why he deflected the question.
There have been reports (not confirmed officially by Man United) that Paul Pogba has agreed to a deal with Juventus in the range of 1m GBP a year. United are, reportedly, to get a paltry sum as compensation. Something in the range of 200K.
That, in short, is what has happened and what is going to happen. After Ravel Morrison, United are set to lose out on the other most highly rated youngster on their books.
The reason that Pogba wanted a move, apparently, was that he was not really getting the game time that he thought he deserved; in the first team, that is.  There were the wages, of course. He wanted somewhere in the range of 45,000 pounds a week. Much more than the likes of Jones and Smalling (full England internationals). This represented a dilemma for Sir Alex. On one hand, he would be losing out on an unquestionable talent; on the other, he would be disrupting the squad.
Sir Alex tried to reason with him by asking the likes of Rio Ferdinand and Evra to speak to the boy but to no avail. It did not help matters that his agent is the Italian Mino Raiola, the same man who manages Mario Balotelli and Zlatan Ibrahimovich. Two, ahem, not very un-mercenary characters.
I ask a more fundamental question. Where are these boys' heads anyway? I mean, look at this. Pogba is 18. He has the backing of perhaps the greatest manager of the past quarter century; he has the talent; he has the greatest facilities at Manchester United; he has a great peer group; he has the likes of Ryan Giggs and Paul Scholes to look up to. At the stage of his career that he is in right now, does it really matter how much he earns? Really? Where are his priorities, anyway?
The problem with the youth of today is that they utterly lack patience. They want instant gratification and when they don't get it, they quickly look at an exit strategy. In most cases, this is money. They know that it is a seller's market. They know that if the club they are at presently is not ready to meet their demands, there is always someone else who is ready to. They hold the club to ransom. It saddens me to say this but I bet Pogba picked up a cue or two from the whole Rooney saga. Then again, Rooney cannot really be compared to Pogba. Rooney is an established England star and he could command what he wanted but Pogba is different.
So he does not get as much as he wanted. Did it ever occur to him that he could perhaps stay, prove himself in a year or two and then go knocking on the manager's door with his CV in hand and demand a better pay packet? Did he not trust himself to get into the first team? Did he not back himself? I think not.
It does not help when you have an agent who knows his way around the world of football and who knows what arm to twist to 'do what is best for his client' which, in translation, means, 'who will give me the biggest cut from the deal.' 
I could understand if Pogba was in a smaller club and did not feel that the ambition of the club did not align with his own but at Manchester United? Really? If the move to Juventus was a purely 'finanacial' decision and not one based on 'footballing motives', then I can only think that United are better off without Pogba for anyone who believes that he will achieve greater things at Juve than Manchester United is, well, off his rocker, to say the least. No disrespect to any Juve fans out there but at this point in time, Manchester United are vastly superior to Juventus. Perhaps the situation might change in a year or two, I don't know.
At the end of the day, Juventus have gotten themselves a fantastic talent. I still say talent. I do not say player. His education is not complete. It has started at the Manchester United academy. It was progressing well. He has now opted to change his line of education. He has no idea what he is getting himself into. He does not yet understand how difficult and different the Italian league is. Perhaps he will shine. Perhaps he won't.
Only time will tell. Or perhaps his erstwhile teammate Kiko already did. 'For any youngster, England is the best place to learn football', he remarked, not so long ago after a very trying and unsuccessful loan spell at Sampdoria.