Theo Walcott, the next Henry?
1.18K //
09 Nov 2012, 13:27 IST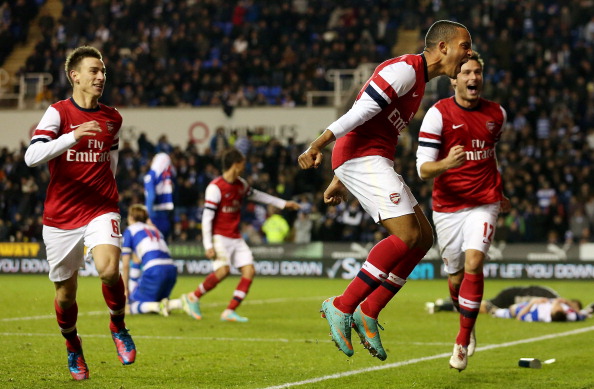 Theo Walcott currently is on a scintillating goal scoring spree. Eight goals in all competitions this season, that too coming from four starts is surely a remarkable achievement. He is also Arsenal's top goal scorer this season. So it is no surprise that he is pushing hard for that coveted striker's role that he has been craving for, ever since he arrived at Arsenal. Add to this Arsenal's striker worry after neither Olivier Giroud, nor Lukas Podolski have yet been able to set the premier league on fire and fill the huge void created by the departure of Robin Van Persie. So it should only be a logical decision for Wenger to give Walcott a shot at playing down the middle, right? I would like to think otherwise.
Walcott might succeed in a team which plays two strikers up front in a 4-4-2 formation; feeding off the tall man's knock down's, running behind defenses and beating the opponents by sheer pace. But the way Arsenal is currently set-up, that probability is almost impossible. Arsene likes to play with two wide men supporting his lone striker and he has built his current side around this formation. So I don't see any reason why that would be changed to accommodate Walcott and play him alongside Giroud in a two man strike force. Nevertheless, it is worth a try for a game or two, considering the fact that the 4-3-3 is currently not reaping rich dividends.
The next thing that stands against Walcott is his physique. Walcott is neither tall enough to head long balls and trouble opposition defenders nor is he strong enough to hold them off and feed the ball to the onrushing mid-fielders. His biggest drawback here is his ball control. You see him lose the ball so often in wide areas that you shudder to even think what would happen in the middle, where one would be forced to dribble in tight situations with lesser space. The only premiership player who is of similar built and plays as a lone striker is Luis Suarez and he has tremendous ball control and quick feet. So for Walcott to become a threat, he really has to have nimble footwork which he does not.
Another thing that goes against Walcott, is his one footedness. Walcott troubles defenders only from the right wing. Not once have I seen him play down the left wing and manage to cause any damage. This is perfectly fine if he plays on the wing, but as a lone striker he needs to use both feet more effectively to succeed. A prime example of this was his last minute effort against Schalke that would have won Arsenal the game. Had he been a touch more confident to use his left foot, he would have buried that chance. Instead, he tried to get it back on his right and the chance went begging.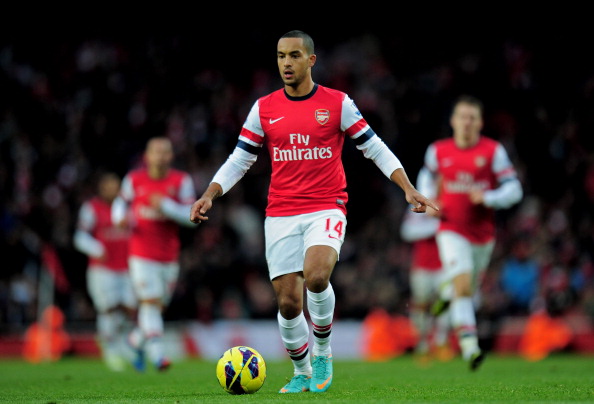 Also, Walcott is predominantly a one dimensional player. His modus operandi is simple. Race past the defender, beat him for pace and score. If you observe, most of his goals are scored in this fashion. This approach works perfectly fine for someone playing on the wing. But for him to play down the middle, he does need a lot more variety in his play and he is still a long way from achieving it. Unless teams play a very high line against Arsenal which most of them normally don't, Walcott playing down the middle will be a total failure.
The most defining factor here that Walcott needs to understand, is that the goals are coming and coming in abundance now since he is playing on the right of a three man strike force. It is easier to make diagonal runs from the wing and get onto through balls played by teammates than to do the same from the middle. Also running at full backs who are often caught out of position due to their respective forays upfront, is a much easier task than running at central defenders who stay put at the back. If he is played down the middle, he will himself be downplaying his threat to the opponent which does not augur well for Arsenal.
The only reason I would like to see him play upfront though, is for his finishing abilities. To say that it has massively improved in the last season or two will be an understatement. Walcott was always goal shy but now somehow seems to have gained that predatory instinct than every goal poacher possess. He is scoring goals for fun now and that is a good sign for Arsenal. Considering his ongoing contract situation it would be very important for Arsenal to tie him down to a new contract. Hope that will be sorted out soon, so that he can concentrate more on his game and on scoring more goals from the wings. He is vital for Arsenal and for England in the long run.
We need to keep in mind, his only big England performance till date, scoring a hat-trick against Croatia in Zagreb, also came playing on the right wing. And for all those already comparing him to Henry and claiming Henry was also once a winger, lets not even go there. Yes, he does finish well. But no, he is not yet a complete striker. He might surely go on to become a good striker someday. But definitely not in Arsenal and definitely not right now. Walcott playing down the middle can be summed up in just one word. Wasted.