UEFA to announce verdict on Serbia row
808 //
13 Dec 2012, 19:47 IST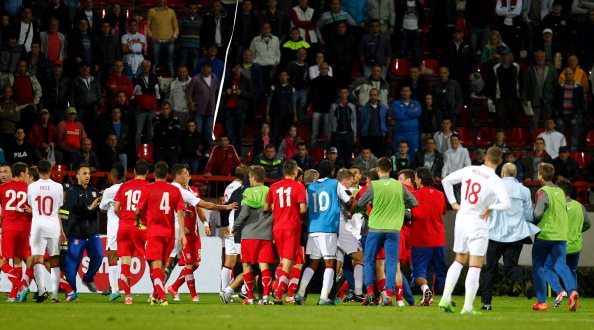 UEFA's control and disciplinary body is expected to announce its verdict on the alleged racist chanting row in the England vs Serbia U-21 game in October.
The Euro 2013 play-off match in Krusevac was marred by by racial chanting towards the black English players and on-field violence at the final whistle, and UEFA is expected to deliver its verdict on Thursday.
England defender Danny Rose, who was sent off after the final whistle, gestured that he received monkey chants and said that 90 minutes of racial abuse was directed at him from the stands. Later, he also alleged he had been "slapped twice" during the game.
The Serbian FA denied all those reports and said that Rose behaved in an "inappropriate, unsportsmanlike and vulgar manner" towards Serbia's fans.
The Serbian FA and the English FA face charges of failing to control their players in the on-field violence.
Lengthy bans have since been issued by the Serbian FA to two players and two officials for their roles in the trouble.
Following the match, sports minister Hugh Robertson wrote to UEFA president Michel Platini urging the governing body to take "tough sanctions".
Prime Minister David Cameron also echoed his call, saying Britain would expect as much should the allegation of racism be proven.