Jürgen Klinsmann nominated for the 2015 German Football Ambassador award
1.70K //
26 Jan 2015, 22:26 IST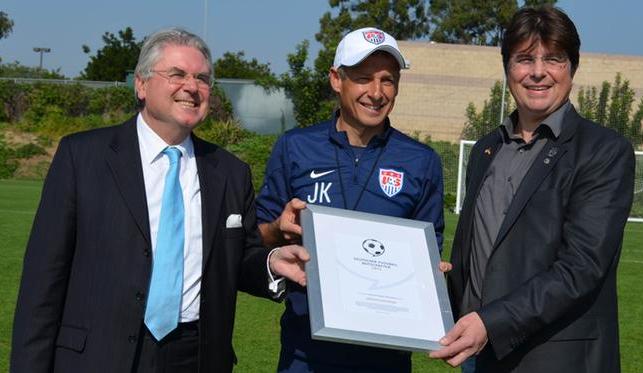 The United States national team head coach Jürgen Klinsmann has been nominated by a high level expert jury for the 2015 'German Football Ambassador' award. Klinsmann's huge success as a football coach abroad played a big role in being nominated as the Ambassador of German Football, besides his social commitment and working towards a positive image of Germany abroad.
Nominated for the 'German Football Ambassador' award are German coaches for their work outside of the country. Klinsmann, who is the coach of the United States since 2011, was already a successful footballer outside of his native Germany. In 1995 he was voted at the English Player of the Year while playing for Tottenham Hotspur and he also holds a high reputation in Italy with the fans there.
As a coach he has been noticed for his work especially with the United States, whose football he is trying to professionalize and improve, which it is gaining higher popularity with a lot of celebrities like US president Barack Obama coming out in support of US football. At the 2014 FIFA World Cup, the US surprised one and all by getting as far as the pre-quarterfinals.
At the StubHub Center in Los Angeles the initiator of the 'German Football Ambassador' Roland Bischof handed over the nomination document to Jürgen Klinsmann in the presence of the German consul Dr. Bernd Fischer.
Jürgen Klinsmann said, "I am happy that my work is getting recognized in this way. I have never seen myself as an ambassador and therefore it is an honour that my type and work has been accepted and appreciated in those countries."
With the prize money Klinsmann would support the 'Soccer for Success Program of the El Monte Community Building Initiative' in Los Angeles, which is a project of the US Soccer Foundation. There they work to implement concepts to promote children and teenagers, which also Klinsmann's own foundation 'Agapedia' works for.
Besides Klinsmann, the other nominees for 2015 are Michael Nees and Eckhard Krautzun. Nees is active in Israel as the Technical Director and Under-19 coach of the Israel Football Federation, and is held in high esteem in that country. Eckhard Krautzun meanwhile has worked in many parts of the world and has left especially a footballing mark in Africa and Asia with his work.
The winner of the 'German Football Ambassador' 2015 award would be announced at the German Foreign Office in Berlin on June 2, 2015.
You can find further information under www.fussballbotschafter.de/nominierte