Venkatesh must never be forgotten
886 //
23 Mar 2012, 23:15 IST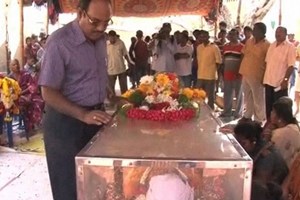 A life, which had so many more things left to do, so many more places to explore, and self actualize itself, has been lost. Venkatesh passed on to the other world doing such a trivial thing as playing football. It is trivial because we tend to take sports way too seriously, but it all gets put into perspective when someone actually passes away doing something, which at best even at the highest level can't be more than recreation. Yes some choose it as a career, but that level headed view must always be present.
How hard can it be? Providing even basic medical amenities at sports events? And this is really not the time for people to come in and say, "Cricket is always given preferential treatment in India, look what happens with football, lives are lost …" Even though the harangue might be well meaning, it's best to keep it aside when talking about a sensitive subject such as this. This is NOT about Cricket vs Football. This is about lessons to be learnt for everyone, because we should be damned as a society if such a thing ever happens again. Having said that, I move on.
The obvious reference to be made in this current scenario is to Bolton Wanderers player Fabrice Muamba, who in effect was not living for over an hour before he was saved because of timely and excellent medical help. But it isn't real till it happens to one of us closer home, is it? Because that incontestably seems to be the case, otherwise why wouldn't there be at the fag least, an ambulance ready in case a fatality was to occur? Just because it was not a national league match, does it mean that the players don't deserve the same level of care? The value of a life is equal, ANYWHERE, EVERYWHERE. The Bangalore District Football Association announced a compensation of 10,000 rupees. Is that the value of a life? This is not a passionate anger filled argument, but a very real one. Unfortunately, A.R. Khaleel the president of the Karnataka State Football Association and also the Vice President of the All India Football Federation had the dauntlessness to start blame games by saying that Venkatesh was unfit and should not have been played in the first place.
What other option do we have, other than becoming numb in some time to incidents such as this and other horrible things we keep hearing about? Life goes on, but this must not. It is about time some people get off their high horse and take a reality check of what is happening around them. They are in positions of power to do something, not just sit idle. No amount of justification will help right now. Unless we see the change, we will not believe it. Whatever the situation, the bottom most part of Abraham Maslow's needs pyramid will always remain the most important for our kind.
Rest in peace.