Video: Javier Mascherano's embarrassing theatrics in El Clasico deserve an Oscar
4.60K //
23 Mar 2015, 10:54 IST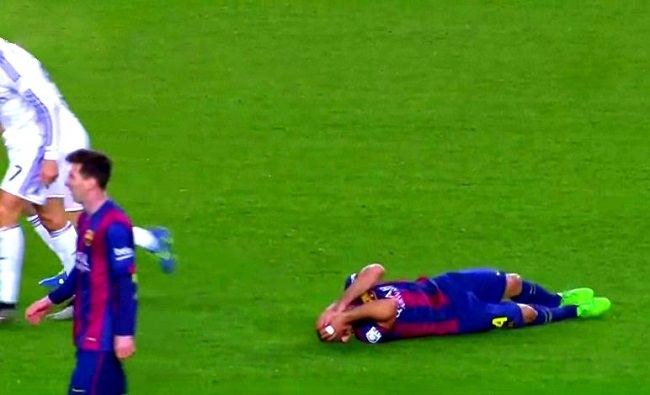 Although Barcelona beat Real Madrid 2-1 at the Camp Nou in the Clasico to extend their lead at the top of La Liga to four points, the match was marred by a number of incidents of player simulation to get the referee's attention and book opponents. Goals from Luis Suarez, Jeremy Mathieu and Cristiano Ronaldo were overshadowed by the theatrics of players from both sides.
The worst of the lot was probably Barcelona's Javier Mascherano. The Argentine midfielder went down with minimal and unintentional contact and proceeded to impress the Academy with a brilliant performance that should get him a nomination in 2016.
It started when he tripped Ronaldo without making contact with the ball. Although it was a clear foul, Real Madrid had the advantage and the referee allowed play to go on. As Mascherano tried to get back on his feet, his legs got entangled with Ronaldo's, causing him to fall forward. He decided to make a meal of it and fell dramatically to the ground clutching his abdomen as Ronaldo looked on incredulously.
While he lay face down on the ground, Dani Carbajal came over, understandably frustrated with his behaviour, and needlessly poked him while Ronaldo also stood up touching the Argentine's face. In no way was it painful or meant to cause any harm, but Mascherano was at it again, clutching his face and rolling on the pitch.
All in all, it was embarrassing behaviour from the Argentine international and even his compatriot Lionel Messi didn't seem to care as he walked past him without even a second glance. Simply put, this was the ugly side of the beautiful game coming to the fore in arguably the biggest game in club football.