Video: Did Cristiano Ronaldo abuse referee Mateu Lahoz with obscene gesture during El Clasico?
5.45K //
24 Mar 2015, 12:33 IST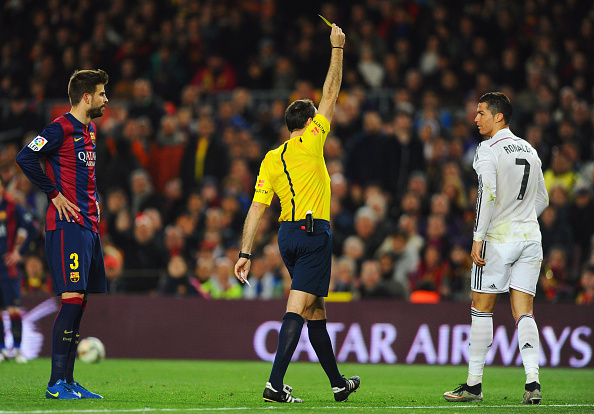 El Clasicos are tense affairs without the need for any external catalysts. This Sunday's high voltage affair between Real Madrid and Barcelona was no different as tempers flared and tackles flew in.
Cristiano Ronaldo has been a frustrated figure of late, with his form being questioned by Real Madrid fans and the Spanish media in tandem. The Portuguese didn't do his faltering image in Spain any favours after getting booked for a perceived dive during the match.
The 30-year-old however seemed visibly offended by referee Mateu Lahoz's interpretation of the incident and decided to give the referee a piece of his mind (among other body parts) while he was not looking.
Spanish sports show 'La Goleada' on 13tv unearthed a video clip of the match after Ronaldo's yellow card, in which the Real Madrid number 7 appears to be holding his crotch while looking at the referee and uttering, "Eh Mateu! Te Gusta (Do you like these)? Eh? Te Gusta (Do you like these)?" in Portuguese.
If Ronaldo will be subjected to disciplinary actions over the incident is yet to be seen. Keep tuned for any updates.
Thankfully for Ronaldo, the referee had his back turned and didn't notice the gesture.