What is wrong with Manchester United?
652 //
17 Mar 2012, 20:22 IST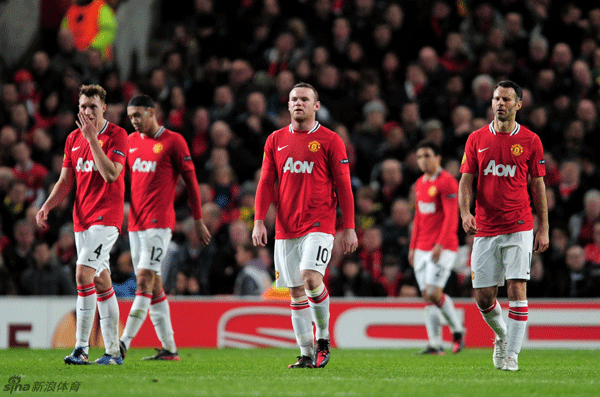 A site too usual for comfort?
A month into the 2011/12 football season, Manchester United, with their triple signings of David de Gea, Phil Jones and Ashley Young, were being touted as clear favorites for the title, finally a force for Barcelona to reckon with in Europe, the bonuses of limited FA Cup glory and the side business of Carling Cup too had been attached inevitably. Fast forward to March, seven months into the calendar, United stand and stare at one of their most disappointing seasons in recent memory.
Knocked out of four cup competitions one after the other, Manchester United have had to face the wrath of their rivals, football pundits and surprisingly, a few of its own fans. Humiliated by Crystal Palace in their own backyard in the league cup, dumped out of Europe's elitist club competition by an unheralded Swiss team and bundled out of the FA Cup by their fiercest rivals Liverpool, and more recently humbled by Athletic's pure football in the Europa League, Sir Alex Ferguson has had a disaster, going by the extremely high standards he has set in his 25 years at Old Trafford.
The only competition where the Red Devils have shown their true mettle has been the Premier League, a title which they set out to defend at the start of the season. The league crown now seems more of a saving grace than an accomplishment in itself, given the ignominy of their failures elsewhere. True fans and loyalists will continue to believe in the 20th league title, but going by the fluctuating performances, persistent injury concerns, fading self belief and the dogged tenacity of the 'Noisy Neighbours', it's hard to dream about the title at this stage.
Some of the performances in the league too have been below-par and United have been fortunate to be top of the pile, a solitary point is all that separates them from City. So, if so many things go wrong at a time, its basic human psychology to analyze what exactly has been the undoing. In United's case, its fully justified, there are valid reasons for their misadventures, some a work of nature and destiny and the rest a cause of their own deeds.
Absence of Nemanja Vidic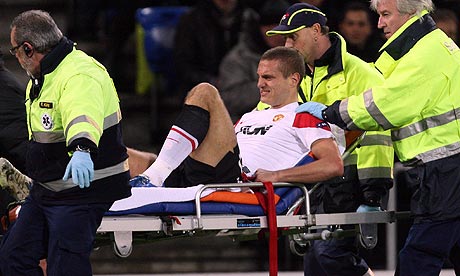 Vidic being stretchered out against Basel
When you lose your captain and one of the world's best defenders halfway into the season for the rest of it, it's bound to have severe repercussions. Nemanja Vidic has been the heart and soul of United in all their successes in recent times. His season-ending injury (twisted knee against Basel) created far-reaching ripples which crippled United at a crucial juncture of the season. Smalling and Jones were worthy replacements, but their inexperience showed time and again. Although some reports indicated the prowess and resurgence of Jonny Evans at the back, but the Northern Irishman is still too error-prone and nervous to play at this level.
Persistent Injuries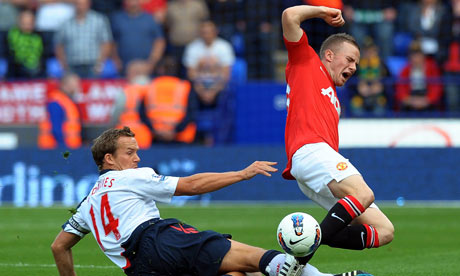 The horror tackle that took out Cleverley
Probably the biggest undoing this season have been the numerous injuries which have plagued United and hampered their campaign time and again with brutal punctuality. Tom Cleverley, the biggest revelation at the start of the season suffered a long-time injury when he was at his prime, the likes of Ashley Young, Jones, Valencia, Hernandez followed. Darren Fletcher announced his decision to take a break from football to recover from a medical condition. Vidic was by far the most precious victim, and it's difficult to remember any member of the squad who hasn't been sidelined for a substantial period at some point of the season.
As a result of these recurring injuries, Sir Alex Ferguson was forced to make regular changes to the team setup, the formation and the style of play. Continuity and consistency took a major hit and a lack of tactical discipline affected the players both mentally and physically. Playing Evra and Carrick in defense, Rafael in midfield and Ben Amos in goal are instances which speak volumes about the circumstances under which Sir Alex had to function in a packed match schedule.
Lack of creativity in midfield
What might have been..
If you compare the midfield of all the top teams in the league, leave alone the top European clubs, United's midfield stands out as one of the weakest in terms of creativity, flair, work ethic and technique. Sir Alex failed to lure Wesley Sneijder after months of dilly-dallyin and the consequences showed almost immediately. With Paul Scholes retired and Darren Fletcher and Tom Cleverly unavailable, the daunting task of orchestrating play in the midfield was left to a declining Michael Carrick, an ageing Ryan Giggs and an unproven Anderson.
Michael Carrick took on the responsibility with elan, but a partner was missed dearly. Ryan Giggs, at 39, turned back the years but the physical demands of English football were always going to be too much for him to handle at his age. Phil Jones had to be accomadated in midfield, but again the creative force was missing, the ability to create that final ball, that defense-splitting through ball and so too the defensive hand that a midfielder lends to the team.
Sir Alex's stubbornness with Dimitar Berbatov
What more do I have to do, Sir Alex?
Its difficult to challenge a master tactician of the acumen of Sir Alex Ferguson, but his stubbornness and autocratic behavior towards Dimitar Berbatov hasn't gone down well with a whole lot of football enthusiasts. United's record signing was the highest goal-scorer last season in the league, banging in goals against the big teams in typical fashion, helping United topple Liverpool's long-standing league record.
But suddenly, the Bulgarian found himself out of contention and way down in the pecking order, even after that phenomenal breakthrough season. Some experts say that his pace and style doesn't suit the 4-2-3-1 that Fergie employs so often, but the Bulgarian has performed and proved himself before in that same formation. Even this season, when called upon, Berbatov delivered in superb fashion, he has bagged 7 goals in 10 league matches. Sir Alex tweaked the formations on many occasions when instead he could have easily opted for Berbatov.