Who is the worst footballer ever?
25.01K //
14 Mar 2013, 17:53 IST
DISCLAIMER – The article reflects the opinion of the author, and not of the site.
Football enthusiasts love debating about who the greatest footballer ever was. Pele, Maradona, Eusebio, and Cruyff are the usual suspects, with Leo Messi and Cristiano Ronaldo slowly etching their names onto that coveted list. But have you ever wondered who would be last on this list, i.e., who is the worst footballer in the history of the sport? No, you are wrong if you say Fernando Torres or Stewart Downing.
Hint: He is not a current player. I am sure fans of every club would have heaved a sigh of relief with that hint. So, who is it?
Ali Dia says hello. Ali Dia was a Senegalese professional footballer, whose career spanned for about 9 years. His record stands at two goals in his 17 senior appearances, for no less than 5 clubs. The number of clubs would make Ibrahimovic proud, but his record as such won't be anything to boast about, especially considering the fact that he was a striker. One of those 5 clubs was a Premier League team. Yes, you heard it right. Ali Dia also managed to make a Premier League appearance for Southampton FC in 1996. So, how did a guy with such a modest record and skills manage to make his way into a Premier League team?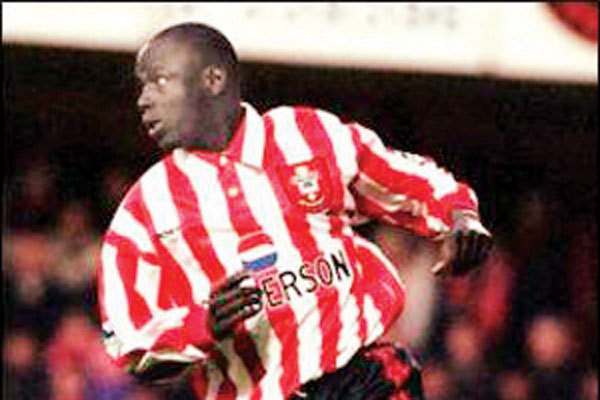 It was through a phone call made by ex-Liberian international and former FIFA World Player of the Year, George Weah. He recommended Ali Dia's name to the then-Southampton manager Graeme Souness. Or so it was believed. The phone call was actually made by Ali Dia's fellow university student claiming himself to be George Weah and Dia to be his cousin, and a talented one at that. He rung up various Premier League clubs and tried to pitch for Dia's services. Souness obviously fell for the trap, and offered Ali Dia a one-month contract.
Ali Dia grabbed this chance without a thought. Who would give away a chance to play with the likes of Matthew Le Tissier, even if it was made possible by a stroke of good will? Though he was found wanting in the training sessions, Souness believed that he had acquired someone similar to George Weah. He gave him an starting XI slot in the reserve team friendly against Arsenal. The match was however called off due to a waterlogged pitch. And then came Ali Dia's moment in the sun. 23rd November, 1996.
In a Premier League match against Leeds United, Matt Le Tissier got injured in the 32nd minute. Souness sent his latest "ace signing", Ali Dia, to replace him. And what followed was probably the 22 worst minutes of Souness' managerial career, and the greatest in Ali Dia's. He missed a couple of sitters, ran around the pitch without a semblance of a plan and was basically rubbish. In Matt Le Tissier's own words:
"His performance was almost comical. He kind of took my place, but he didn't really have a position. He was just wondering everywhere. I don't think he realised what position he was supposed to be in. I don't even know if he spoke English – I don't think I ever said a word to him. In the end he got himself subbed because he was that bad."
Dia's contract was terminated after that horrendous game, and he then joined Gateshead. He played 8 games for the North-East outfit and scored his only 2 senior goals for them. Ali Dia features regularly in the lists of worst footballers and worst signings, including being named No. 1 in the list of "The 50 worst footballers" by The Times.
Ali Dia might have a notorious reputation among fans for his lack of ability. But he is a legend in his own right. He perpetrated what perhaps is the biggest hoax in professional English football history, and managed to become a part of a Premier League team, even if only for a couple of weeks. He fulfilled his dreams of being able to play in the top tier and can hold his head high, in spite of all that is said and written about him.