Who will be the next Daisy and Dolly pair for United?
2.33K //
30 Mar 2012, 00:20 IST
Manchester United have produced top class centre backs over  the years.  Bill Foulkes in particular is still revered by the Old Trafford faithful. He miraculously survived the Munich crash  along with Sir bobby Charlton and Harry Gregg . They were central to the plans laid out by Sir Matt for the future united squad. Bill, was an inspirational figure in the united dressing room. He relished aerial challenges and physical battles. Much like the present day captain Nemanja Vidic.  After the European cup victory in 1968, United failed to ignite any sort of potential challenge on the English league. Liverpool started to dominate both home and abroad. As we all know, united's fortunes started to turn around after Sir Alex Ferguson took over. Signing of enigma Eric Cantona kick started the era of silverware for united. But any team's success is built upon a strong defensive line. One of the most influential Centre back pairings  of  Fergie's era was the Steve Bruce and Gary Pallister duo, which was fondly called by the united faithful as 'Daisy and Dolly' pair. It was a remarkable partnership. Bruce read the game beautifully and Pally did the dirty work. They complemented each other very well.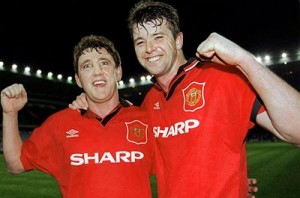 After their subsequent departures, united struggled to replace such a prolific partnership. Lot of players like, Ronny Johnson, Henning Berg, Jaap Stam, Mikel Silvestre  tried but failed to ignite a partnership which was comparable with bruce and pally. However, united found the answer for the centre back conundrum in the winter transfer of 2006. Nemanja Vidic was bought from Spartak Moscow and his partnership alongside Rio Ferdinand will go down in history as one of the most efficient and effective centre back partnership in the world. Together they delivered four premier league titles (2007, 2008, 2009, 2011) , a champions league (2008)  two league cups (2006, 2010 ) and a club football worldcup title (2008). But off late, Ferdinand's niggling injuries and Vidic's cruciate ligament damage has disrupted this partnership.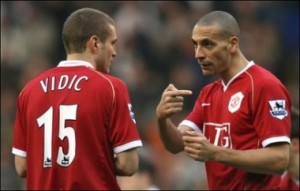 Though it will be painful for the united faithful to bid goodbye to the Ferdinand-Vidic axis in due course of time, it is prudent to find a new centre back pairing for the future. With this in mind, united secured the services of Chris Smalling and Phil Jones who were very competent and complimented each other in England U-21 tournament. But due to various injuries to defenders this season, united were deprived the opportunity to see them work together in the red shirt on a consistent basis. However one factor is threatening to break this partnership. The emergence of Jonny Evans has made him a strong favorite for one of the centre back positions in the future. Evans suffered a dip in form last season and was considered as a liability by fans all around. However he has regained his confidence back and is vindicating the trust Sir Alex has kept on him. His reading of the game has improved to a great measure and he is comfortable on the ball.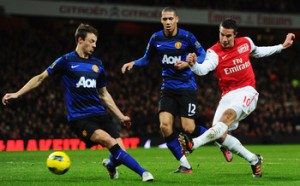 His partnership with smalling was tested against  Arsenal and they did a pretty good job. Evans and Jones together doesn't seem to be a healthly partnership on the eye. Jones has the tendency to surge forward up the pitch to support the attacks. This leaves huge gaps at the back. Will Evans and Smalling be the next daisy dolly pair ? or will it be jones and smalling for all the promise they showed in the U-21 championships ? Only time will tell. I personally feel it will be evans and smalling. Jones for all his energy and enthusiasm in forward play, will make a competent box to box midfielder which united so desperately need. Jones is viewed by most as a future united and England captain. Jones might become a midfield general like Roy Keane, shielding the defense and dictating the play. As of now,  the future of united's central defensive partnership looks all but secure.