Who will bell the cat called Messi?
3.17K //
13 Dec 2012, 20:03 IST
Messi is, in fact, a true veteran of football at a very young age. To achieve such great heights in the game at the age of 25 is really admirable. Earlier this week, he broke Gerd Muller's 40-year old record, to which Muller responded: "I hope he scores more and that his record will stand for the next 40 years."
Having a player like Messi is in the team is "a battle half won". But the picture on the other side of the coin is a bit tricky.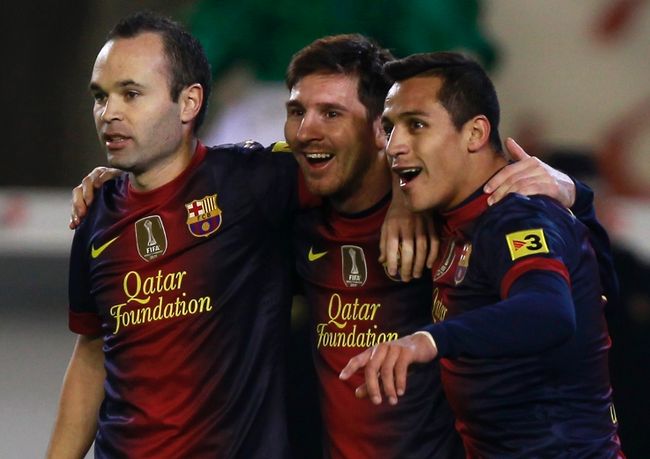 The most bothersome thing for any opposition is to find out how to put a check on this goal scoring machine. It would not be an exaggeration if I went on to say that there is no defence left in this world against whom he hasn't scored or cannot score. He is proving difficult to handle for every team. When he netted five times in a single match, Guardiola praised his talisman with the following words:
"We will never see a player like Messi again."
Messi has a simple yet charismatic approach towards the game which sets him apart. This makes it even more difficult to devise a plan to impede him. Messi has the dexterity to always create space while dribbling or be in space to receive a pass. Therefore, he rarely loses possession. He weaves his way past defenders smoothly like silk and scores past goalkeepers with his razor sharp finishing. Every time Messi is on the pitch, he proves time and again why sticking to the basics is so essential.
Some other weapons in his arsenal include fitness and strength. During a 10-day stretch in November, Messi played four matches in three countries, for both Argentina and Barcelona. That included a La Liga match in Spain, a friendly match in Riyadh against Saudi Arabia, a return and a subsequent game in the Spanish league, and then a trip to Russia for a Champions League game at Spartak Moscow. Very rarely do players endure a schedule like that. In addition, he also displays a good amount of strength on the pitch by shrugging off defenders while trying to keep possession.
People say that there is only one way to stop Messi, that you have to take him away from Barcelona. Nevertheless, there isn't even a slight possibility that this will ever happen.
Barcelona without Messi is Spain, but Messi without Barcelona is lost.
Compared to his successes at the club level, Messi's performances for his country are a little bit disappointing. This reflected again when Argentina faced a second straight loss to Germany in the quarterfinals of the 2010 World Cup. That is why fans of other footballing legends like Pele would slightly hesitate to include Messi's name in their list of all time greats, unless he changes his performances at the international stage. May be the study of the international matches played by Messi could provide some inputs to his oppositions on how to deal with him.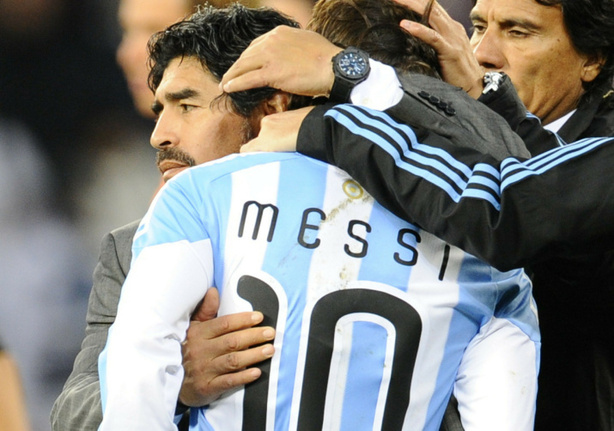 Having said all that, it is the responsibility of the opposition to stop Messi from scoring goals, rather than heaping praises on him. For instance, when former Celtic manager Strachan was asked about how would Neil Lennon's Celtic team would face Barcelona, he replied,
"Well, you visit a church or chapel – whatever your preference is – and just hope."
Losing hope even before the battle begins is disheartening for the fans on both sides. Is it because there is a dearth of quality defenders? Or is no one unable to devise even a single plan to handle him? I guess not.
In a match, if one player has set the bar high, then it's the responsibility of the opposition to start thinking and raise the level of their own game to set the bar higher. This is a vicious cycle which would only benefit the fans and the players, since the overall level of football would be touching great heights then. This would be possible only if there is a team that would match the level of Messi's game. May be this is the simple reason why they call it a MATCH.
A perfectly entertaining football match is the one where both teams are in a position to win the game, rather than one side being mere spectators. The latter part is, sadly, today's image of most of the matches that Messi plays in Spain.
All I wish to say is that it would be enjoyable to watch a team which would put in a stellar performance against Messi and make life difficult for him on the pitch, as it would make him raise his own game further, making the game automatically more entertaining."
Although, the question still remains open: "Who will bell the cat?"