Who's teaching United the art of penalties?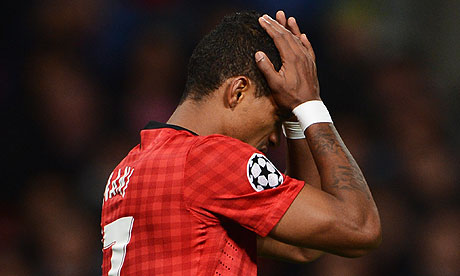 Curiosity may have killed the cat, but it's eating at my innards at this very moment as I sit and wonder 'why haven't Manchester United scored off a penalty yet'?
Three penalties in the short time this season has run, all taken by three different individuals, all ending up with rotten eggs on their faces. Sure, they have got off to a decent enough start with albeit with significant obstacles, but their rate of conversion in front of goal is dwindling and is a worrying sign for the Gaffer.
Three penalties in the first four games of the season obviously attracts chants of 'favouritism', but when United don't seem to have the ability to beat the keeper, these protesters smile and forget about all their worries. Robin Van Persie, Javier Hernandez and Nani have all walked up to the spot but have failed to convert the opportunity. While Hernandez's miss was inconsequential, Van Persie's and Nani's efforts were potentially fatal to their team's position. Thankfully, Van Persie himself and the woodwork respectively aided to their rescue.
After Rooney' injury, nobody seems to know who will take the penalties. Rooney is the usual nominated spot-kick taker and has been rather successful, but since the gash he received while playing Fulham, there seems to be nobody on the pitch who knows who will take the kick.
Sir Alex himself said after the scare United received against Galatasaray that he didn't know Nani would take the kick. So does this indicate a shocking ignorance on the manager's part or reckless disobedience on Nani's? Do they not practice their set pieces on the training ground every week?
Robin Van Persie's arrival at United has been a revelation. He's scored goals and has been a lively cog in their machine. However, the horror show of a penalty he took against Southampton questions his ability to be their number one spot-kicker and/or, more plausibly, his cockiness. He's scored penalties for Arsenal time and again, so there is no doubting his ability which should make him the automatic choice for official penalty taker for Manchester United.
Javier Hernandez's penalties have always been weak, so again, why he took one against Wigan goes beyond reason and understanding. Nani hasn't started the season with fireworks and a penalty miss, which he probably had taken to score and boost his confidence, will hamper his progress further.
United-Liverpool games are the most explosive kinds of football matches you'll ever get to see and more often than not, a team does end up with a penalty, a red card, or a lawsuit. If Agger happens to bring down Nani in the area later tonight, who'd be more worried? The Liverpool fan or the United fan? My bets are on the referee. Here's to an exciting game of football and a penalty that sets your teeth on edge.