Why AC Milan are not to be written off against Barcelona
2.62K //
26 Mar 2012, 23:56 IST
Most people would bet their money on Barcelona winning the Champions League, let alone breezing past AC Milan in the quarter-finals. Barcelona have been rampant, destroyed many a team in their path and haven't lost in the competition since a 2-1 defeat to Arsenal back in February 2011. And while Milan were one of the teams pundits predicted at the start of the campaign along with Real Madrid and Bayern Munich to possibly knock out Barcelona, as of now, things don't stand that way. Injuries to key players and inconsistent form have certainly played a part in that – after defeating Arsenal 4-0 in their recent round of 16 first leg tie, the Rossoneri showed their vulnerability by just barely sneaking through to the quarter-finals after losing 3-0 in the return leg. But having said all this, Milan are not to be written off whatsoever as they are still more than capable of reaching the semi-finals of the Champions League.
As the current scenario stands, AC Milan will be without Cassano, Robinho, Abate, Silva, van Bommel and Pato for the first leg – these are 6 key players for them and most top teams would miss them in a game of such magnitude. However, Milan have great strength in depth and have players capable of filling in. What makes this Milan team so deadly is the right mix of experience at the highest level (probably the most experienced team in the Champions League) with the likes of Ibrahimovic, Seedorf, Gattuso and Nesta to name a few, bundled along with exciting young stars like El Shaarawy, Aquilani and Boateng. Individually, they are very well capable of matching the Barcelona team.
Milan can also take solace from their performances against Barcelona earlier this season in the group stage – scoring 2 goals at the Nou Camp, let alone preventing Barcelona from winning and keeping Messi quiet the whole game is quite a feat and while Milan lost the 2nd game at the San Siro 2-3, they can still keep their heads high. The first was a game of a defensive masterclass by Milan while the second game portrayed Milan's capability as a pure attacking team. If we were to to use these games as a two legged tie, the aggregate score would still favour Barcelona 5-4 but in the knockout round, things will certainly be different and if Milan can combine both the previous games' performances, they can very much score a few goals against Barcelona.
AC Milan are more than capable of beating Barcelona - as Ibrahimovic said, "We have nothing to lose and the pressure is on Barcelona." The Rossoneri have the tireless midfielders in Nocerino, Emanuelson and Boateng who can soak up the Barcelona pressure and initiate the counter-attack where players like Ibrahimovic can exploit the rather slow Barcelona defense like he did earlier in the season. Barcelona are known to attack but their defending has been questioned especially this season and being without Adriano and Abidal for the game, might have a backline of Alves-Mascherano-Pique-Puyol which is definitely exploitable as many La Liga teams have done so, at home.
Probable Milan lineup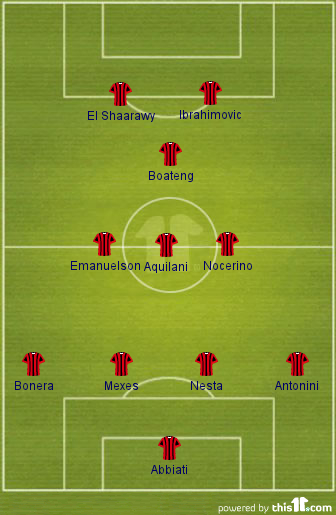 Milan coach, Massimiliano Allegri will have to get his tactics spot on for the quarter-finals while makeshift defenders in Bonera and Antonini will have to have the game of their lives if they are to stop the likes of Messi and Sanchez. Ibrahimovic (who is known to drift away in crucial games) is in red hot form as well and along with Boateng, the dynamic duo must be on-song if Milan stand any chance of an upset. Even if the Milan team had a good all-round game, many would tip Barcelona to progress – all Milan need to do is make sure this game is one which isn't easy to predict.