Why Marouane Fellaini is an attractive option for Manchester United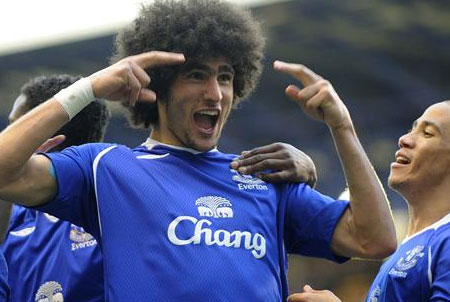 Marouane Fellaini is an extremely underrated talent. Those who have watched the Manchester United-Everton game must have noticed Fellaini's skill on the ball. He toyed with a defence which had kept 18 clean sheets this year and are  joint top with Juventus in Europe. Fellaini was used as an attacking midfielder in the game against United, dropping back and closing in on Michael Carrick and Paul Scholes, a tactic which made a huge difference in the game.
Manchester United's need for quality Centre Midfielders is no exaggeration. While Paul Scholes has returned and rejuvenated United's flailing midfield, it remains to be seen how long the veteran would serve the club he loves. Manchester United have been linked to Luka Modric, Christian Eriksen and Javi Martinez to name a few. Fellaini deserves to be on this list for the following reasons:
1. Fellaini is versatile :
Marouane Fellaini's versatility needs no introduction. David Moyes has used him in no fewer than three roles in the centre midfield. And he has succeeded in each of them. His tackling prowess and his ability to break up play, makes him a suitable defensive midfielder, something which Manchester United need at the moment. He can operate as a box to box midfielder, attacking and tracking back just like he did against Man United at Old Trafford. He can play as an attacking midfielder too, mainly because of his hold up play and his variety of passing.
A player with such versatility can operate in a variety of positions . He was used as a centre forward in his days at Standard Liege which is an added bonus.
2. Fellaini is a decent passer of the ball:
Fellaini has completed 1231 passes out of his attempted 1500, taking his pass percentage to a good 79.4%.  What makes this statistic even more better is the fact that David Moyes has used him in a variety of positions. Moreover Everton like to play more long balls than ground passes. Since Manchester United's game revolves on passing football, Fellaini could play a  key role in the Man Utd side. He likes to play a short passing game, another virtue which could could help Man Utd.
3. Fellaini has supreme strength and aerial prowess :
The most striking point from the Manchester United- Everton game was Fellaini's dominace in the air. He won 88% percent of his aerial duels, more than any centre back on the pitch. The otherwise reliable Evans- Ferdinand pair failed to unsettle him. Fellaini's body balance is another decisive part of his game, an advantage which has been used many a time by him. Marouane Fellaini has an astonishing 77% successs rate in an aerial duel, a statistic which would make even a centre back proud. He provides an extra aerial threat apart from the centre backs for Everton during set pieces. Manchester United's set pieces could be more effective  with Fellaini's superior aerial ability.
4. Fellaini is a superb tackler:
Statistics do not lie. Fellaini makes an average of three successful tackles per game. It was even higher last season, where he made four successful tackles per game. Since he has been playing in a more advanced position, his numbers could have decreased as a result. But he will have no such qualms at United. He could be the midfielder that Man Utd have lacked since Roy Keane had left.
5. Fellaini fits perfectly into Manchester United's current system:
Fellaini's passing ability has already been explained in detail. Manchester United, under Paul Scholes have been a very different side. With Carrick doing majority of the defensive work, Scholes was meant to make cross-field passes and move the ball around. If Fellaini is a part of Manchester United's midfield, he does not change any of the current tactics being employed. He fits into Carrick's role perfectly. Carrick can take over the role of Scholes'  if the veteran decides to retire again. Carrick is a proven midfielder with an astonishing pass percentage of 89.8 %. He averages about eight long balls per game.
What does this mean in a general sense for Manchester United's midfield? It means Manchester United will gain more in terms of defence. Fellaini can play high up the field like Scholes, and Carrick can provide cover for the defence. Sir Alex Ferguson likes players who can play both defensive and offensive. Fellaini can do both and he is very good at it. His work ethic is brilliant and he also delivers in the big games.
6. Fellaini comes cheaper and will have no problems settling:
Fellaini has played for four seasons in the ever competitive Barclays Premier League and has delivered time and again. He is experienced and will have no problems of settling in Manchester United's squad.
However, the most important part could be his price. He is certainly cheaper than Modric and Eriksen's estimated value. He could be available for 16-17  million euros. He is young but is highly experienced. Moreover he could team-up perfectly with Eden Hazard, if Hazard plans on  moving to Old Trafford.
Conclusion:
Fellaini is a highly underrated player. He would certainly give Manchester United the edge in the everlasting battle of brain and brawn.  His aerial prowess could add a new dimension to Manchester United's attack. While Modric is obviously the preferred choice for many Manchester United fans, Fellaini is certainly not be a step behind the Croat.