Why the signing of Podolski is massive for Arsenal
2.71K //
09 Mar 2012, 00:37 IST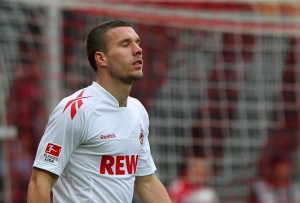 When I heard the news today that
Arsenal
had agreed a deal to sign
Lukas Podolski
, it is fair to say I was quite shocked. This is mainly due to the timing of the deal. Very rarely do you see deals tied up outside of transfer windows. I do, however, think this is a very shrewd bit of business by Arsenal.
There are many interesting things about this deal. Firstly, and in my opinion, most importantly. It shows that Arsenal have ambition. After the sales of Nasri and Fabregas, many observers doubted whether Arsenal's highest priority was winning trophies or making profits. Even Arsene Wenger stated, before the sales, that Arsenal could not be considered a big club if both were sold.
Perhaps most crucially, the fact that Arsenal are showing ambition might just make the difference in the contract negotiations with Robin Van Persie this summer. Van Persie is one of the best players in the world at the moment and would surely have his pick of destinations should he decide to leave. Therefore, it is crucial that Arsenal show their desire to win trophies, otherwise, what reason would Van Persie have to stay? He could almost certainly double his money if he went elsewhere.
Another positive thing for Arsenal fans about the deal are the wages Podolski is reportedly going to be on. £100,000 a week is the reported figure. This is a fee that only last summer, the board refused to pay Nasri. It signals a change in attitude towards the wage structure, something Arsenal fans have been calling for for years. This change in attitude towards wages is vital if Arsenal are to move forward as a club because if they are not prepared to pay the top players what they want, they will simply go somewhere else.
Despite Podolski's high wages, at £11m, this deal does not represent particularly extravagant spending. Especially when compared to most of the deals done by the top clubs in recent seasons. However, it does signal an intention to spend money. I strongly believe this deal is an indicator towards further spending in the summer. Wenger has been steadfastly stubborn in his resistance to spend big on players in the past few seasons, that finally seems to be changing. I'm sure the board (who have consistently stated that funds have been available to Wenger) will have applied pressure on Wenger to spend. Since profits of £49.5m were announced last month I think the fans would raid the stadium if money was once again not spent.
So, Arsenal have got a good deal for Podolski. But where will he fit into the team? Obviously, he will not be able to displace Van Persie, so I can see him slotting in on the right wing. Playing in this position, with Sagna regularly overlapping him, will allow him to cut inside to great effect. To those who do not know much about Lukas Podolski, he has got a very, very powerful left foot. A left foot not too dissimilar to Van Persie's. Now endorsements do not come much more ringing than that.
He is also very quick and powerful. The term 'powerful' cannot be applied to too many Arsenal players so Podolski's natural strength will be very refreshing to see, especially amongst a rather flimsy attack.
Podolski's arrival could mean one of two things in terms of squad depth. Either; Wenger feels the squad is not strong enough and wants more competition for places. Or; he wants to offload a player (most likely Theo Walcott) to make room for Podolski. It will most certainly be a very interesting summer at The Emirates.
Arsenal have caught quite a lot of people off-guard with this signing. It was a poorly kept secret that Podolski wanted to leave Cologne this summer and Arsenal have surely jumped the gun on a few clubs. It seems they have learnt their lessons from their last-minute bargain buying this summer. That is, buy early.
I am very confident this will prove to be a very good signing for Arsenal. It will give them an incisiveness that has often been lacking from their game this season. But, most importantly, it means they might be able to keep Van Persie. Now that is worth £11m.