Will there ever be a class of 92 again?
2.46K //
28 Mar 2012, 23:34 IST
Football of yesteryear still fascinates me. A number of factors help the cause, one of the major ones being the inspirational figures on the pitch. The enigma of such players is scarcely available now. But now more than passion, money is making its presence felt. What baffles me is that young players who are yet to blossom, are being motivated by money. Reasons are plenty, like money-hungry agents who are least bothered about the futures of their clients and just make sure that their pockets are full.  Almost every club is experiencing such difficulties in modern football. They are struggling to keep their talented youngsters whose handful of good performances turn the big clubs' heads towards them. Resulting in pay hike for talent which is yet to be proved. Such things were never in question a decade or two ago. One such set of talented yet humble youngsters were the class of 92.
The talents of youngsters such as Scholes, Giggs, Butt, Gary, Phil and Beckham stand apart in United folklore. They made such an impact that the press even compared their aura with the legendary Busby Babes! Such was their belief among themselves in their abilities that Sir Alex Ferguson didn't hesitate in packing off important players like Andrei Kanchelskis, Paul Ince and even Mark Hughes, who was a fan favorite at Old Trafford at that time. This group of young players not only vindicated the manager's decision to field them on the pitch, but did so with minimal fuss. Nothing turned their heads. They had the sole aim of succeeding at Old Trafford. Money was never a matter of concern for them.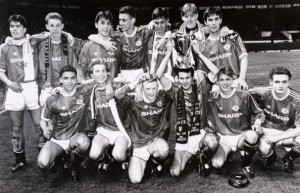 After the class of 92, the class of 2011 was much hyped by the media and a lot was expected of them by the United faithful. They repaid that faith and won the FA Youth Cup in some style. People had an opinion that these youngsters will be pillar of United for a longtime to come, just like the class of 92. But reality of modern day football is quite harsh. Exquisite talent like Ravel Morrison has already left owing to off field issues, while Pogba is yet to sign the offered contract. His head has been turned by Juventus' offer and Fryers is stalling on his contract. These lot, talented as they may be, are yet to blossom but they are placing money over their careers. They are quite often forgetting the fact that playing for a big club like Manchester United is itself a huge opportunity for them. Money indeed speaks a lot in modern day football .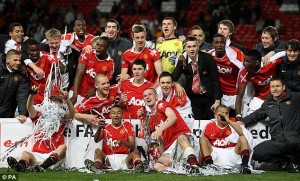 As Sir Matt once famously said that youngsters must look to build their careers and money inflow would automatically follow. Hope these young talents heed the great United leader's advice and be motivated by their passion towards football alone. As for the topic of debate, I feel there can never be a class of 92 again. Their loyalty, passion, hard-work and will to succeed is unrivaled and unparalleled. If we can get a set of young players who possess half of what the golden generation of class 92 had, it will be great news for the Old Trafford club.