Who would have thought it? Less was expected of this England team than any other at a World Cup. A quarterfinal was seen as a success in the lead up to the tournament, but England are now just one game away from their first World Cup final since 1966, and the nation believes.
England didn't have the toughest task getting through the group stage but needed a late winner from captain Harry Kane to beat Tunisia in their opener, before the skipper's hat-trick inspired them to a 6-1 in over Panama to secure qualification to the round of 16.
The third game saw England rest eight players to play Belgium and losing 1-0. This turned out to be a blessing in disguise for the Three Lions, because it meant they ended up in the weaker half in the draw, with, in terms of favourites, just Spain for company.
England finally broke their World Cup penalty shootout hoodoo against Colombia in the round of 16. Jordan Pickford was the hero, saving from Carlos Bacca before Eric Dier stepped up to score the winner.
They put in their most complete performance yet against Sweden, as they played their first quarter-final for 12 years. In the end, they came out comfortable 2-0 winners and set up a semi-final clash with Croatia.
The country has got behind the team, the likes of which we haven't seen in England since 1996. Gareth Southgate has helped the team form a bond with the supporters, and now there is a real belief that football is coming home.
Here are the five best players from England's campaign in Russia so far:
---
#5 Jordan Henderson
Henderson has received criticism for most of his England career. It has often been said that he isn't progressive enough, he passes sideways, and doesn't bring enough to this team. At times, this has been right. He hasn't always been the right man in this England midfield, but that was in a system that included two defensive midfielders, and he would often play alongside Eric Dier in a quite defensive formation.
This tournament though, he has been on his own at the base of the midfield, and he has played a key role in the side. He has kept it simple when they have needed to keep it simple, and he has gone for the balls over the top when they are needed as well. It all could have been very different. Had Jordan Pickford not come to his rescue in the penalty shootout against Colombia, he probably would have been remembered as a villain for his penalty miss.
#4 Jordan Pickford
A lot of the credit for Pickford's brilliant form at this tournament has to go to Gareth Southgate. Up until as late as March, Joe Hart was still England's number one, despite a string of sub-par performances for both club and country, which had led to him being left out of West Ham's side. It would have been the easy option for him to stick with the experience of Hart, but he took the risk and ended up leaving him out of the squad altogether.
Pickford has justified his decision in the last two matches. He didn't have too much to do in the group stage but has proved his worth in the knockout stages. He made a quite sensational save from Mateus Uribe against Colombia, before saving from Carlos Bacca in the shootout and making himself the hero. He was once again outstanding against Sweden in the quarterfinals and was named the man of the match after making excellent saves from Marcus Berg and Viktor Claesson.
#3 Harry Maguire
What an incredible two years it has been in the career of this young man. He was at Euro 2016 in France as a supporter, nowhere near international selection. Now, two years on, he is a key man in this England team, and has had a brilliant tournament in Russia. There were worries that his form had dropped off a little towards the end of the last season, but there has been no sign of that.
He has slotted in well in the back three and has looked defensively solid, as well as showing an ability to calmly bring the ball out of defence and into midfield. He has been a threat from set-pieces as well, which England have exploited well in Russia. He is often the target for knockdowns and helped himself to his first international goal against Sweden. His performances have raised the question: which Harry is more important for England?
#2 Kieran Trippier
A year ago, Trippier was just an understudy to Kyle Walker, for both club and country. He is another one who has benefitted massively from the change of system because without it, he wouldn't be in the starting XI. Thanks to playing three at the back, Walker has moved to centre back, Trippier has come in at right wing-back, and has drawn unlikely comparisons with David Beckham.
You could say that Trippier is yet to be really tested defensively, but you can only play what's in front of you. What has really impressed with the Spurs defender is his delivery, both from open play and dead ball situations. It is all well and good having players in the team who can attack a cross into the box, but you've got to have someone who can put it in the right areas, and Trippier can do just that.
#1 Harry Kane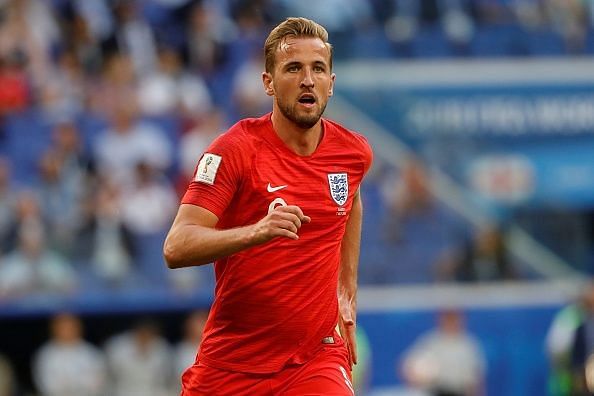 What more is there that you can say about this man? Kane has shown in the World Cup that he truly is the best striker in the world. He currently leads the race for the golden boot, with six goals. People will argue that four of those six goals have come from penalties, but if anything, that proves just how composed the Tottenham man is under pressure.
And it hasn't just been all about the goals for Kane. He holds the ball up so well and brings others into play as well. He leads this England team well from the front, and they probably wouldn't have got so far at the World Cup had it not been for him. He will have to be at his best if England are to go all the way to Moscow and lift the trophy, but if anyone can do it, he can.