Xherdan Shaqiri vs Adam Lallana: Does Bayern man represent better value for Liverpool?
2.57K //
21 May 2014, 17:45 IST
Liverpool have submitted a bid for Southampton captain Adam Lallana but the price could rise beyond £20 million and enter the £25-30m bracket.
Should that happen, one would imagine Liverpool would walk away from the deal. But if they do give up on Lallana, who should they seek?
The answer is Xherdan Shaqiri of Bayern Munich. The Swiss international is a fantastic talent and aged 22, has plenty of glory-laden years left ahead of him.
The attacking midfielder could be set to leave Bayern Munich this summer after finally losing patience. He is regularly overlooked by management as Franck Ribery, Arjen Robben, Thomas Muller and Mario Gotze take up the starting positons – but can you blame Pep Guardiola for doing so?
Shaqiri is a very talented, creative player who would thrive in Liverpool's side. He's fast so would fit perfectly into their quick transitioning style of play, while his nimble footwork and eye for a pass would work in tandem with the talents of Luis Suarez and Daniel Sturridge.
With Brendan Rodgers clearly on the lookout for a versatile attacking midfielder, he should be looking at Shaqiri – possibly instead of Lallana altogether.
The Switzerland international would probably cost £15 million, if that, while the price for Lallana – a 26-year-old with no Champions League experience – could almost work out as double that amount.
Lallana appeared in every Southampton league game last season while Shaqiri appeared in just half of Bayern's on their way to a record-breaking Bundesliga triumph.
Judging the pair over 90-minute averages would make more sense in a comparative sense.
Shaqiri created 25 chances to Lallana's 68 but, averaged out, the Swiss man tops the English midfielder. Over an average of 90 minutes, Shaqiri creates 2.88 chances while Lallana is just below two with 1.98. In terms of successful passes per 90mins, Shaqiri again comes out on top.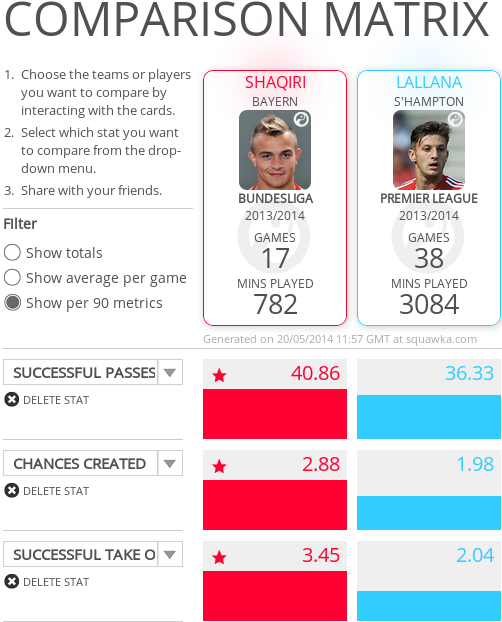 His average of 40.86 is much better than Lallana's 36.3. Shaqiri also averages more goals (0.69 to 0.26), and more successful take-ons (3.45 to 2.04).
Lallana has another edge to his game, though. He works hard and constantly presses the opposition, which is something probably very attractive to Liverpool and Rodgers.
The Englishman averages more successful tackles (1.37 to 0.81) and makes more interceptions (1.08) than Shaqiri (0.46).
Obviously, that can be coached into Shaqiri, just like it has into Philippe Coutinho and Raheem Sterling.
Brendan Rodgers and his transfer committee should seriously ponder dropping their interest in Lallana before the price gets any higher and move for Bayern's unwanted gem, Shaqiri.