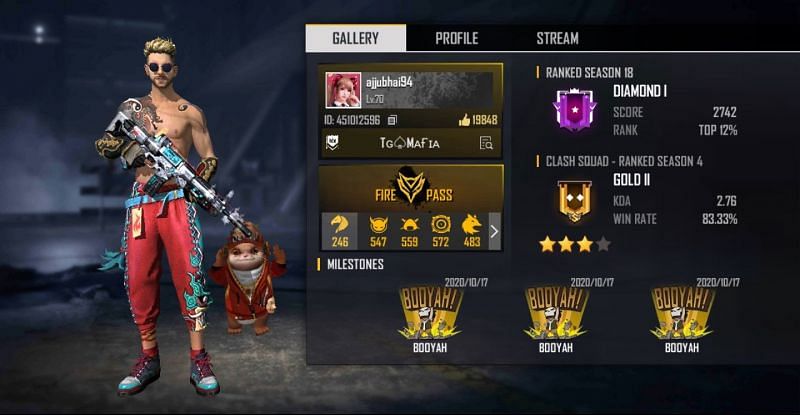 Content creation and streaming have now become a viable option for many gamers due to the rising audience numbers. And due to the mass popularity of Free Fire, there has been a rise in the number of content creators in this title.
If you are a keen Free Fire fan, then you will know Ajjubhai, popularly known by the name of his channel – 'Total Gaming.' He has a massive fan base, and many players look up to him. In this article, we discuss his in-game details. Here is everything that players need to know about Ajjubhai aka Total Gaming in Garena Free Fire, since he is one of the most followed YouTubers in India as of December 2022.
---
Ajjubhai's Free Fire ID
His Free Fire ID number is 451012596, and his IGN is ajjubhai94.
---
Ajjubhai's lifetime stats in Free Fire
In total, Ajjubhai has played 9302 squad games and triumphed in 2414 of them for a win ratio of 25.95%. He has notched up 34138 kills at a K/D ratio of 4.96 and inflicted 1536 average damage per match.
Coming to the duo mode, he has played 1587 games and stood victorious in 299 of them, translating to a win per cent of 18.84%. The streamer has racked up 6200 kills, maintaining a K/D ratio of 4.81.
In the solo mode, the YouTuber has 880 games to his name and has secured 76 wins for a win rate of 8.63%. He has accumulated 2237 kills at a K/D ratio of 2.78.
As the new ranked season had just begun yesterday, he hasn't played many matches in it.
Also read: Free Fire: Ranked Season 18 release, end date and time revealed
---
His YouTube channel
Ajjubhai started creating content over one and a half years ago. The first video on his channel dates back to December 2018. Since then, he has grown immensely and has uploaded a total of 954 videos on his YouTube channel. He boasts a massive subscriber count of 14.3 million and has 1.745 billion views combined.
You can click here to visit his YouTube channel.
He also has a second channel named – 'Total Gaming Live,' where he also streams and posts videos on the quick-paced battle royale in realtime.
---
His social media accounts
Ajjubhai has Instagram, Facebook, and Twitter accounts. Following are the links to them.
Instagram: Click here.
Facebook: Click here.
Twitter: Click here.
Also read: Gyan Sujan vs Raistar: Who has better stats in Garena Free Fire?
Check out the latest Free Fire MAX redeem codes here.