Events form one of the prime avenues for collecting rewards in Free Fire. Garena has brought in a new Guild Battle event, offering players a chance to secure the much-desired Commando Bundle alongside several other rewards, such as a parachute, surfboard, and avatar. This new addition is part of the Guild Glory campaign that kicked off earlier this week.
However, players are finding it difficult to navigate through the intricate event structure, making it challenging for them to claim the free bundle. Read through for a detailed overview of the new Guild Battle.
---
Free Fire Guild Battle event kicks off
Free Fire Guild Battle began on the Indian server on September 21, 2023, with the event's deadline set for October 10, 2023. In essence, you need to make spins to roll the slot machine for rewards and increase your Guild Power.
You will receive one spin every hour while additional spins are available by playing CS or BR matches with your guildmates. The event also features a spin multiplier option that you may employ to use your spins at faster rates.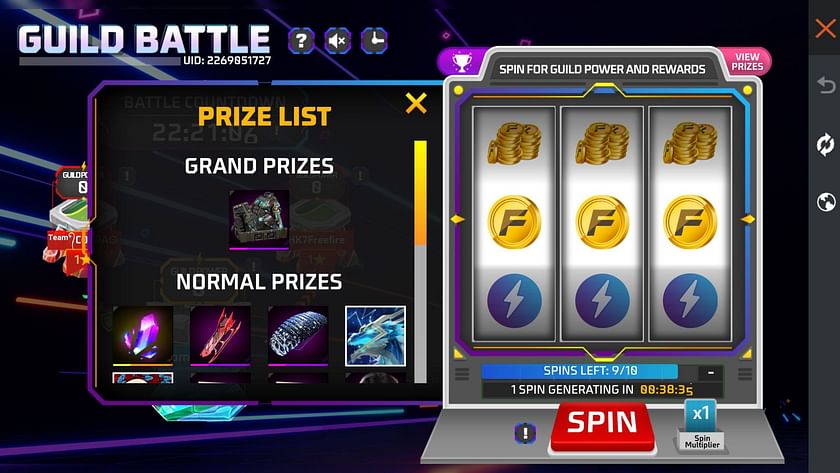 When the slot machine lands on a reward, you will receive one of the following rewards:
Grand Prizes
Commando Bundle
Normal Prizes
Cube Fragment
Winterlands Fury Sledge
Snow Parachute
Drachen Myth Avatar
Rocker Skull Avatar
Sky of Stars Banner
Rocker Skull Banner
Orion
Notora
Kenta
Kla
50000x Gold
10000x Gold
5000x Gold
1000x Gold
500x Gold
Star General (M4A1 + VSS) Weapon Loot Crate
Pink Devil Weapon Loot Crate
Loose Cannon Weapon Loot Crate
Urban Rager Weapon Loot Crate
Victory Wings Weapon Loot Crate
Game Streamer Weapon Loot Crate
Random Loadout Loot Crate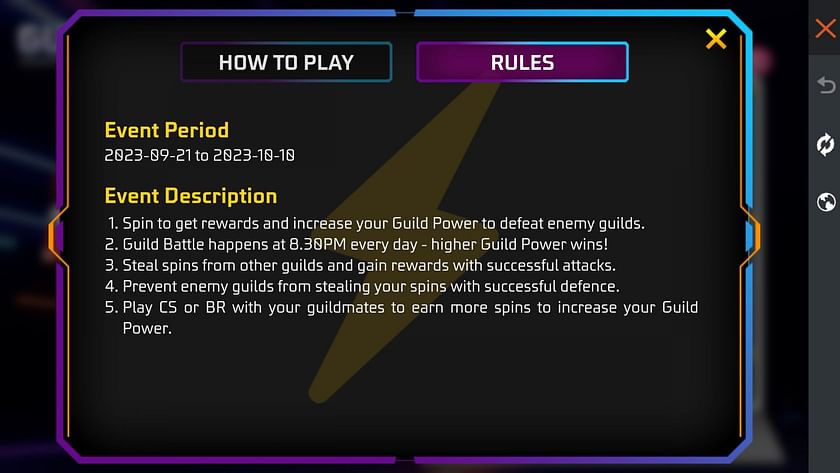 Additionally, the event also introduces another dimension with Guild Battle, where you need to attack other guilds to steal their spins and, at the same time, defend yourself to protect this loot. This stage happens daily at 8:30 pm IST, and the team with higher Guild Power triumphs.
---
Steps to complete the Guild Battle event and get a free Commando Bundle in Free Fire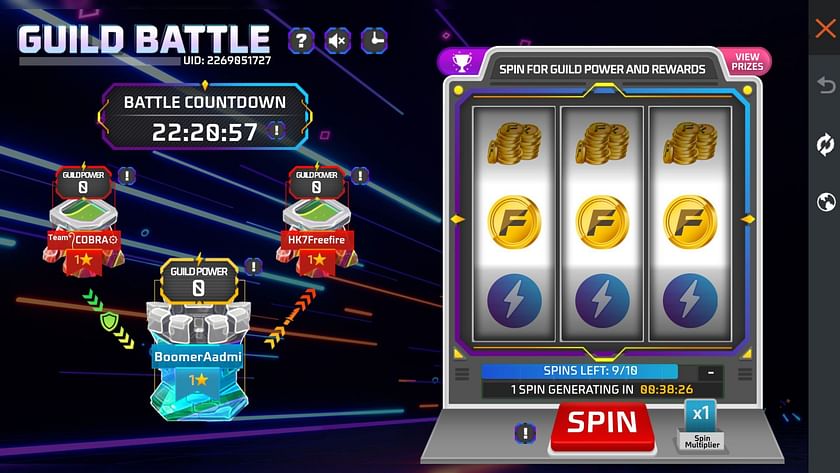 Here are the steps to access the new Free Fire Guild Battle and claim the rewards:
Step 1: Open the events section and browse through the Guild Glory tab to select Guild Battle.
Step 2: Press the Go button to load the event interface.
Step 3: Press the Spin button to roll the slot machine and get the reward.
Continue the same process until you receive the Commando Bundle in your account.
---
Since the spins in the Guild Battle event are free, try not to miss out on the opportunity to snag a free Commando Bundle. With that said, a comparable outfit might cost at least several hundred Diamonds in the store, making the event worthwhile in terms of time and effort.
Check out the latest Free Fire MAX redeem codes here.
Edited by Dinesh Renthlei