Most Free Fire players cannot afford to spend money on acquiring exclusive cosmetic items like skins, costumes, and more. This is why Garena frequently releases redeem codes that offer freebies so users do not miss out on rewards. These particular codes generally get made available on the social media handles or livestreams of the game once a milestone gets reached or on special occasions.
Garena has additionally created a website called the Rewards Redemption Site, and players can use it to claim redeem codes. After individuals get access to an active one, they can navigate to the specific website and complete the redemption.
---
Free Fire redeem codes for free gloo wall skins and vouchers (June 6, 2023)
You can use the following Free Fire redeem codes for free gloo wall skins and vouchers:
Gloo wall skins
FFAC2YXE6RF2
FFBBCVQZ4MWA
FFCMCPSBN9CU
Vouchers
HHNAT6VKQ9R7
HFNSJ6W74Z48
FFDBGQWPNHJX
WD2ATK3ZEA55
TDK4JWN6RD6
V44ZZ5YY7CBS
E2F86ZREMK49
XFW4Z6Q882WY
2FG94YCW9VMV
4TPQRDQJHVP4
Note: Since unknown expiry dates and server restrictions are applied to the codes mentioned above, they may not work for everyone.
---
Steps to use redeem codes
As stated already, redeem codes must be employed via the official Rewards Redemption Site of the game. You can complete the process by following the steps mentioned below:
Step 1: Start by going to the official Rewards Redemption Site (https://reward.ff.garena.com/en).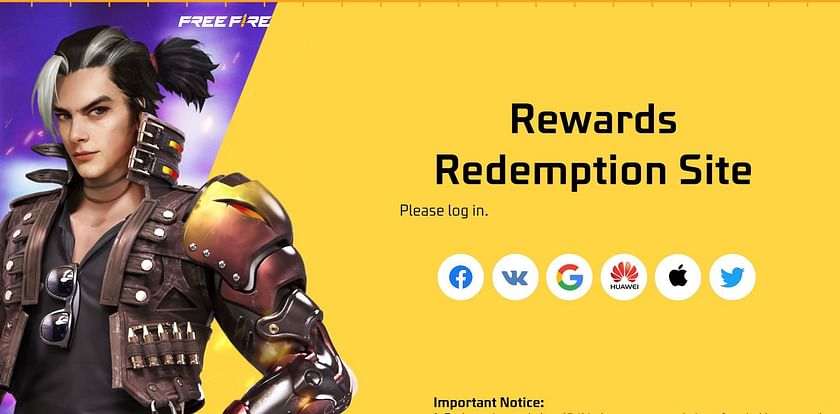 Step 2: Upon reaching the website, you will be asked to proceed with the login. You must use the platform linked to your in-game account.
Because guest accounts aren't allowed on the website, you must link your account to any of the available options to proceed with the redemption. You can complete the binding process by booting up the game and going to the in-game settings.
Step 3: Soon after the login, you will see a text box appear on your screen. You must accurately enter the Free Fire redeem code here.
Step 4: Finally, you can complete the process by clicking the Confirm button. If all goes according to the plan, the rewards associated with the code will get sent to your in-game account.
Disclaimer: Since Free Fire is banned in India, players residing there are advised to refrain from playing the battle royale title. Nonetheless, they are free to engage in the MAX variant of the game since the Indian government did not prohibit it.
Check out the latest Free Fire MAX redeem codes here.
Edited by Siddharth Satish