Many players prefer not to spend money in Free Fire and, as a result, miss out on some exclusive in-game rewards. Instead, these users rely on alternative methods that do not require any financial investment. Redeem codes have become a popular choice for such players to ensure they don't miss out on rewards.
Redeem codes often provide superior rewards compared to those offered through in-game events. However, the codes have certain limitations as well. These codes have expiration dates, meaning they need to be redeemed quickly. They also usually have server restrictions that limit their availability to certain regions. Despite these drawbacks, redeem codes remain a valuable resource for players to obtain free rewards in Free Fire.
---
Free Fire redeem codes for free pets and vouchers (May 31, 2023)
Below is a list of the Free Fire redeem codes that you can use and get free pets and vouchers in the game:
Pets
VNY3MQWNKEGU
ZZATXB24QES8
U8S47JGJH5MG
FFIC33NTEUKA
Vouchers
HHNAT6VKQ9R7
HFNSJ6W74Z48
V44ZZ5YY7CBS
WD2ATK3ZEA55
TDK4JWN6RD6
E2F86ZREMK49
FFDBGQWPNHJX
XFW4Z6Q882WY
2FG94YCW9VMV
4TPQRDQJHVP4
Note: Since the redeem codes have unknown expiry dates and server restrictions, they may not work for everyone.
---
Guide on using Free Fire redeem codes
The steps to use the redeem codes on the Rewards Redemption Site are as follows:
Step 1: Visit the Rewards Redemption Site (https://reward.ff.garena.com/en) through the browser you are currently using on your mobile device.
Step 2: The page displayed will ask you to log in through any of the six platforms provided. You have to make sure that the platform you choose is the one that is linked to your in-game ID.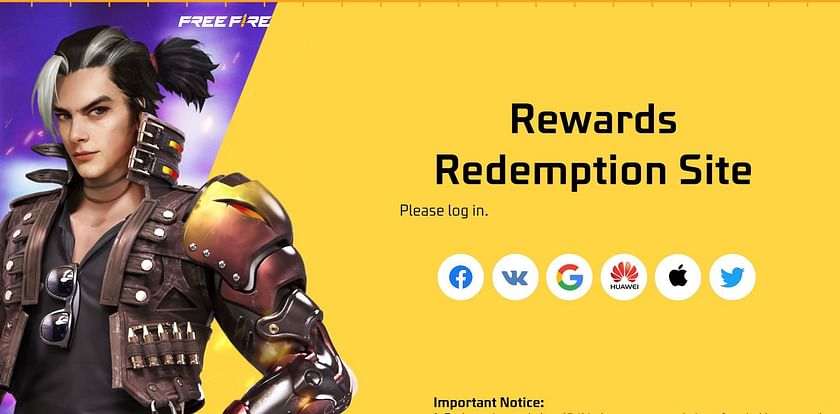 If you've been playing the game with a guest ID, you must first go to the settings page in the game and link your account to one of the platforms there. After you bind your guest account, you can begin using redeem codes on the website.
Step 3: Once you sign in on the website, a new text box will appear into which you can type in the redeem code.
Step 4: Enter the redeem code carefully and then proceed by clicking the Confirm button. If the process is successful, the rewards can be claimed by returning to the game and visiting the in-game mail section.
However, in case of failure, you must wait for Garena to release new codes.
Disclaimer: Due to the ban imposed on Free Fire, players residing in the country should avoid playing the game or downloading it on their devices. However, since the MAX variant was not prohibited, they are free to continue playing it.
Check out the latest Free Fire MAX redeem codes here.
Edited by Siddharth Satish