Why AS Roma must stick to Luis Enrique and his methods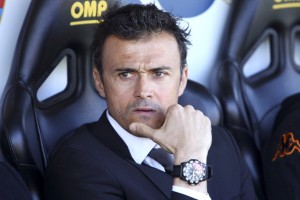 It has been quite a topsy-turvy season for Italian side AS Roma so far. After a disappointing 6th place finish in the Serie A table the previous season, the capital club looked to undergo a complete cultural change in terms of playing style and youth policy. Claudio Ranieri, who managed AS Roma for most part of the 2010-11 season, parted ways with the club in February and left the Romans in a state of crisis. The side was managed for the rest of the season by Vincenzo Montella as the Giallorossi scampered in the final stages of the season. A lot of assessment was needed for them in the summer and they surely were ambitious in signing the then Barca B manager, Luis Enrique.
FC Barcelona inspired a number of clubs to adopt a similar brand of attractive and attacking football after their historic domestic and European double. AS Roma is one of those many clubs and the Giallorossi has put in some awe-inspiring performances at times in this season.The signing of the Spaniard brought in some much needed freshness and vibrancy in the Roman camp as Enrique signed some excellent young talents like Pablo Osvaldo, Bojan Krkic, Erik Lamela, Maarten Stekelenburg, Fernando Gago and many others. Also, he employed the Barca style of tiki-taka football and changed the team formation to the standard attacking 4-3-3. There was a new lease of life for the club and its fans had lots to cheer about.
Yet, things really haven't gone as per plan in terms of silverware. They are well out of contention for the Serie A title, knocked out in the round of 16 of the Coppa Italia by a rampant Juventus and embarrassingly ousted out of the Europa league in the play-offs by Slovakian side SK Slovan Bratislava and are currently 6th in the Serie A standings, right where they were last season.
However, one cannot deny that AS Roma has certainly been a much more attractive and entertaining side to watch. Also, the performances of the likes of Pablo Osvaldo, Bojan Krkic, Fabio Borini, Erik Lamela and others has been a shining light in the dark times the club has faced. The finest example of AS Roma's improvement under Luis Enrique was their cracking 4-0 demolition of Inter Milan at home last month. There have been other bright performances too, like the 5-1 rout of Cesena, the 3-1 victory over Napoli, or the disappointing yet courageous 2-3 home loss to current league leaders AC Milan. Still, such instances have come only once in a while between gaps of frustrating results. The much demanding fans of AS Roma are unimpressed by the results the so called 'change'  has brought out.
The Romans' achievements have been pretty ordinary this season if one looks at it on the outside, but one must realize that any change is gradual and a certain amount of patience and time is required for any club going under transition. Currently AS Roma lie just 4 points behind 3rd placed Lazio and still have a really good chance to qualify for the Champions League next season with another 11 more games to go. Consistency is one factor that Roma have lacked this season yet if they can pull off some consistent performances in these closing stages of the Serie A, then the season wouldn't go down as a complete failure. Irrespective of where they finish on the Serie A table at the end of the season, if AS Roma show enough patience to hang on to their new policy and manager, there surely lies a brighter future ahead. Even Barca took 25 years to be the world beaters that they are today. I am impressed by the capital club's initiative this time round and do hope the Giallorossi rises to its peak at some point. As an ardent admirer of Luis Enrique's new AS Roma,I sign off by posting the following clip-
http://www.youtube.com/watch?v=eE2uX-ka89E&feature=related