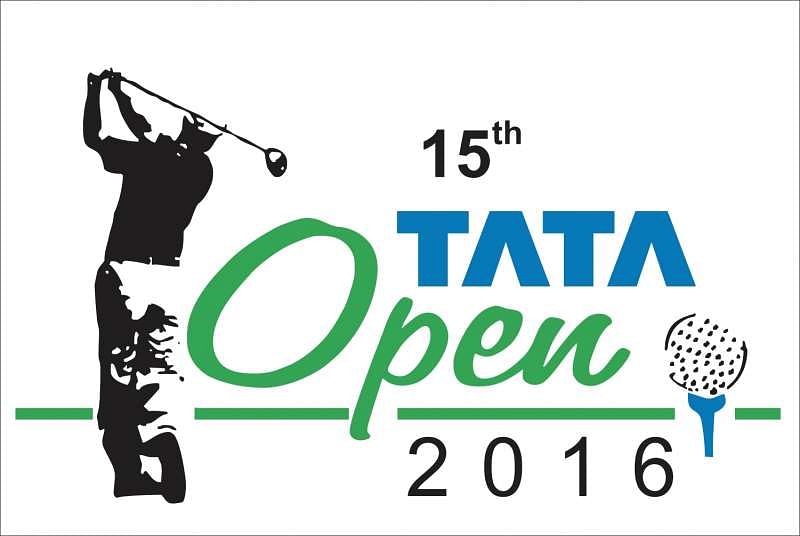 Shubhankar Sharma stayed at the top of the standings in the 3rd round of the TATA Open at Golmuri Golf course in Jamshedpur. Shubhankar played in the final group of the day and saw his lead cut down to two shots after he could only manage a round of 1 under par-70.
He made a promising start to his round and looked set for another low one, he birdied hole nos. 2 and 4 and was 2 under for the round after 5 holes. At this stage, he was cruising but birdie opportunities soon started slipping away and after his bogey on No. 8, the chasing pack saw an opening. He made the turn at 16 under par and at this stage, was still 2 clear.
Shubhankar had played the back nine at Golmuri in 6 under par on each of the first two days and knowing that, probably kept him at ease. He did not make any birdies and bogeyed the 15th hole to fall back to even par for the day. Md Zamal, who was 2 under for his round at this stage, came within a shot of him and this was the closest anyone had been to Shubhankar in the last 27 holes of the tournament.
Shubhankar steadied the ship by dropping a 20 foot right-to-left downhill birdie putt on the par-5 16th hole and restored his two shot lead once again. Md Zamal made a great save for par after his 2nd shot had found the hazard and forced into chipping out to the fairway instead of going for the green in regulation on his 3rd shot. He hit his subsequent 4th shot within 5 feet and holed the putt to make a crucial save.
Speaking in a post-round interview, Shubhankar said, "I"m not too happy with my round of 1 under today. I played very well on the first 2 days and this round doesn't compare very well with my first 2 rounds. I played decently tee-to-green but couldn't get the putter working as well."
Also Read: What's in the Bag: Shubhankar Sharma at the TATA Open
"I was not too worried about what other people were doing, I just wanted to play my own game. I was not concerned with the leaderboard or what the others were doing in the field, I got off to a good start but did not really play the way I wanted to from there on in. All in all, I'll take it as it was a decent performance and was a round in red numbers."
Upon being quizzed about his thought process leading into the final round and the fact that he could find himself on the top of the Rolex ranking charts once again with a win here, Shubhankar said, "I feel winning is extremely important for any player. I'm not thinking about being number one on the Rolex rankings, winning this event is my main goal and getting the confidence from the win is what I'm looking to achieve. Obviously the fact that I could be No 1 with a win is in the back of my mind but I'm not really thinking about that."
"I did not hit my tee shots as well today, I missed a few key fairways that led to bogeys or led to not having birdie opportuities on some holes that I would be looking to birdie normally. So I need to be more accurate of the tee tomorrow and hit greens in regulation for a start. The rest will take care of itself and I'm putting really well, unfortunately I didn't drop as many today though."
"I have pretty much achieved all that I set out to achieve at the start of the year so I don't feel any pressure on being close to winning the order of merit. I made my card on the Asian tour and played well on the Indian tour, so I think winning events is important and we'll see if that gets me a win on the order of merit or not."
---
Md Zamal Hossain, who is leading the charge from behind, carded four birdies and two bogies on course to a round of 69 and cut the deficit by one shot to be two behind heading into tomorrow's final round.
He parred all the holes on his inward half and shot a consistent even par back nine to remain right in the mix and confident of getting the job done on Sunday.
Also Read: Tour Insider: In talks with the leading candidate for the PGTI Emerging player of the year award, Veer Ahlawat
"I didn't hit the ball as well today as the first two days. I played well on the front nine today but on the back nine, I couldn't capitalise as I had no birdie looks due to my poor ball striking. I only hit 8 greens in regulation as compared to yesterday's 17 greens in my round of 63."
"I am feeling good with my game and I will give it my best shot tomorow. I will try and focus on my ball striking because I know I'm putting well. I know this course quite well and it is some what of a favourite course of mine." So I'll play my game and not worry too much about the result."
---
Shankar Das had his own plans heading into the third round. The Calcutta Golfer hogged the limelight with an ace on the 17th enroute to a course-record tying 62. The course record was previously held alone by Sri Lankan, Anura Rohana, who achieved the feat at the 11th TATA Open in 2012 but Das joined him by making 7 birdies, two eagles against two bogeys.
The 2014 Rolex rankings winner entered the round in a distant tied-22nd and after making two birdies and two bogeys in his first 6 holes, he caught fire over the next three holes and made two birdies and an eagle to make the turn at 4 under par for the day.
Also Read: Tour Report: Round 2 at the TATA Open
He was 11 shots back at the start but came right back into the fray with another set of birdies on the 11th, 12th and 13th holes before making an incredible hole-in-one on the 17th which catapulted him to third place at 13 under par-200.
His ball striking was top notch and he followed it with a hot putter for five birdie conversions from within 10 to 20 feet. Shankar said after his round, "I don't think I put a foot wrong after the sixth hole. It was a dream round. I made a lot of long putts today. It's great to match the course record. It gives me the self-belief to post another low score and vye for the title here."
---
Khalin Joshi (64), Samarth Dwivedi (66) and Rashid Khan (66) also stayed in the reckoning by posting solid rounds to join Shankar in tied third.
Angad Cheema (67) of Panchkula was a further shot back at 12 under in solo seventh while the Rolex rankings leader, Delhi's Shamim Khan (66) finished the day in tied eighth at 11-under-202.
Defending champion Mukesh Kumar (70) of Mhow, sat further down the leaderboard in tied 36th at two-under-211.
Tomorrow's final round begins at 7:30 am and the final group of Shubhankar Sharma, Shankar Das and Md Zamal Hossain Mollah tees off at 8:50 am from tee no.1.
---