Joscelyn Roberson recently secured her spot to compete at the 2023 World Artistic Gymnastics Championships at Sportpaleis in Antwerp, from September 30 to October 8.
Roberson finished fourth in the all-around event at the 2023 U.S. Women's World Team Selection Event, held between September 19 and 20 in Katy, Texas. She scored a total of 54.900 points behind Simone Biles, Shilese Jones, and Skye Blakely, who scored 55.700, 55.300, and 55.000, respectively.
Roberson's father, Jeffrey, took to his social media to announce her selection and pen down a heartfelt message. Joscelyn was born to Jeffrey and Ashley Roberson on February 8, 2006, in Texas.
"Great Job little girl. I love you beautiful," he wrote.
Joscelyn Roberson tied with Kaliya Lincoln for second place with a score of 13.85 in the floor exercise event. Biles finished first with a total score of 14.3. Roberson finished second behind Jade Carey, scoring a total of 14.6 in the vault. Carey scored a total of 14.65.
Roberson will be joined by five other athletes to represent the USA at the 2023 World Artistic Gymnastics Championships. She will be accompanied by Biles, Shilese Jones, Skye Blakely, Leanne Wong, and Kayla DiCello - the 2021 World Championships all-around bronze medalist, who will travel as an alternative for the team.
---
"I'm in awe!" Simone Biles posted Joscelyn Roberson's video eight years ago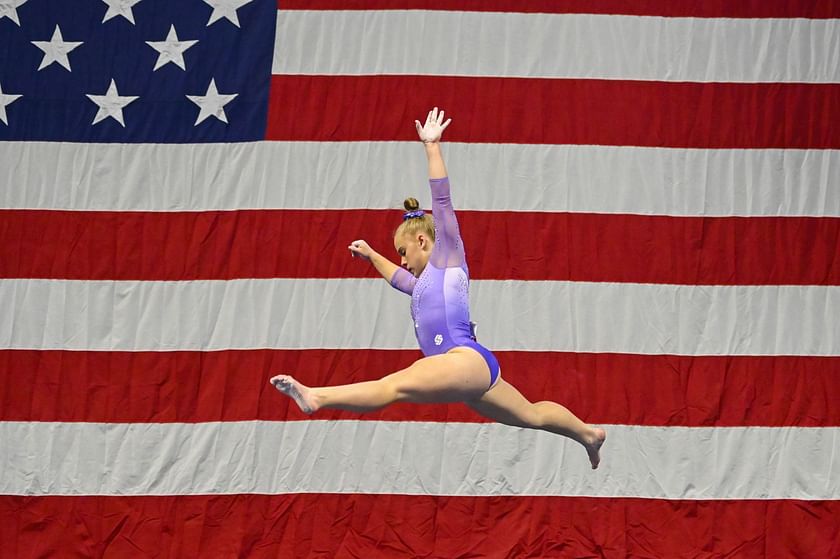 Simone Biles posted a video of Joscelyn Roberson on April 23, 2015, performing a routine. She was mesmerized by the performance and couldn't stop gushing over her cuteness.
"I'm in awe. (perfect)," Biles wrote. "Some1 help me find this cutie. I wanna meet her, so she could teach me a thing or two," she added.
As Roberson's mother moved to Houston for her new job, she brought her daughter with her. She then started training at the World Champions Centre, a gymnastics facility owned by four-time Olympic gold medalist, Simone Biles.
Joscelyn Roberson expressed in a media availability at the recent U.S. Gymnastics Championships in San Jose, California, that she didn't bring it up because she thought Biles wouldn't remember it until it resurfaced again.
"When I first moved to WCC, I didn't if she would remember it so I never brought it up," said Roberson. "When it [resurfaced], she was like, 'Oh, I remember this!'"